Tea is one of the healthiest and tastiest drinks you can add to your routine. Made with tea leaves infused in hot water, this ancient drink has many health benefits. While most people begin their tea-making obsession with tea bags, using loose-leaf tea can give you excellent results in terms of flavor.
If you want to start making loose-leaf tea then you're going to need a tea infuser. But first, what is a tea infuser? How do you make tea with it, and where can you find the best tea infusers on the market? This article will answer all those questions and soon enough, you'll well on your way to brewing some truly delicious teas.
What is a tea infuser?
Tea infusers are devices that brew loose leaf tea by acting like tea-bags. They hold the tea leaves together to allow them to brew in the tea without spilling leaves in the water.
Making tea with a tea infuser gives you more control over how strong the tea is as you can put as much or as little tea leaves in as you want. Using a tea infuser also allows you to experiment and create interesting combinations like lavender and chamomile, or peppermint and spearmint.
A tea infuser can be a more environmentally friendly option too. Many conventional teabags are not biodegradable if they contain plastic.
How to use a tea infuser
Using a tea infuser is as simple as opening it up and putting the tea leaves in. Brewing your tea then is as simple as letting it soak in the water for between 4-5 minutes. Of course this just an estimate, the exact time depends on the tea you're drinking
A good ratio of tea to water is one teaspoon of tea leaves to 6 ounces of water. This is where teaspoons got their name from as they're a perfect measure of tea!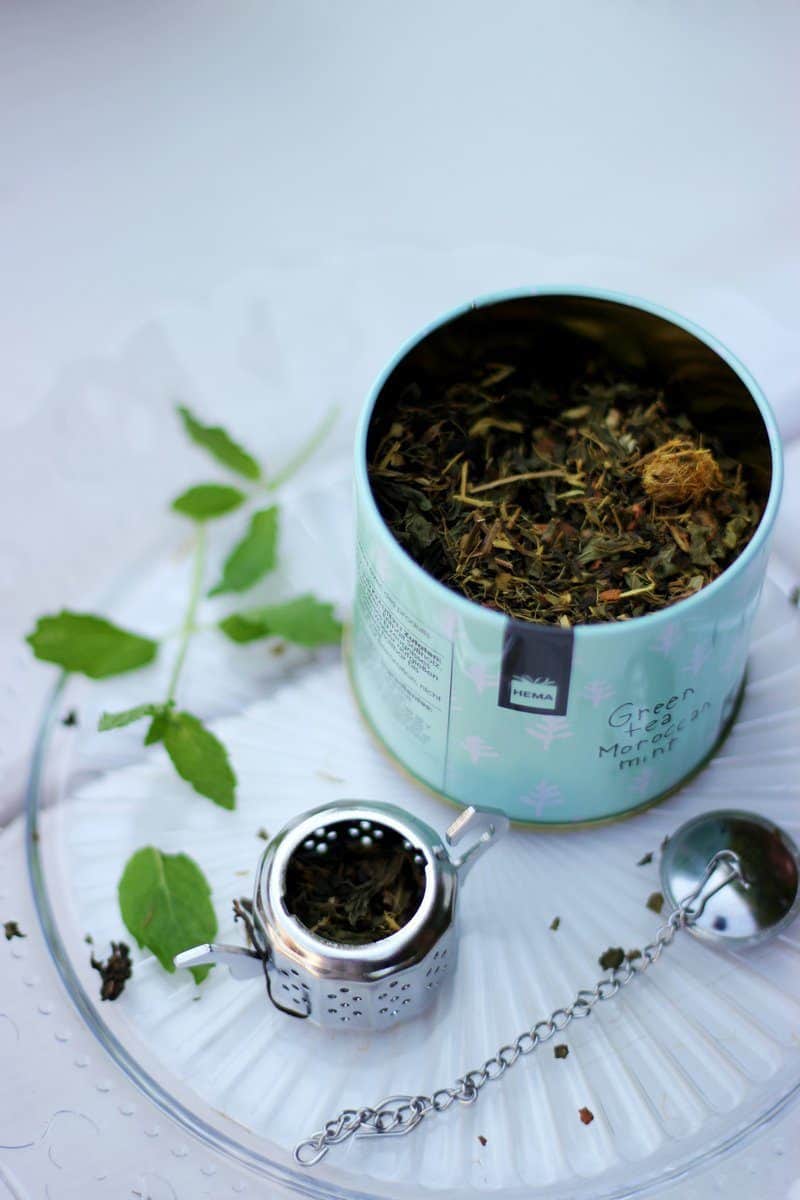 What kind of tea infusers and strainers are there?
There are several different kinds of tea infusers out there. Some are best for a single mug of tea while others are good for brewing a pot to share.
Ball Tea Infusers
A ball tea infuser is a mesh metal ball. The two main types of these are long-handled mesh balls that sit into the cup, and balls on a chain that wraps around the handle of a mug or clip on the rim.
These kinds of tea infusers are prone to spilling tea leaves if the ball infuser is low-quality or damaged. As many ball infusers close with a clasp, it is up to you to make sure they are locked properly. There are, however, more secure versions that twist and lock.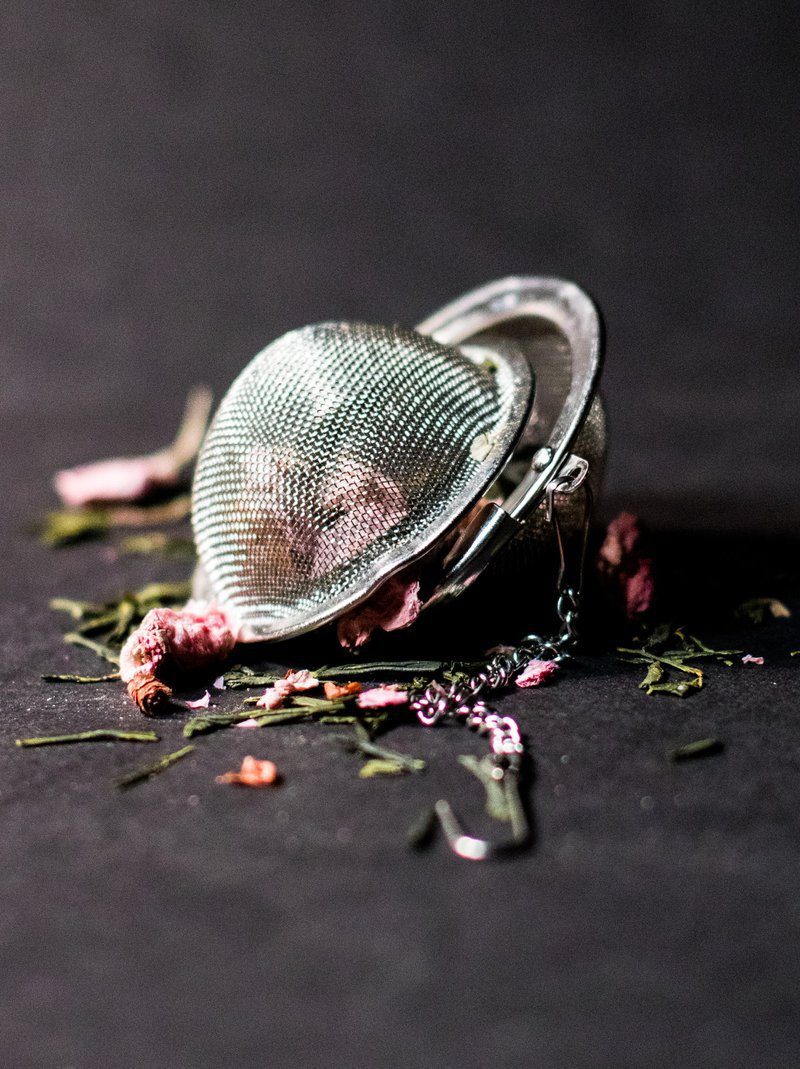 The 5 Best Ball Tea Infusers
1. Norpro Stainless Steel Infuser Ball
This adorable tea ball infuser is perfect for brewing a single cup of loose-leaf tea. With a weighted teapot attachment, you'll never have to worry about losing the infuser in your hot drink. This mesh infuser will last you years.
2. Endurance Tea Infuser by RSVP
This lovely tea infuser is simple and efficient. With a fine mesh design, you won't have to worry about any tea leaves escaping into your drink, plus, with its hook technology, you can create a simple know-tie in the cord around your mug's handle. Once your tea has finished brewing, you will be able to remove the infuser quickly and easily.
3. MSC JOI hoot Owl Cut Infuser
This unique tea infuser is truly adorable. It comes with a tiny green owl who can sit on the edge of your cup or mug while your tea is brewing. When it's finished, simply pull on the owl and remove the infuser.
4. 2PCS Tea Ball Strainers
Made with Stainless Steel, this set of two infusers is incredibly durable. Its simple steel design looks neat and tidy. Plus, it comes with a unique lock design to ensure that your tea leaves are completely sealed in the infuser while your tea brews.
5. Blooming vile Gold Stainless Steel Tea Eff
This tea infuser is incredibly unusual and eye-catching. Its bright gold color looks amazing, while its egg-shape design will fit easily into any size of cup. The material is incredibly high-quality and durable.
The Brewing Basket
The Brewing Basket is a tea infuser shaped like a cylinder. Unlike the ball tea infuser which is opened form the middle of the ball, the tea leaves go into the top of the cylinder and are sealed off with a lid. These infusers are multi-purpose as they can fit into both mugs and tea-pots. They're also less likely to leach any tea leaves into your drink as the leaves sit at the bottom of the basket.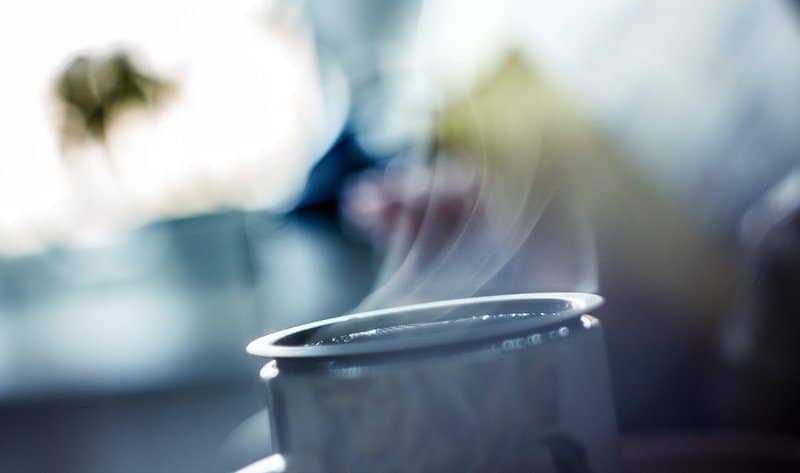 The 5 Best Brewing Baskets
1. Fishing Tea Loose Leaf Infuser Basket
This simple, well-designed tea basket is perfect for brewing any kind of loose leaf tea. Simply spoon in the leaves, Place the basket in the mug or teapot, then add the lid to reduce mess. This product is made with BPA-free materials and has a sturdy, durable stainless steel mesh.
2. Brewing Hopper Spider Strainer
This huge brewing basket has a capacity of 1 gallon. Its clever design means that you can rest the basket on the edge of your pot while the tea brews, then easily remove the hook to enjoy your beverage. It's made with premium quality steel with a 300-micron mesh that will be difficult to damage.
3. FORLIFE Brew-in-Mug Extra-Fine tea Infuser With Lid
This excellent brewing basket sits easily on the rid of your mug. It's perfect for single use rather than for teapots. This product ca also be washed in the dishwasher so it's incredibly convenient. The extra fine mesh means that you'll never be surprised by loose tea leaves in your tea.
4. FORLIFE Bell Ceramic teapot with Basket Infuser
If you tend to drink cup after cup of tea, or you like to have tea parties with your family and friends, investing in a teapot with a built-in infuser will save you plenty of time and hassle. Instead of re-using the same single-use infuser for each mug, a teapot infuser will brew you an entire pot of tea. This bright blue teapot has a charming design and its in-built infuser is made with high-quality, reliable materials.
5. HUJI Tea Infuser With handle and Lid
This ingenious tea infuser will fit right into a tall mug. With a long handle and a lid, you won't have to worry about any spillage or burnt fingers. Remember, infuser can get pretty hot after sitting in hot water for a few minutes. Luckily the long steel handle makes it easy to use this infuser without ever touching the mesh itself.
Silicone Tea Infusers
Silicone tea infusers are often novelty items. These kinds of infusers are shaped like animals or objects. They work the same way a ball infuser does as you screw them open to put the tea leaves in and let it sit in your drink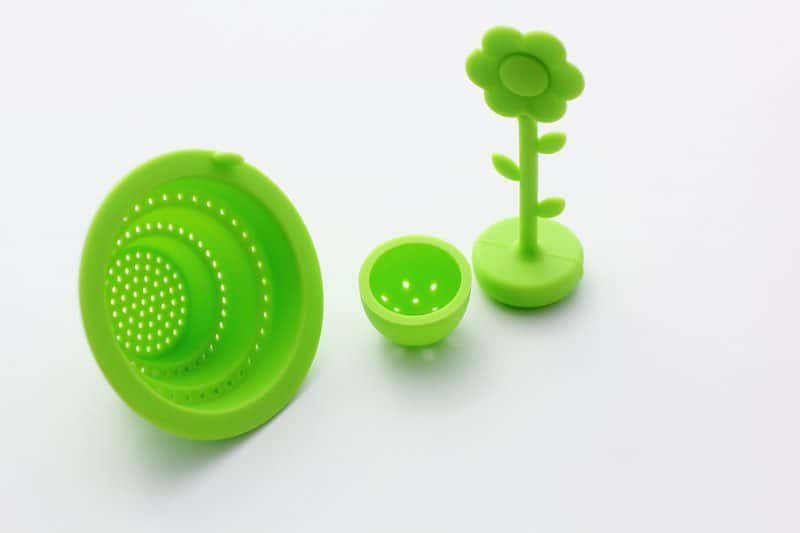 The 5 Best Silicone Tea Infusers
1. Tea Infuser Filter with Stainless Steel Tea Ball and Leaf Shaped Silicone
This incredible silicone tea infuser mixes durable, safe stainless steel with soft, silicone. The amazing design is what makes this infuser stand out from the crowd. The silicone handle is both adorable and functional. The leaf is in silicone material to protect your hands from burning when you remove the strainer. The strainer is easy to clean and even comes with a little leaf-shaped silicone dish to place your dropper infuser in after brewing your tea.
2. Cute Silicone Tea Infuser in Light Blue Squirrel Design
If you like cute little animals, you'll love this squirrel-shaped blue infuser. The incredibly unique design features a squirrel whose body sits on the edge of your mug. His long tail holds the tea leaves. The tail can swivel up or down. This means you can turn the tail down to brew your tea and turn the tail up when it's finished. You won't even need to remove the squirrel from your cup.
3. LING's SHOP Eiffel Tower Tea Infuser
This dark purple infuser is a great option for those of us with a bit of a Paris obsession. The lovely Eiffel Tower design is instantly recognisable. Plus, it can stand up on its two feet making for easy storage. The handle is attached to the top of the tower, so you can easily pull the infuser out of your mug when your tea is ready.
4. Hikalimedia Cute Silicone Bunny Carrot Tea Infuser
At first glance, you'd never realize this was an infuser. The pink bunny serves as a holder for the infuser and it sits on the edge of the mug. The long orange carrot holds your tea leaves. This infuer is incredibly easy to use and clean as it can be washed in the dishwasher.
5. Myhouse Silicone Tea Infuser Orange Cat Shape
Another absolutely adorable option (silicone infusers seem to be designed with animals in mind!) this orange cat infuser its quite simple in design. Its little paws hold onto the edge of the cup from the inside while the bottom of the cat's body sits in the tea and brews your drink. The body comes in two pieces which come apart to put the tea leaves inside. This infuser has excellent sealing technology so you won't have to worry about any leaves escaping.
A Tea Strainer
A tea strainer is a small mesh basket shaped like a spoon that sits over the top of your mug. The best way to use this one is to infuse your tea with water beforehand in a teapot. After you have left it to get to the desired strength you can then put the basket on top of your teacup and pour out the tea. It should catch the loose tea leaves like a coriander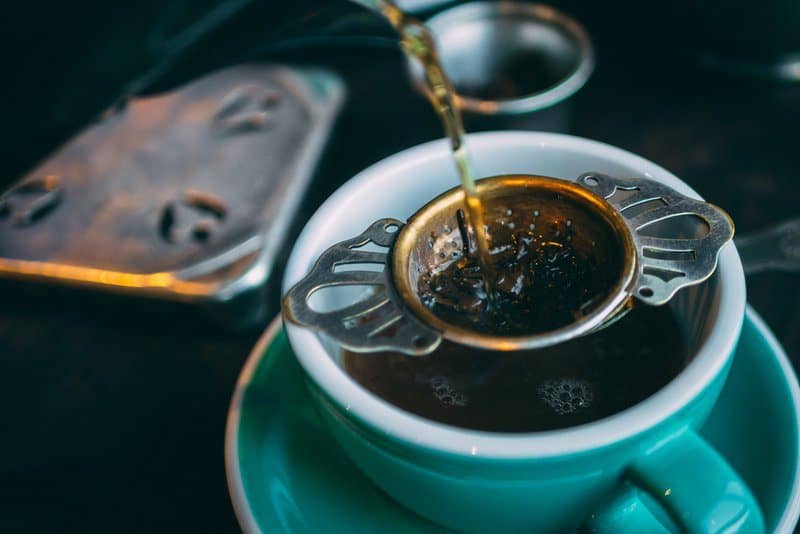 The 5 Best Tea Strainers
1. Winco MS3A-8S Strainer with Single Fine Mesh, 8-inch Diameter
This quality strainer is designed with sophistication and efficiency in mind. The subtle wooden handle is a lovely minimalist touch that will complement any kitchen. The fine steel mesh is durable and will last you for years. The 8-inch diameter means that you can brew a large pot of tea in one easy go.
2. OXO Good Grips 3-Inch Mini Strainer
Perfect for single cups and mugs, this smaller strainer has a handle designed for gripping. This is an excellent feature as strainers require you to hold on while the water is being poured through. The last thing you want is for your grip to slip and tea leaves to fall into your mug. It also has a small edge on the opposite side so that you can rest the strainer on the cup if it's the right size.
3. Bellemain Stainless Steel Fine Mesh Strainers
This set of three strainers is a great option for those of you who have various sizes mugs and teapots. You'll never have to make too little or too much tea as you'll always have a strainer for the occasion. These high-quality strainers are designed with extra-fine mesh and non-slip handles.
4. RSVP Endurance 18/8 Stainless Steel Conical Strainer, 5 inch
This strainer has an unusual shape that help the tea to stay in contact with the hot water for a few extra seconds. Unlike round strainers, this one is shaped more like a cone. Therefore, the tea leaves are stacked on top of each other rather than being spread out. This will give you a slightly stronger, more robust brew.
5. HUJI Stainless Steel Fine Mesh Conical Strainer Colander
This is another conical mesh strainer that will help your tea to have a stronger taste. However, this option does have quite a steep cone shape. This can make it slightly harder to clean as tea leaves can get stuck in the bottom. However, if you really care about the strength of your tea, this option might be great for you.
Built-in tea-infusers
Some teapots have a built-in infuser which is most often some form of the brewing basket. There are also reusable travel mugs with built in-tea infusers. These are usually tempered glass water bottles with a removable brewing basket.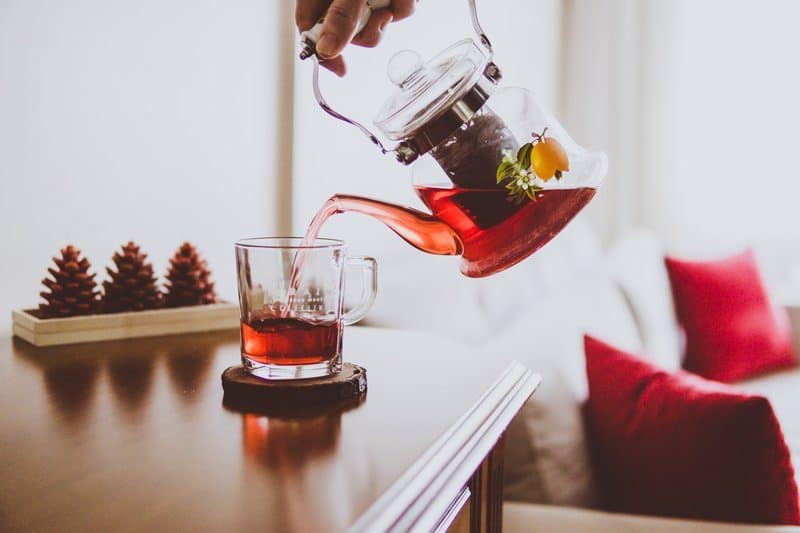 The 5 Best Built-In Tea Infusers
1. Cute Cat Infuser Tea Mug with Built-In Fish Shaped Infuser
This highly unusual cat-shaped mug has a see-through glass body and a cat-shaped lid. The handle is shaped like a tail. Attached to the lid is a fish-shaped infuser for your tea leaves. Simply remove the lid when your tea is ready. This hilarious design is sure to bring smiles to the faces of everyone who sees it.
2. Electric Tea Kettle with Infuser
If you love efficiency and modern design, this kettle/ teapot/ infuser will block your socks off. This all-in-one design takes care of every step of the tea brewing process for you. From boiling the water, to infusing the tea leaves, this kettle does it all. Plus, its eye-catching slick steel design will look lovely in your kitchen.
3. Tea Infuser Water Bottle with Double Walled Glass
This stylish water bottle can double as a flask for your tea. With its in-built infuser, you can even brew a mug of your favorite loose leaf tea while you're on the go. The see-through glass means that you can check to see when your tea is ready and remove the infuser. The design ensures that you'll never burn your hands while holding the bottle, while your tea stays warm for hours.
4. RISHI Tea Simple Brew Loose Leaf Teapot
This slick modern teapot is an emblem of modern, minimalist design. Its clear glass body and its steel lid will look fabulous in any style of kitchen. This infuser works just like a cafetière. Simply add your tea leaves straight into the bottom then press down the mesh lining when your tea is ready. This pot also comes in a unique round pitcher shape.
5. Tea Forte Kati Cup Ceramic Tea Infuser Cup
This in-built basket infuser sits in a gorgeous floral ceramic cup. The basket is designed to fit perfectly into the cup so it will never spill. The double-wall design of the cup means that your hands will be safe from even the hottest boiling water. The cup comes with a ceramic lid to keep your beverage warm for longer than other mugs. The fine mesh design is of the highest quality and will keep your leaves and your tea separate.
What's the best tea infuser and strainer for you?
The tea infuser for on the go
For tea on the go, the best tea infuser and strainer is one already built into a travel mug.
A long-handled ball strainer likely won't fit into a takeaway cup. If it does fit in, it will get in the way when you're trying to drink your tea. A ball with a chain will fit it, but the chain will either have to go into the cup too or else the lid won't be able to close as the chain is too thick to sit underneath the lid like the string on a teabag would. As many teas only take minutes to brew, leaving the ball in will alter the taste by the time you reach the end of the cup.
As many built-in tea infusers sit on the top of the cup like a brewing basket which means that after the first few sips of tea, it won't be able to continue to brew and alter the flavor as you finish your drink.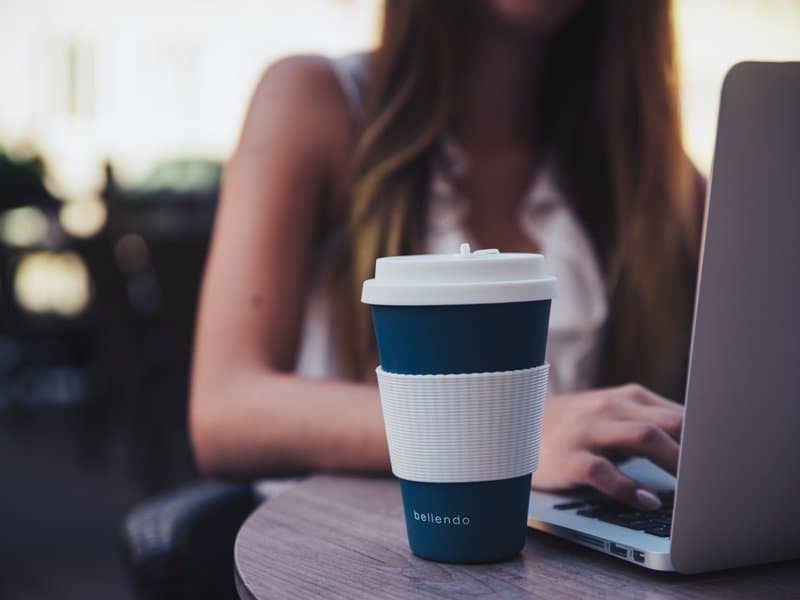 The best tea infuser for a single mug of tea
For a single mug of tea at home, a good quality ball infuser will do the trick. A silicone infuser is also good for a single cup of tea. They can be more expensive than standard ball infusers so it's a question of whether or not you think the novelty will wear off or not.
It might be tricky to find a brewing basket that fits into your mug perfectly. For this reason, a mesh ball that can wrap around the handle could be the better option. Tea strainers can also be messier than a ball or brewing basket.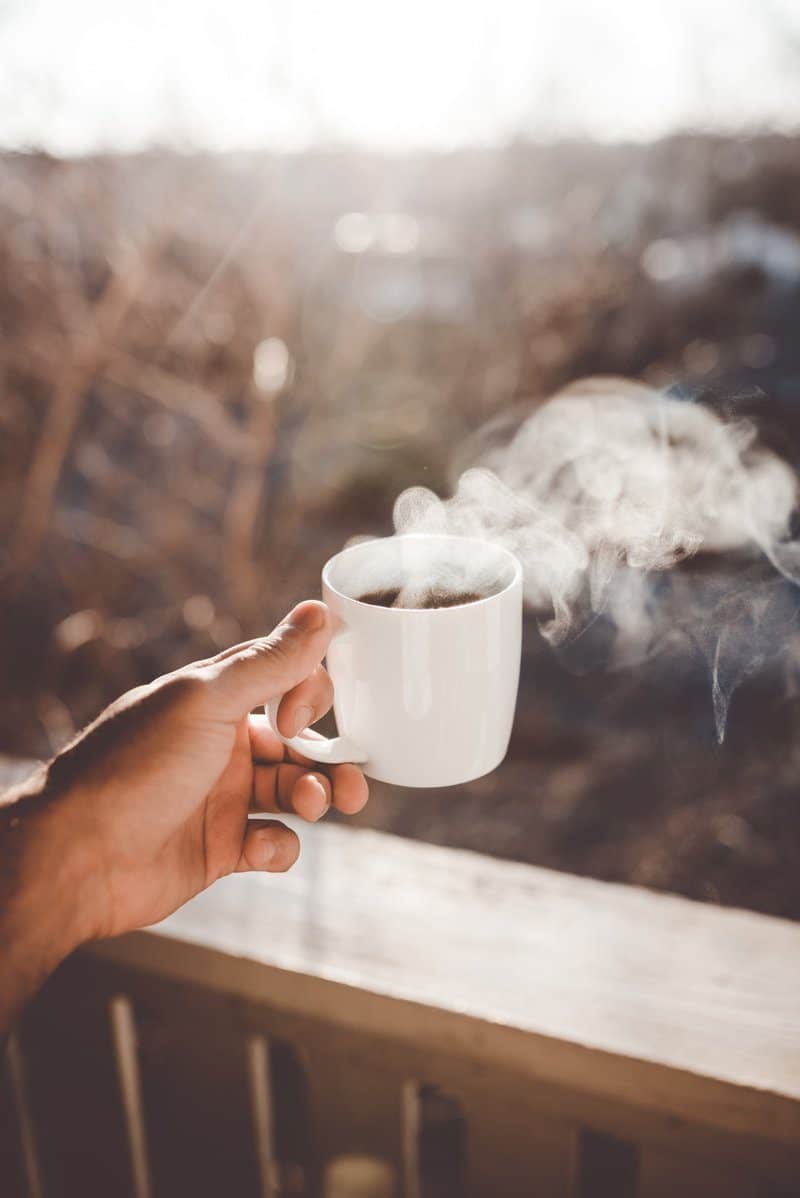 The best tea infuser for a teapot
If you have a teapot without a built-in infuser then a big brewing basket is the best infuser. With a brewing basket, you can measure in enough tea leaves to brew multiple cups without clogging up the whole teapot with several ball infusers. Brewing baskets generally can fit more leaves than a single ball infuser can, which makes them ideal for making tea for more than one person.
Some built-in tea-infusers in teapots can spill leaves if the built-in infuser is only covered with the lid of the teapot. Sometimes putting your own brewing basket into a teapot is the better kind of tea infuser. Make sure to get the measurements of your teapot and track down a brewing basket that will not only fit inside but isn't so small it falls into the pot either. Many have tabs on the sides at the top to prevent them from falling into your teapot.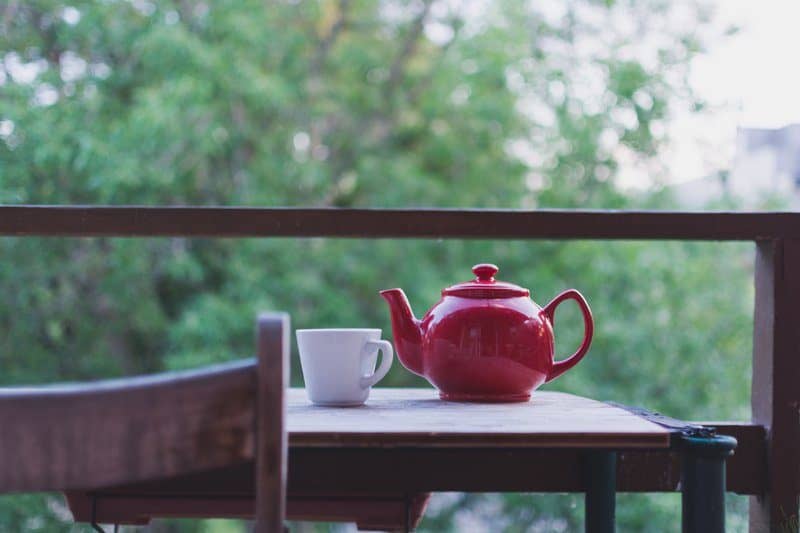 What's the best tea infuser overall?
The best tea infuser depends on what kind of tea drinker you are. Do you prefer to sit down with a cup or grab one on the go? For one cup of tea, the ball infuser is the best, while a built-in one is good for those on the go.
For us, we have to choose only one type of tea infuser, we will go with the brewing basket as they can make single cups of tea at home, fit into teapots, and fit into to-go cups as well. We love that versatility!