Staying hydrated is one of the most important things you can do to support a healthy lifestyle. Most health professionals recommend that we consume eight 8 ounce glasses of water each day. Unfortunately, many of us forget that clean water isn't always easy to come by when we're out and about. Buying single-use plastic bottles of water is expensive and bad for the environment, and public water fountains are few and far between.
Because of this, many people are turning to steel reusable water bottles that can keep their water cold and fresh for hours. In this review, we'll be examining the Clearly Filtered Stainless Steel Water Bottle and all of its impressive features, including its advanced in-built filter that can keep your water free from contaminants every day.
‍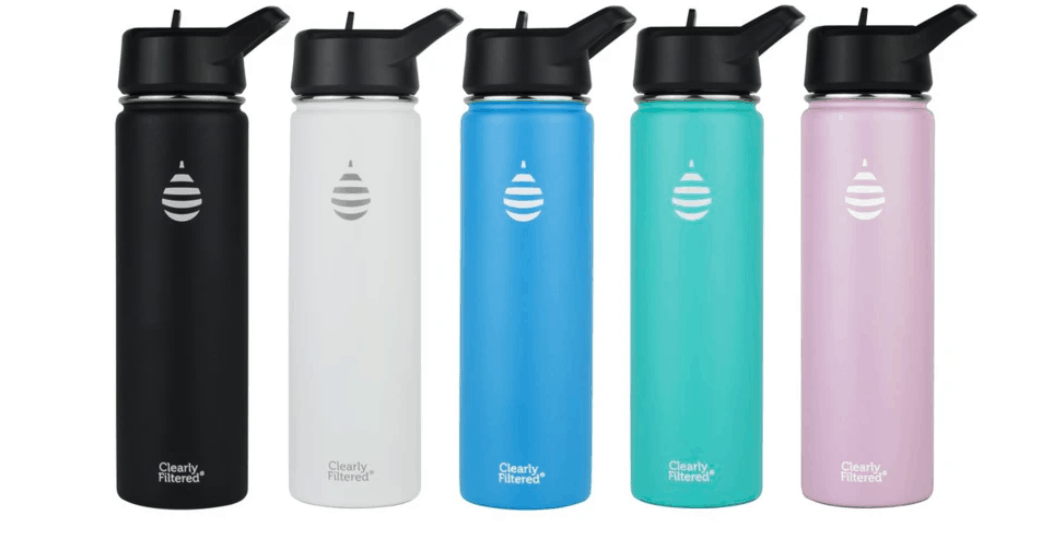 ‍
Why You Need a Portable Filtered Water Bottle
There are a range of reasons why you might wish to invest in a steel water bottle, especially one with an in-built filter.
Keep your water cold
Be kind to the environment
Stay hydrated throughout the day
Always have access to pure, clean water
Why Do We Need to Filter Our Water Anyway?
Is it really necessary to invest in a water bottle with a filter? While you are probably not going to get sick from the tap water from a water fountain or a public tap, you might be surprised at just how many contaminants lurk in our country's public water supplies.
While public water suppliers are obligated to ensure their water is purified, contaminants can easily sneak through the system and into your taps. Recent studies suggest that thousands of small cities and towns across the country serve unhealthy water to their citizens. This contaminated water can cause a range of short and long term health concerns.
There is actually a pretty long list of common contaminants that can be found in all of the tap water across the country. Some include:
Aluminum
Ammonia
Arsenic
Barium
Cadmium
Chloramphenicol
Chromium
Copper
Fluoride
Bacteria
Viruses
Lead
Mercury
Radium
Uranium
Not exactly the kind of ingredients you want to be consuming on a daily basis, even in small quantities! So, while you're probably safe to drink tap water, why not take extra precautions to ensure the water you're drinking is safe.
Overview of the Clearly Filtered Water Bottle
Now that we've covered the dangers of consuming tap water, let's get into the review of the Clearly Filtered Stainless Steel Water Bottle.
The Clearly Filtered Stainless Steel Water Bottle is a state-of-the-art portable water bottle with a built-in water filter. Here are some of the specifications about the bottle:
20-ounce capacity
Includes a replaceable Affinity Filtration filter
Built with double-wall insulation to keep liquid cold for up to 24 hours
Built with an easy-to-clean and easy-to-use mouthpiece
Comes in five stylish colors
Sleek, streamlined design
Design Features
We are pretty impressed with this water bottle's design. The body of the bottle is a straight cylinder that looks sleek, modern, and stylish. The bottle comes in black, white, blue, turquoise, and a lovely soft pink color. These colors are exceptionally attractive and you're sure to find one that suits your tastes.
The bottle material is high-quality BPA-free and Phthalate-free stainless steel that is highly durable and robust. The bottle has double-wall technology that helps to keep water cold for up to 24 hours. With a 20 ounce capacity, this bottle can hold over two glasses of water, making it perfect for a long hike, a trip to the gym, or even an afternoon out of the house shopping or running errands.
The mouthpiece design is also exceptional. It's made of a soft, easy-to-clean material. The flip-top design is hygienic and highly easy to use. Unlike other bottles, you won't need to use both hands to unscrew the lid and take a sip. The mouthpiece also has a loop meaning you can hook your water bottle onto your belt or backpack. The bottle also has a wide mouth opening when you unscrew the mouthpiece for easy refilling and even ice.
The final design feature is the impressive no-sweat finish. The exterior of the bottle has a sweat-free finish which makes the bottle easy to grip even when you're having an intense session at the gym.
Filter Features
What makes this water bottle truly special is the in-built filter that keeps your water clean. The bottle uses the Affinity Filter Technology that has made Clearly Filtered one of the top water filtration companies in the country.
The Affinity Filter is actually a pretty new addition to the company, as it was introduced in 2018.
The Clearly Filtered company claims that this new affinity filter can remove over 232 contaminants, including:
Fluoride
Lead
Chromium-6
Arsenic
PFOA/PFAS
Glyphosate
BPA
Prescription Drugs
Pesticides
Bacteria & Cysts
Chlorine
Mercury
Micro plastics
Benzene
If we compare this list to some of the top market competitors, we see that this filter is by far the best currently available. PUR filters remove only six of these contaminants, while BRITA filters can only remove two.
The filter provides water that is pure, clean, and delicious. It uses a dual-technology approach, with magnet-like chemical absorption combined with a unique physical structure.
First, the water travels through a filter built with a series of twists and turns. In other filters, the water goes in a straight line, so has less time to filter. This design forces the water to spend more time in physical contact with the filter. This way the contaminant magnets have more opportunities to get rid of any bad stuff in the water. This process can make the filtration process relatively slow, but nevertheless, the excellent results are worth the wait.
The filter in this water bottle can be changed easily, meaning you'll never have to use an old, contaminated filter or replace the entire bottle.
Pros
High-quality materials
Easy to clean
24-hour insulation for water that stays cold
20-ounce capacity is perfect for long treks
Uses the famous Affinity Filtration Technology which can be replaced
A soft mouthpiece that is easy to clean and use
Wide mouth for easy filling and ice insertion
Made with BPA-Free and Phthalate-Free Stainless Steel
Stylish design
Sweat-free finish for easy gripping
Lifetime warranty
Cons
More expensive than some water bottles at $45-$50
Large Clearly Filtered logo on the bottle detracts from the minimalist design
Why We Recommend the Clearly Filtered Water Bottle
‍
To sum up, this bottle really is something special. With its long list of pros, it's easy to see why so many people are enjoying this exceptional portable water bottle. The insulated stainless steel design, the excellent, advanced filtration system, the sleek design, and the many color options, this bottle is undoubtedly a great choice. Plus, with a lifetime warranty, you won't have to worry about the bottle breaking, ever.
So, enjoy taking this bottle with you everywhere you go, and you'll always be able to enjoy crisp, cold, pure water, no matter where you are. Despite the price tag, we think this bottle is one of the best-filtered water bottles on the market.