Fleck have spent many years improving the technology that they use within their water treatment products to provide consumers with some of the strongest performing water softeners available. Their SXT range are the culmination of this expertise with the 5600SXT being the most popular of them all.
It is important to note that the feature set available within this range remain the same – so the fact that we're covering the 48,000 grain model also remains relevant to the other size variants available as well.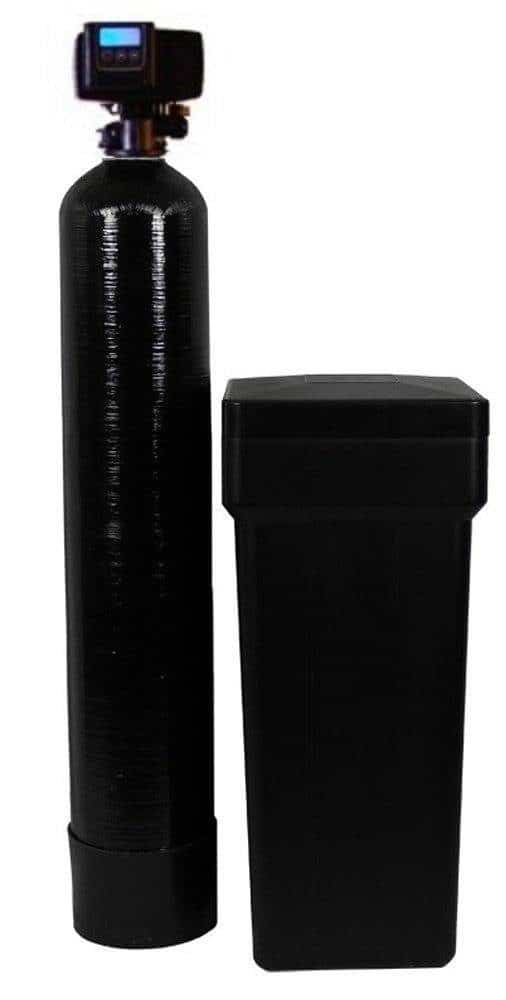 In this review, we'll provide a detailed overview of this model range before then covering the pros and cons of buying this water softener system so that you can come to an informed buying decision. For other models, consult our water softener reviews.
​About The Product
As with all Fleck water softeners, this model features both a mineral and brine tank which facilitate the treatment of your incoming water supply. To control this hardware, you're provided with a premium digital control valve which meets Fleck's high performance standards.
The control valve is accompanied by a 5 year warranty with the water treatment tanks each featuring a 10 year warranty in the event of any failure or defects.
The 5600SXT's unique selling point is that it utilizes a paddle system to fine tune the quantity of salt dispensed which results in fewer water leaks and a far more efficient use of softener salt.
As with most domestic water softeners – this model comes with its tank resin preinstalled – leaving you to simply plumb in the system to your incoming water main.
Included In The Box

Fleck include the mineral tank, brine tank and control head in addition to a bypass and 1 inch yoke in each delivered system.
​Water Softening Capability
The 48,000 grain mineral tank measures 10" x 54" and requires refilling with salt when required.
This model has the ability to remove 48,000 grains of hardness from your water supply before a complete regeneration cycle is required. In practice, this equates to one full regeneration cycle every 7 days for a family of four people using 300 gallons of water every day with a water supply containing 20 grains of hardness.
Each full regeneration cycle will take approximately 2 hours to complete with a full dosage of salt. The control head allows you to schedule regenerations either automatically as required or at a time that is convenient to you.
The brine tank is capable of storing approximately 4-5 packs of water softener salt.
Minerals Removed
The Fleck 5600SXT is designed to remove calcium and magnesium that is present within hard water. This results in a reduced quantity of limescale in your home's water infrastructure which will prolong the life of your household appliances.
Rust, sand and other forms of sediment are also effectively removed from water whilst still maintaining a flow rate of 12 gallons per minute.
​What To Look Out For
As with other Fleck systems, the 5600SXT is superb in operation and provides vast quantities of treated water without fault.
Unfortunately, the construction of some of the plastic parts that ship with this product are quite brittle with some owners mentioning that they have broken through typical use. In addition, the detail contained within the instruction manual leaves a lot to be desired which may present those without DIY capability with some difficulty.
Buying Advice
Once installed, this model simply requires a regular top up with softener salt to keep it operational. The type of salt you use is dependent on your requirements, but we do suggest consulting the guidance notes to ensure that it is compatible with this system.
Fleck manufacture a variety of optional accessories which are designed to complement this system. They are available separately, so you may find it worthwhile to find out which ones would be a good fit for your needs.
Final Verdict
The Fleck 5600SXT 48,000 Grain Water Softener is a fantastic high-end product at an affordable price. It compares favourably with every other salt-based system on the market and is up there with the best that Tier1 have to offer.
For the utmost in simplicity and efficiency in treating your homes hard water; the Fleck 5600SXT Water Softener is a strong contender and one that isn't easy to beat.