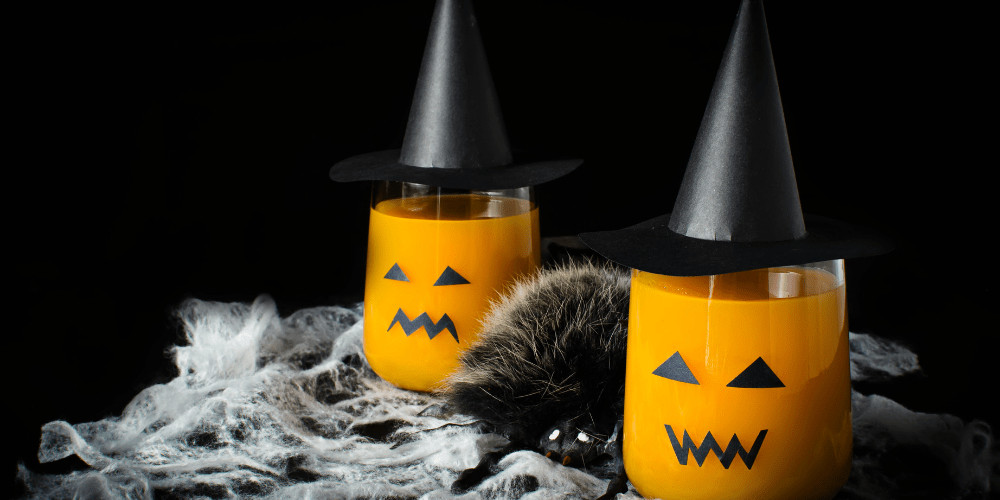 It's no secret that most kids absolutely love their sweet drinks. Apparently, the love of sugar is actually thanks to a scientific phenomenon in which bitter-tasting foods and drinks are more likely to be poisonous — so, we prefer sweet tastes, especially as children. Unfortunately, most sweet-tasting beverages tend to be pretty sugary. And as most of us know, too much sugar can come with a wide array of long term health risks.
For health-conscious parents, Halloween can be a stressful time. After all, it is literally a holiday dedicated to getting free sugar! It's inevitable that your kids will get their hands on some candy this October. Nevertheless, you can limit their sugar intake by paying attention to the drinks you serve them.
We've come up with a few healthy Halloween drink ideas for kids, so that the family can still feel festive, without overdoing it on the sugar.
Why Are Sugary Drinks for Halloween Dangerous for Kids?
What with all of the candy corn, gummy worms, and ice cream going around at Halloween, it's important to keep the drinks at least healthy. Here's why!
The Risk of Diabetes
With too much sugar comes an increased risk of diabetes. Diabetes is an incurable disease that occurs with long-term elevated blood sugar and insulin resistance. Some studies have shown that just one can of soda a day can make you more susceptible to developing this illness. Another study revealed that for every 150 calories of sugar a day, you increase your risk of type 2 diabetes by 1.1%.
That Tell-Tale Sugar High
As most parents know, when kids have too much sugar, they become energetic and in some cases, almost manic, before crashing after a few hours. This sugar high is actually caused by a surge of the feel-good chemical dopamine. It can also give you a quick boost of energy followed by jitters and anxiety.
Heart Health
With too much sugar in the bloodstream, your arteries can become inflamed and thicker over time. Eventually, excessive sugar intake can lead to heart disease or even heart attacks and strokes.
The Forming of Bad Habits
If you get into the habit of giving your kids unhealthy drinks from a young age, they'll be far more likely to develop dangerous, unhealthy habits, and continue to choose unhealthy foods as they grow up. If you encourage healthy habits from an early age, your kids will be far more likely to make healthy choices throughout their lives.
3 Healthy Halloween Drinks for Kids
Hot Date Apple Cider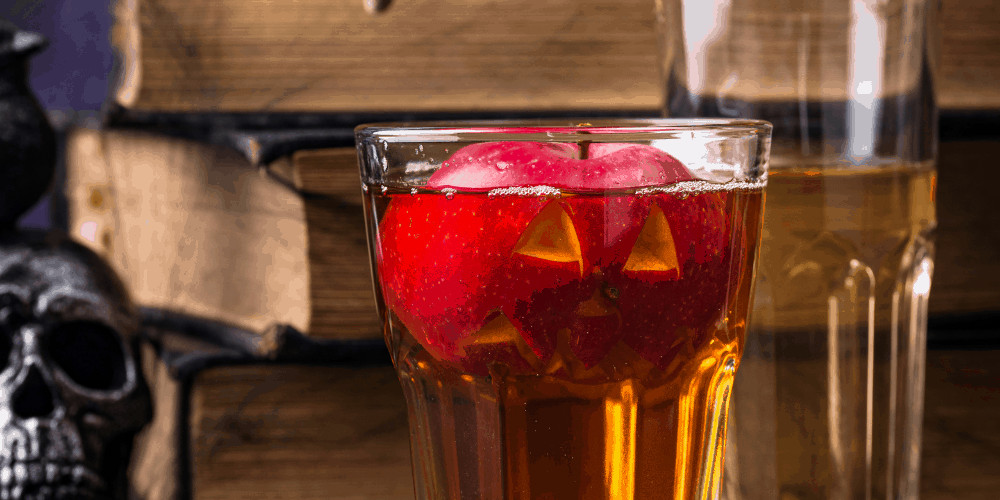 Nothing says fall quite like the smell of a spicy apple cider brewing on the stove. This warming beverage is perfect for adults and kids alike — plus, if you make it at home, it can actually be seriously healthy! This delicious, festive drink will see you through Halloween to Christmas. With its mixture of cinnamon and spices, it offers some pretty great health benefits, too, such as aiding digestion, and preventing cavities!
Here's what you'll need:
4 cups of apple juice
1 tsp of ground cloves
A handful of cinnamon sticks
Allspice
Cardamom
Dates
Water
Here's how to make the drink:
Boil all of the ingredients in a pot.
Simmer for 20 minutes.
Blend the dates until they're smooth.
Mix in the dates.
And voila!
Pumpkin Smoothie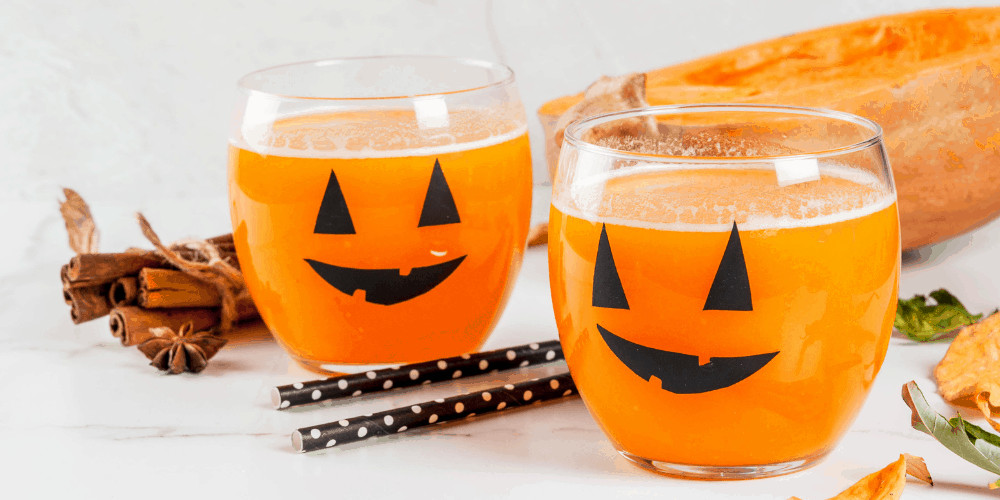 Of all the autumnal veggies, few are more Halloween-appropriate than the pumpkin. While you may think that pumpkins work best in pies and tarts, they actually work nicely in drinks, too. This delicious, filling smoothie works a snack between meals. With its festive flavors and its many health benefits, it's a perfect substitute for more sugary drinks. Pumpkin is a great source of vitamin A and is filled with immune system boosting vitamins. Soy milk is widely regarded as a healthier milk substitute. The banana gives the drink an extra boost of potassium.
What you'll need:
Light vanilla soy milk
Pumpkin purée
Ice cubes
Banana
Cinnamon
How to make the smoothie:
Blend together the soy milk, pumpkin purée, ice, banana, and cinnamon.
And that's it!
Jack o' Lantern Smoothie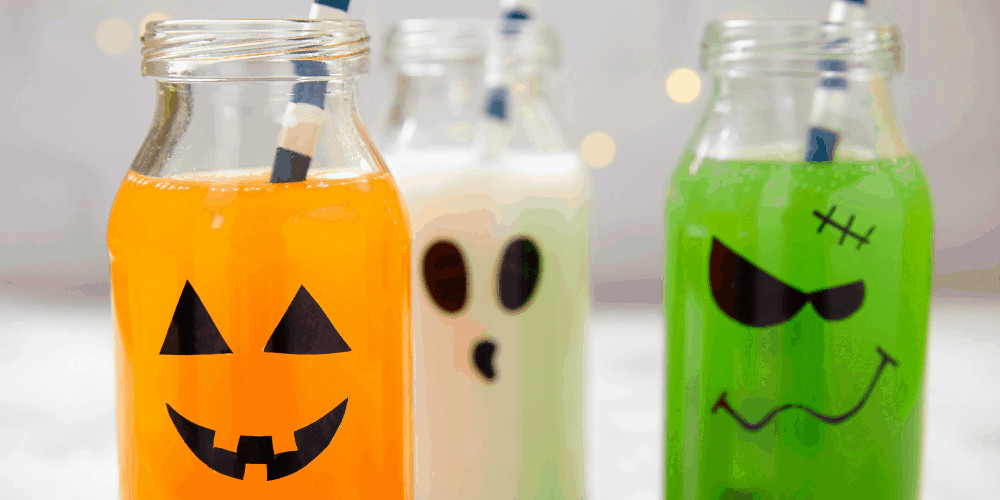 Spice up your morning with this festive smoothie. Your kids will love this adorable breakfast dish. With mango and Greek yogurt, this smoothie bowl provides benefits like maintaining cholesterol, regulating diabetes, and aiding digestion.
What you'll need:
Frozen mango chunks
Reduced-fat plain Greek yogurt
Reduced-fat milk
Vanilla extract
Strawberry
Chia seeds
How to make the smoothie bowl:
Blend together the mango, yogurt, milk, and vanilla until smooth.
Pour into a cup, and decorate with the strawberry for cheeks and make eyes and nose out of chia seeds. You can even use a plastic green spoon for the pumpkin stem!
How to Encourage Your Kids to Stay Healthy this Halloween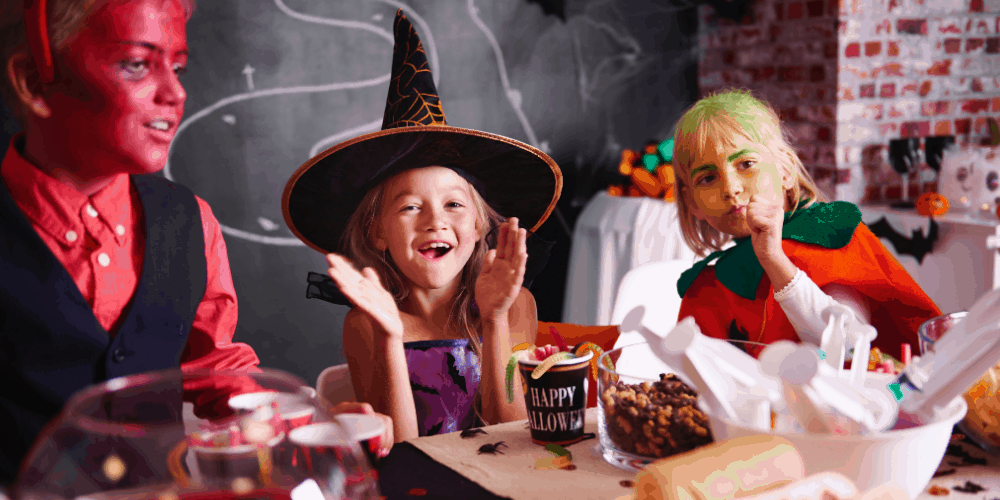 While whipping up a healthy Halloween-themed smoothie commendable, it's only half the battle. With more and more sugary drinks available on the market, it can prove to be pretty tough encouraging your kids to actually drink the healthy beverage you've made. Here are some clever ways you can trick (or treat) your kids into enjoying their healthy Halloween drink.
Get the Kids Involved in Drink-Making: Make your kids feel excited about the prospect of actually drinking their healthy Halloween beverage by making the whole thing more of an event. Get them involved in the drink making as though it were a festive craft. Depending on how old your children are, you can ask them to help with shopping, organizing, or even designing the cups.
"Brew" It in the Perfect Spooky Cauldron: This "recipe" is less of a recipe and more of a serving idea. To give your daily drinks more of a spooky, Halloween-y feel, invest in some relevant serving tools. Our favorite is a large witch's cauldron, which can be filled with juice and berries. To make the drink-making process even more eventful, get the kids together to "make the potion" together. Plus, if you have a more adult Halloween party for the Halloween season, you can re-use the cauldron for an alcoholic Halloween punch.
Make Your Own Glasses or Mugs with the Kids: Another fun craft you can do with the kids before enjoying your healthy Halloween drinks is to decorate your own Halloween cups. Get a few Halloween stickers, or get some glass pens that your kids can use to draw their own themed designs on their cups.
Act as Though the Drink is a Treat (Not a Trick!): One of the best ways to encourage kids to drink their healthy beverage is to treat it with the correct attitude. Even though the drink is "healthy" it will still be tasty. However, if you talk about the drink as though it were a chore, your kids will be less likely to enjoy it. Get your kids excited about the drink by talking about how tasty it will be and how excited you are about the drink.
Reward Your Kids With Something Other Than Candy: Get into the habit of rewarding your kids with something other than sweets. If you start rewarding your kids with activities, healthy snacks, or playtime, they'll forget to expect extra sweet treats every time they eat something "healthy".
The Bottom Line
Keeping your kids healthy when Halloween rolls around can be pretty tricky — especially when you want the holiday to be fun and exciting. Luckily, with these healthier kids' beverages, you can make the holiday fun, festive, and not too sugary! Try making a few of these drinks at home with your kids to get them excited about the spooky holiday and teach them a little more about the importance of staying healthy.