Nothing beats a steaming cup of coffee in the morning with a drop of milk. But with more and more people suffering from lactose intolerance and a growing trend of dairy avoidance, milk alternatives are becoming increasingly commonplace. While you may have heard of almond milk, oat milk, and soy milk, few people are aware of rice milk as one of their options.
In this article, we'll take a look at whether rice milk is a healthy dairy alternative for you to add to your routine. We'll cover the pros and cons of the beverage, compare it to other popular milk like almond and soy, then we'll highlight four of our favorite rice milk varieties.
What is Rice Milk?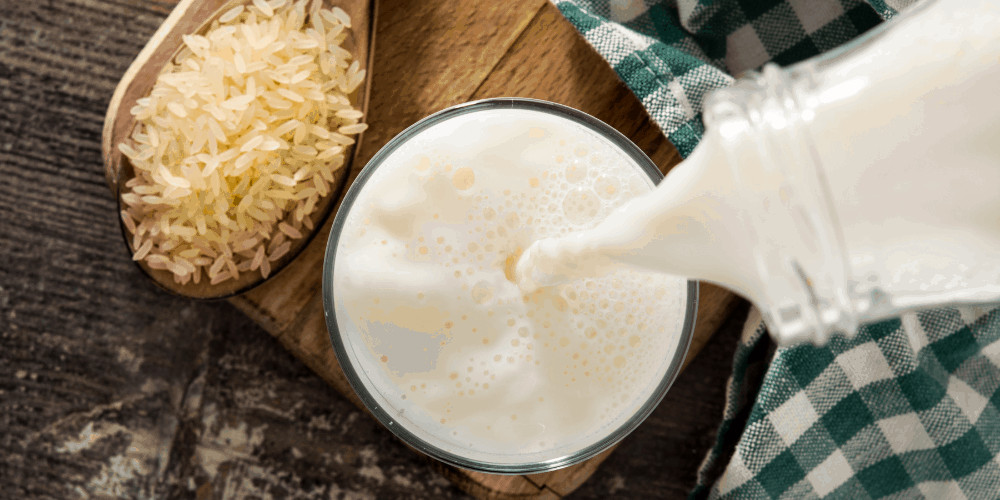 Rice milk is a plant-based milk made from rice. It's typically consumed by people who are lactose intolerant or who are avoiding dairy products. Various manufacturers use different methods and recipes to create this type of milk. However, most commercial manufacturers use brown rice. Some manufacturers use sweeteners to improve the taste of rice milk, and some also fortify the beverage with additional protein, nutrients, and vitamins.
Is Rice Milk Good For You?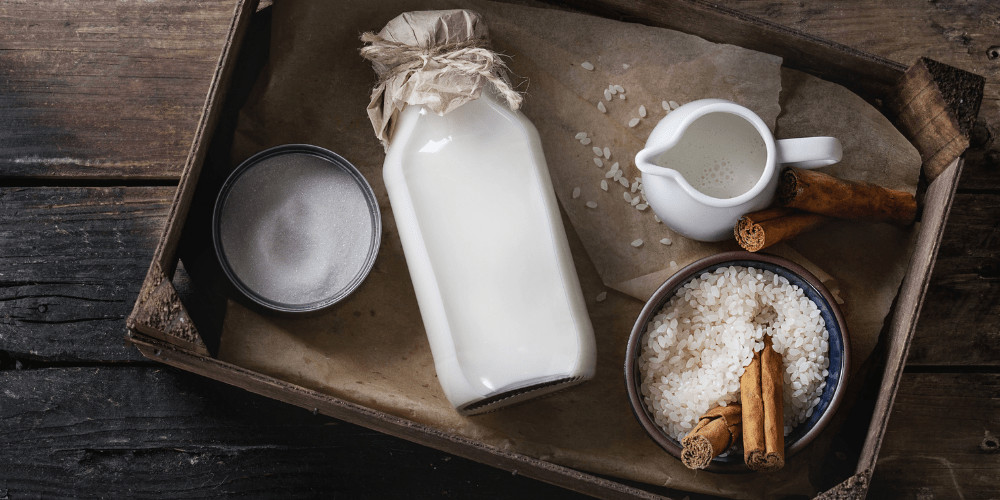 The nutritional values of rice milk are slightly different depending on the brand you choose to buy. Let's begin by examining pure, unsweetened rice milk. Every 8 oz. glass of unsweetened rice milk has:
120 calories,
2 g of fat,
22 g of carbohydrates,
and less than 1 g of protein.
Rice Milk is Hypoallergenic
One of the most positive things about rice milk is that it is safe for people who are allergic to nuts, soy, or milk. In fact, it's often touted as the most hypoallergenic of all milk products, especially in comparison to nut-based milk like almond and soy.
Rice Milk is Low in Fat
Unsweetened rice milk is also an option that has no saturated fat or cholesterol. With only 2 g of fat, this type of milk has the lowest amount of fat in comparison to the other milk alternatives. For instance, regular milk has 2.4 g, almond milk has 3.58 g, and soy milk has 4.35 g.
Rice milk is also cholesterol-free, making it suitable for people on special diets. Ingesting too much LDL cholesterol can lead to heart and artery problems, so choosing rice milk is a great way to avoid problems further down the line.
Rice Milk is an Excellent Source of B Vitamins
B vitamins are an essential group of vitamins that help support your metabolism, nerve function, and blood circulation. Brown rice is known to be a good source for these vitamins, so choose rice milk made of brown rice if you are hoping to increase your vitamin B intake.
Rice Milk Promotes Cardiovascular Health
The cardiovascular system comprises the heart, blood vessels, and blood. Rice milk has a few ingredients that are known to keep this system running smoothly. For instance,
Rice Milk has Antioxidant Properties
In addition to the benefits previously mentioned, rice milk contains many other powerful antioxidants that can promote general well being and health. A few of these antioxidants include manganese and selenium, both of which have been linked to the prevention of chronic disease and an improved immune system.
Are There Any Downsides to Rice Milk?
While rice milk has plenty of health benefits, there are also some negative aspects of the milk alternative.
Rice Milk is not a Suitable Milk Replacement For Infants
Several troubling studies have shown that rice milk is unsuitable for feeding infants if it is used as a substitute for breast or cow milk. This is because rice milk doesn't contain the nutrients infants need to develop and grow at a normal rate.
Rice Milk Is High In Sugar
Rice milk, like rice, is high in starch and carbohydrates. For diabetics, the high carbohydrate content may result in a sugar and insulin spike which can cause complications. Likewise, if you are trying to cut back on carbs, rice milk may not be the best option for you.
Rice Milk is Low in Protein
In comparison to milk and other milk alternatives, rice milk is relatively low in protein. This means that if you substitute your regular milk intake with rice milk, you will get less protein in your diet than you once did. This can present problems for children and vegetarians. Some manufacturers fortify their rice milk with protein, while some people find other ways to add more protein into their diet.
Rice Milk Vs Almond Milk Vs Soy Milk- Which is Better?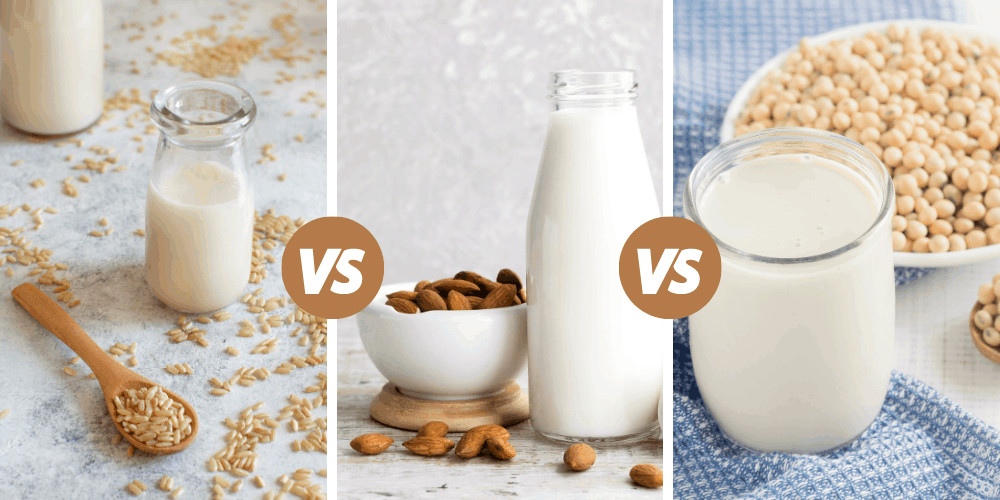 We've discussed "is rice milk good for you," but how does it fare in comparison to the other incredibly popular milk alternatives – almond milk and soy milk?
Taste
When it comes to taste, rice milk tends to come out on top, especially if we're comparing the unsweetened variants.
Calories
Eight ounces of rice milk contains 120 calories, while the same amount of almond milk has only 60-90 calories, depending on the brand. Soy milk checks in at around 90 calories. Rice milk also has a much higher carbohydrate count, with 24 g in comparison to almond milk's 8 g and soy milk's 7.8 g.
So, if you are trying to lose weight, are diabetic or prediabetic, or you are on a low-carb diet, almond milk or soy milk may be the best choices for you.
Nutrients
All three types of milk tend to be fortified in calcium, vitamin A, vitamin D, and other nutrients. On their own, these types of milk aren't full of much protein or calcium, so be sure to find out which brands fortify their milk.
Is Rice Milk the Healthiest Milk Alternative?
In the battle between rice milk, almond milk, and soy milk, rice milk doesn't exactly come out on top. In spite of some of the benefits discussed above, the high-calorie count in rice milk, along with its low protein and calcium content make it slightly less 'healthy' than almond milk and soy milk, especially for people trying to lose weight.
What are the Best Brands of Rice Milk?
As we've already discussed, rice milk is best when it's been fortified with various nutrients that occur naturally in cow's milk. Here are a few of our top picks for rice milk brands that will give you the biggest healthy boost.
Rice Dream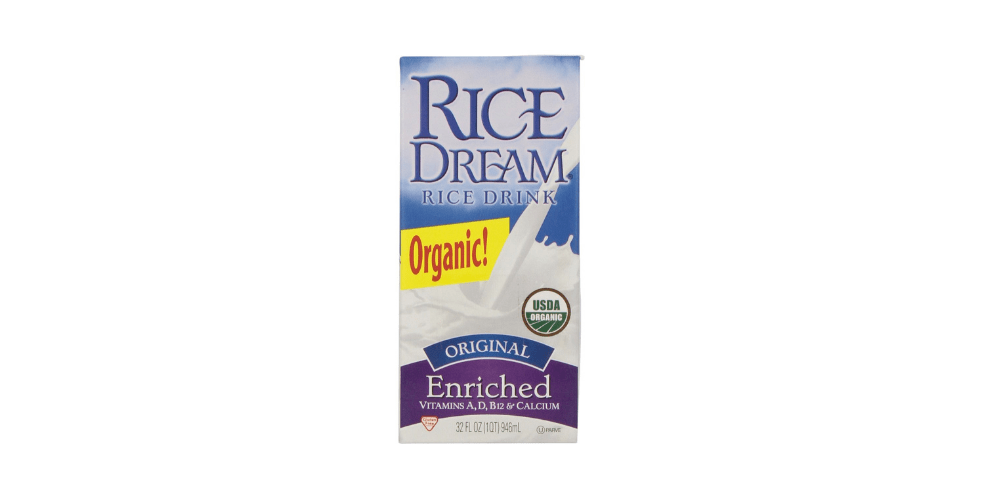 This rice milk variety comes in a range of choices including unsweetened, sweetened, and organic. All of the varieties are enriched with vitamins A, D, B12, and calcium, giving you a nutrient mixture much closer to what you get from regular milk. This rice milk is made with brown rice, canola oil, and filtered water.
Kirkland Rice Milk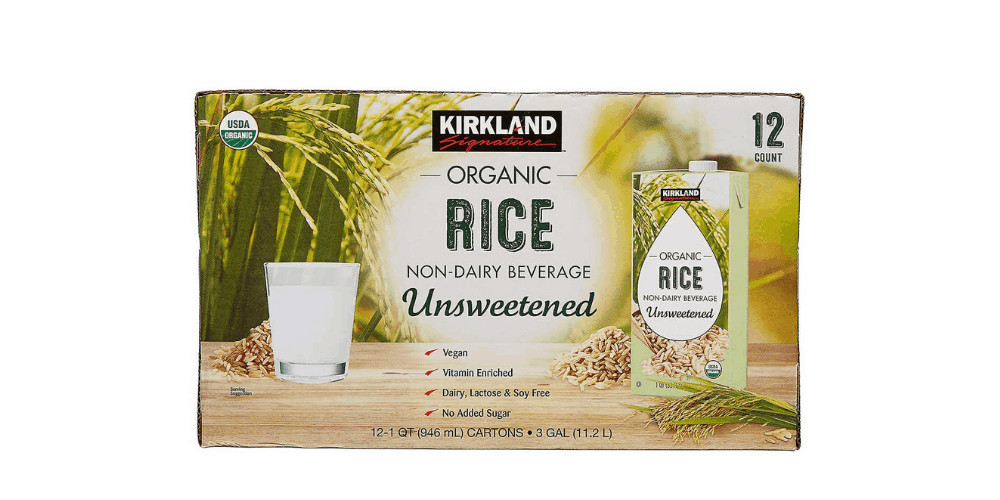 This rice milk is sold under the Kirkland brand name. As far as calories, carbs, sugar, and protein goes, this type of rice milk is pretty much on par with most other brands. Some positives about this brand is the added Vitamin A, D2, B12, and Folic Acid.
Alpro Rice Original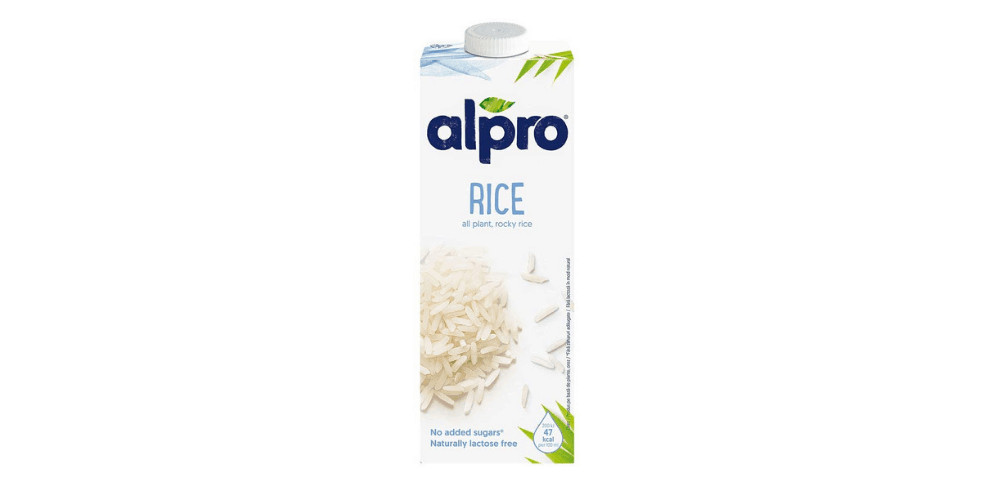 Alpro is a brand known for its dairy alternatives. Their rice milk goes by the name of "Rice Drink" which does sound a little unsavory. However, the beverage has no added sugars, is low in saturated fats, and is fortified with vitamin D, B2, B12, E, and calcium. It also has slightly less fat than some other brands.
Pacific Rice Milk Original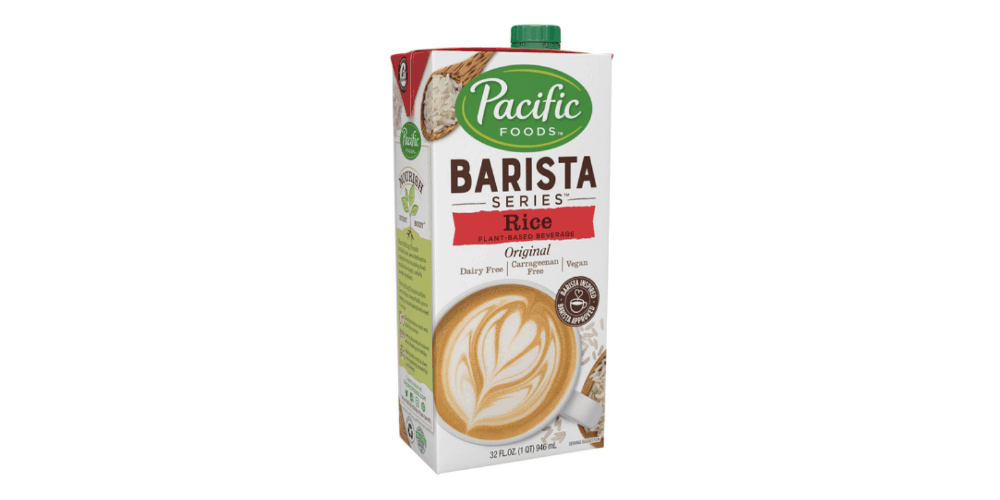 Pacific sells a range of rice milk varieties and it can be found at most grocery stores. This brand doesn't use artificial sweeteners. Ingredients include water, brown rice, canola oil, sea salt, Vitamin A, and Vitamin D2. This variety is also an excellent source of calcium.
Final Thoughts
While rice milk doesn't contain any protein, it is filled with calcium and vitamins, making it an excellent choice if you're in the market for a good milk alternative. It's an especially good choice for those who have soy or nut allergies. Compared to other milk alternatives, rice milk has a natural sweetness, even when it's "unsweetened". This means it's more pleasant to drink than other unsweetened varieties.
Is rice milk your favorite dairy alternative? We'd love to hear from you!