If you want to keep yourself and your loved ones safe from harmful chemicals then it is important that you drink the healthiest water you can. Unfortunately, most water sources across the world contain a variety of contaminants and other harmful bacteria.
Not only this, many pipes are old and made of lead, meaning that metals can soak into your drinking water. Luckily for us, today there are various systems that filter through these unwanted substances, one of which is a water filter pitcher.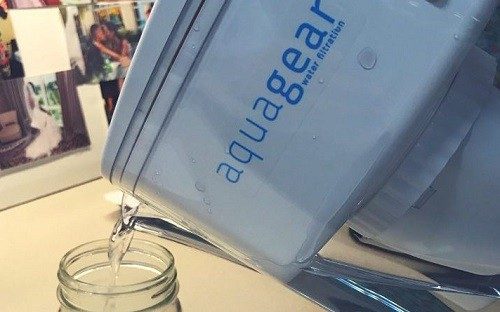 Designed for the whole family to enjoy, these mechanisms enable you to keep yourself and your family safe and healthy by filtering through every drop of water that comes from your tap. That said, there are a few things to consider when selecting the right water filter pitcher.
You first have to consider the size of your household. You must also establish how much water everyone drinks. It is important that you do a test on your tap water to find out which chemicals you'd like to eliminate.
Lastly, you need to choose a model that suits your budget, and that includes replacement filters. If you've got a hefty budget and want a filtration system that has all the bells and whistles, we recommend you check out the Aquagear Water Filter Pitcher.
About The Product
With the ability to remove 2000% more contaminants from your water than other leading water filter pitcher providers, the Aquagear Water Filter Pitcher is one of the most impressive filtration systems on the market today.
First and foremost, the Aquagear Water Filter Pitcher is designed with health and sustainability in mind. With filters made in the U.S, and 100% BPA free plastic, this model is an eco-friendly way to drink healthier water.
Not only this, it is made of 100% FDA-approved food grade materials, is 100% recyclable, and 100% vegan. The filters with which it comes have been rigorously tested and exceed the NSF Standards 42 and 53 for contaminant reduction.
The triple capacity filters can eliminate contaminants from approximately 150 gallons of water each, meaning they last 3 to 4 times longer than other industry leaders.
The Aquagear Water Filter Pitcher filters through water that has been contaminated with fluoride, lead, chromium 6, chloramines, mercury, and chlorine as well as VOCs, and 89 other common contaminants found in tap water across the world.
And, thanks to its five-stage filter with 2-micron pores, this system filters through chemicals while leaving you with a healthy level of trace minerals such as magnesium and calcium.
Last but not least, AquaGear prides itself on providing impeccable customer support, stating that if any of their water filter pitchers break they will replace them free of charge. The Aquagear Water Filter Pitcher comes with a lifetime guarantee.
What Customers Are Saying
The majority of customers who purchased the Aquagear Water Filter Pitcher were extremely happy with their decision. In fact, many have stated that this model is one of, if not the best they have bought.
First and foremost, this AquaGear model is extremely easy to setup according to numerous reviewers. According to customers, it only takes 3 minutes to flush the filter in order to get using this AquaGear model.
Not only this, it takes no time at all to drop through the filter, allowing you to refill and drink fresh water from the moment you unpack your water filter pitcher.
Nearly all positive reviews say that they can taste the difference between the water from their taps and the water that comes through the Aquagear Water Filter Pitcher. And, if that's not enough, the water comes out crystal clear with no particles at all.
Customers who reviewed the Aquagear Water Filter Pitcher say that its build seems very sturdy thanks to the durable plastic it is made of.
In addition to all the above, a customer who left this product a 4-star review upgraded it to a 5-star review because of the incredible customer service they received.
After making a small complaint regarding the spout cover, they received a brand new water filter pitcher through the post for free, no questions asked.
With 80% 4 and 5-star reviews, the Aquagear Water Filter Pitcher is one of the top-rated water filter pitchers on the market, a key reason why we give it our seal of approval as one of the best available today.
What To Look Out For
While most customers left the Aquagear Water Filter Pitcher amazing reviews, some were not as satisfied with their product. Some customers found that the spout lid tends to stick to the pitcher over time meaning that they have to manually hold it open to pour water.
Other customers would have liked to have a section for removable stickers so that they can gauge when they need to change their filter.
Unfortunately, some customers reported not seeing a change in the quality of their water, both in the number of chemicals detected and the overall taste and smell of the water.
Customers who left negative reviews say that the filtration process is extremely slow, even after flushing the filter cartridge.
Lastly, one of the biggest issues customers have reported having with the Aquagear Water Filter Pitcher is the fact that it does not seem to be filtering fluoride as described.
That being said, customers may have received a faulty product as others were very impressed with the results their Aquagear Water Filter Pitcher offered.
Buying Advice
If you think the Aquagear Water Filter Pitcher is the one for you, head over to Amazon to make your purchase. While you can buy it from other online retailers, Amazon offers one of the best deals on this .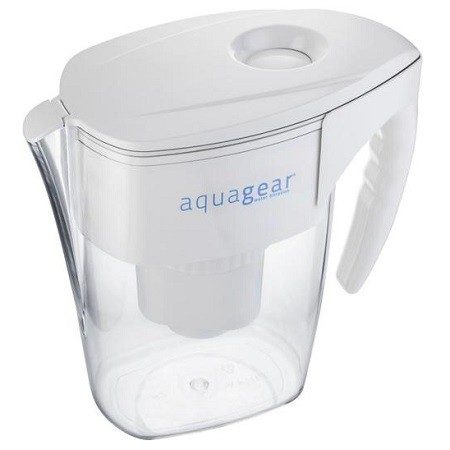 Source: goaquagear.com
Plus, you can check out the various reviews customers have left in order to make a more informed final decision. And, if that's not enough, you'll get your new water filter pitcher delivered straight to your doorstep.
Final Verdict
If you're looking for a water filter pitcher that is easy to setup, eliminates dozens of toxic chemicals and contaminants from your water, and is sold by a company with a reputation for providing excellent customer service then the Aquagear Water Filter Pitcher is the one for you.