Choosing the best water filter pitcher for your household is important if you want to keep yourself and your loved ones safe from toxic contaminants and other forms of bacteria.
While you may think that your water tastes and smells okay, the likelihood is, it still has a high level of contamination from a huge variety of chemicals and heavy metals. Luckily, today water filter pitchers can get rid of these for you, allowing you to drink, cook, and wash with sanitary, filtered water.
To choose a water filter pitcher, you need to know what is in your water in the first place. You must get your water tested by a professional to establish the levels of chemicals, contaminants, metals, and bacteria in your tap water or make use of a tds meter (test for total dissolved solids) if preferred.
It is only with this information that you'll be able to choose one that suits your individual needs and is certified to remove the right substances. If you've already undertaken the adequate tests, it's time for you to look at the various manufacturers and models available to you.
With this in mind, we've created this buying guide where you'll find out more about two of the best large water filter pitchers on the market as well as three small ones.
Not only this, our water filter pitcher reviews will tell you why it is important that you choose your filtration system carefully, while also highlighting some of the key features you should pay attention to when making your final decision.
So, without further ado, let's get started.
Best Water Filter Pitcher Reviews
Best Large Water Filter Pitcher
Let's take a look on our top recommendations for the best large water filter pitcher:
Winner: PUR 18 Cup Water Filtration Dispenser w/ 1 Filter
As the name suggests, the PUR 18 Cup Water Filtration Dispenser w/ 1 Filter comes with an additional filter making it extremely good value for money compared to its many competitors as well as the PUR classic model.
Made with unique, premium carbon, the filter on this PUR model removes approximately 95% of mercury found in tap water from your sink. In addition to this, it reduces traces of chlorine meaning that you will be left with better smelling and tasting water.
This water filter jug and its premium Pur filters also removes up to 96% of trace levels of pharmaceuticals, cutting out a huge variety of chemicals from your drinking water. While reducing the number of unhealthy contaminants in your water is its key goal, it does leave a healthy level of fluoride.
In addition to using premium activated carbon, the PUR 18 Water Dispenser blends this with ion exchange materials in order to remove unwanted contaminants and total dissolved solids effectively. Thanks to its large size, you'll be able to serve up to 18 people glasses of water, making it perfect for when you have people over for a barbecue or other meal.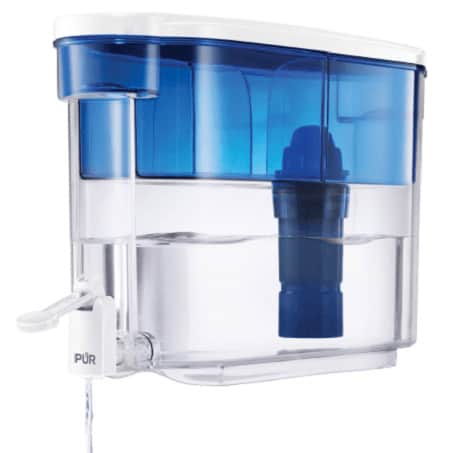 Made of BPA-free plastic, the PUR 18 Water Dispenser is extremely sturdy while also being healthier and more sustainable. And, if that's not enough, all the PUR water filters are recyclable.
Another reason we have voted this model at the forefront amongst the best water filter pitchers on the market today, is that PUR has really considered every single possibleeventuality for their product. Aside from being sustainable and offering filtration beyond your wildest beliefs, it's also extremely comfortable to use thanks to its ergonomic handle and easy to fill lid.
With the pour spout cover, you'll never get particles from the rest of your fridge in your water, leaving you with odorless, fresh, and clean water. This 18 cup dispenser comes in a space-saving, slim design that fits in most, if not all fridges.
And, if all the above doesn't persuade you, it's received more than 3,100 customer reviews on Amazon, more than 80% of which are 4 or 5 stars. Last but not least, you can purchase the PUR 18 Cup Pitcher Water Filter Dispenser for a price around $24 on Amazon depending on the package you choose.
Runner-Up: Brita Large 18 Cup UltraMax Water Dispenser And Filter
If the above PUR model doesn't quite do it for you, we recommend you check out the Brita Large 18 Cup UltraMax Water Dispenser and Filter. Aside from the fact that it comes in a choice of a very stylish and slick black or grey design, this Brita model is among the most functional and effective filtration systems available.
Firstly, the Brita Large 18 ​UltraMax Water Dispenser and Filter comes in a space-saving design which means that it can fit in most regular fridges. The UltraMax Water Dispenser tank holds a whopping 18 cups of water, the equivalent to 1.13 gallons of water.
Plus, if you don't want it in your fridge, it's square design means that it sits comfortably on any kitchen shelf or countertop. While design is important to many, one of its most impressive features is its filtration abilities.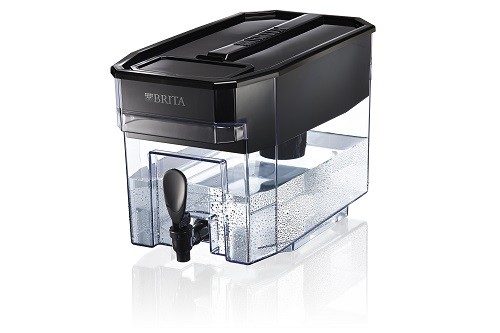 Made of BPA-free plastic, the Brita Large 18 UltraMax Water Dispenser and Filter reduces the amount of chlorine in your water leaving you with crisp, clear, odorless water that tastes amazing. Aside from removing chlorine taste and odor, this Brita model can reduce the number of contaminants, metals, and bacteria found in tap water, including copper, mercury, cadmium, among many others.
One of our favorite features of this model is the longlast filter change reminder. Provided in the form of a sticker indicator, you'll be able to workout when you last changed your filter, and when ​you need to change the filter again.
Thanks to its spigot, this water filtration pitcher is not only easy to refill but makes pouring guests and loved ones drinks an absolute breeze. Last but not least, in an attempt to reduce waste, the Brita pitcher can replace more than 300 standard 16.9-ounce plastic water bottles which rivals their longlast filtered model.
If you head over to Amazon, you can choose between the basic model and the one that comes with a Dash button, a wi-fi connected device that reorders your favorite products through Amazon. This is especially helpful when you need new filters for your water filtration jug.
With a relatively affordable price tag, the Brita Large 18 Cup UltraMax Water Dispenser and Filter has received amazing reviews online, with an overall rating of 4.1 out of 5 stars from nearly 700 customers.
Best Small Water Filter Pitcher
Here are our top contenders for the best small water filter pitcher:
Winner: Clearly Filtered 10 Cup Water Filter Pitcher
With a clean, clear design, this jug looks stylish yet understated. You can easily place this jug anywhere without worrying about it being too eye-catching or distracting. The jug is also fairly compact and fits neatly in the fridge.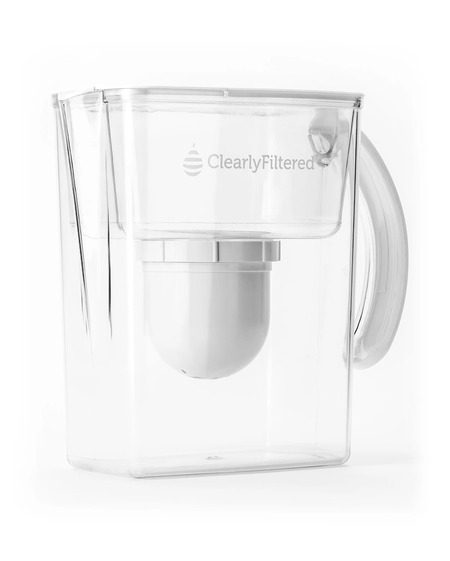 Let's get onto the most impressive and unique part about this pitcher – its filter. The Affinity Filter is a fairly new addition to the Clearly Filtered company, arriving on the scene in 2018. This filter truly is a game-changer!
This filter is by far the best at tackling contaminants in tap water.
Using the jug, you'll notice the difference in taste a powerful filter can make.
The filter is designed to provide water that is truly clean. It uses a dual-technology approach, combining magnet-like chemical absorption with a unique physical structure.
Made with 100% BPA free medical-grade Tritan plastic means the jug is not only durable but safe. All their products have been independently tested and verified by EPA-accredited laboratories and show them exceeding NSF standards.
If it is not clear by now just how much we believe in this filter we leave you with this video showing you just how well the patented filter works
Convinced? The Clearly Filtered Water Pitcher is something of a revelation in the water filtration industry! With its highly effective technology, you can rest assured knowing that your water is entirely clean and safe to consume.
Although this by far the most expensive on the list ringing in at ~$70.00 we believe it is completely worth as the filters last twice- thrice as long competitors.
We recommend getting this product directly from the manufacturer as the shipping is free, the product is about 10% cheaper.
CHECK PRICE ON AMAZONCHECK PRICE ON CLEARLYFILTERED.COM
Runner-Up: Brita Large 10 Cup Everyday Water Pitcher With Filter
If you think the two aforementioned pitchers are a bit large for your household, then we recommend you look at the Brita Large 10 Cup Everyday Water Pitcher with Filter. Designed for households with fewer people or a lower water consumption, the Brita Large 10 Cup Pitcher with Filter is large enough to hydrate a small family or couple.
Designed in BPA-free clear plastic, this water pitcher reduces the taste and odor of chlorine in your tap water. Not only this, you'll find lower traces of various metals, contaminants, and bacteria. For example, copper, mercury, cadmium, and various other impurities.
Aside from the fact that Brita has used BPA-free plastic to create this water pitcher, it has the capability to replace over 300 standard 16.9-ounce plastic water bottles, thus having a positive impact on the world.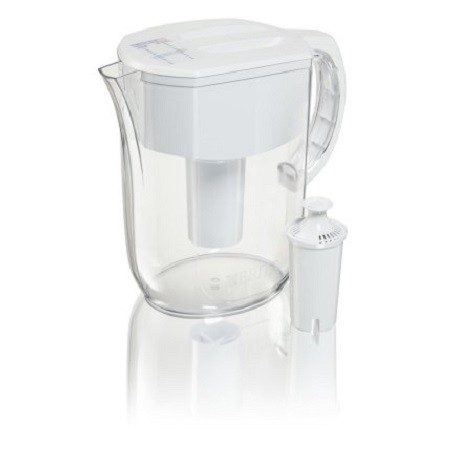 The Brita Large 10 Cup Everyday Water Pitcher with Filter comes with a filter indicator meaning that you won't ever have to guess if your filter needs changing or not. One Brita filter can filter through 40 gallons of water which equates to approximately two months of use depending on the number of people using it in your household. The longlast filtered variant lasts even longer.
It comes in a simple, yet classic oval design allowing you to maximize the amount of space you have in your fridge. And, if that's not enough, it has a soft grip handle making it extremely easy to pour your water.
The lid that comes with this Brita Pitcher with Filter is removable so you can refill it easily without even taking it out of your fridge.
Brita has designed it to be the ultimate everyday pitcher meaning that you can not only drink healthier tap water but also produce better quality infant formula as well as provide your pets with better drinking water.
With more than 4,600 reviews, the majority of which are 4-stars or more, it is no real surprise that we have voted the Brita Everyday Pitcher with Filter the best small water filter pitcher on the market at the moment.
Aside from its mound of positive reviews, this Brita model is very reasonably priced at less than $39 per unit, and that includes free shipping to your doorstep if you make your purchase on Amazon.
Runner-Up: Aquagear Water Filter Pitcher
If the Brita model mentioned above isn't quite what you're looking for, let us bring your attention to the AquaGear Water Filter Pitcher. The AquaGear Water Pitcher is among the most sustainably made water pitchers available because it is not only made of BPA-free plastic, but is also made in the U.S.
Not only this, the materials used are all 100% FDA-approved food grade, 100% recyclable, and 100% vegan. All its components have been rigorously tested to ensure you receive the highest quality product.
The filter in the AquaGear Pitcher not only meets but exceeds NSF Certified Standards 42 and 53 for contaminant reduction. Plus, AquaGear's fluoride filters have been tested in Flint and Michigan where municipal water is known to be of poor quality, for copper and lead reduction.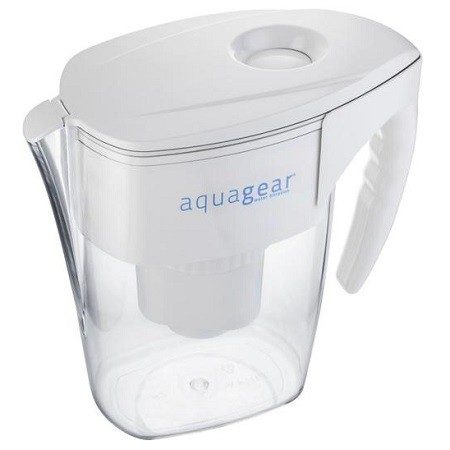 Known for lasting three times longer than other big competitors in the water filter market, the AquaGear Pitcher uses the highest quality filters, producing up to 150 gallons of water each.
In addition to the above, this water filter removes more than 2000% more bacteria, metal, and other contaminants than other models in the industry. This model can filter through fluoride, remove lead, chromium 6, chloramines, mercury, and chlorine, among other hazardous chemicals thanks to its filter's 2-micron pores.
It also keeps healthy amounts of magnesium and calcium in order to ensure that you still get all the minerals you need from your water. AquaGear is best known for its impeccable customer support, offering all its customers a lifetime guarantee on all their products.
And, if you don't believe us, read the mounds of reviews stating that they received all the support needed when faced with a faulty product. The company promises to replace products free of charge should they break.
While slightly more expensive than its predecessors at just under $70, the AquaGear Water Filter Pitcher received 4 and 5-star reviews 80% of the time. With more than 800 reviews and a variety of features, the AquaGear Filter Pitcher is perfect for any small household looking for a high-quality filter pitcher that removes fluoride.
Alternative: Soma Sustainable Pitcher & Plant-Based Water Filter
If you are looking for a water filter pitcher that is slightly more basic but extremely stylish and among the most sustainably made on the planet, check out the Soma Sustainable Pitcher & Plant-Based Water Filter. As a certified B-corporation Soma does its best to produce products that have a positive impact on the world.
Because the company believes that healthy water is a basic human right, it has created a water filtering pitcher that uses plant-based filters that make water delicious and healthy without compromising on style.
Soma's filter is made of coconut shell activated carbon and plant-based casing allowing it to remove that common chlorine taste while also improving the taste and odor of your water. Plus, each filter is effective for up to 40 gallons of water- that's about two months of usage depending on the size of your household.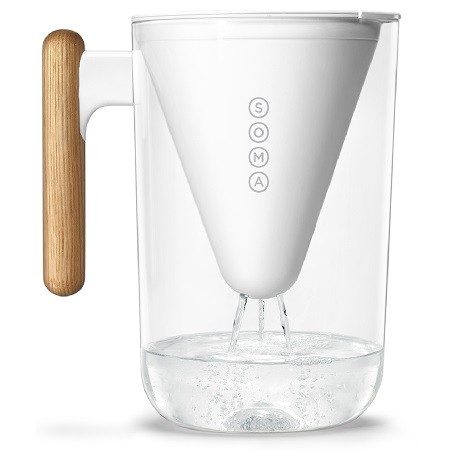 Able to hold up to 80 ounces of crisp, clear, and tasty water, the Soma Sustainable Pitcher & Plant-Based Water Filter fits in virtually any fridge and comes in an elegant and slick design that is made of shatterproof BPA-free plastic.
The handle is made of oak giving it a very distinct design compared to other water filtering pitchers available at the moment. The pitcher is extremely easy to fill thanks to its lid door which opens automatically.
The Soma Sustainable Pitcher's filter has been tested and certified to NSF/ANSI Standard 42 requirements by the Water Quality Association.
If all the above isn't enough, you may like to know that Soma donates to water projects across the world. These contributions help community-owned projects in developing countries allowing them to enjoy clear, crisp, and healthy water.
Last but not least, the Soma Sustainable Pitcher & Plant-Based Water Filter is very reasonably priced at less than $40 per unit and by purchasing it on Amazon you'll benefit from delivery straight to your doorstep.
With nearly 700 customer reviews, the large majority of which are of 4-stars or more, it is no surprise that we consider the Soma Sustainable Pitcher & Plant-Based Water Filter to be one of the highest-quality water filters on the market today.
Why You Should Choose Your Water Filter Pitcher Carefully
While you may think that choosing a water filter pitcher is easy, there are certain considerations you need to make before making your final buying decision, here are some of them:
‍Filtration Time: You should find out how much time your preferred model takes to filter water. If you have a large household, you may find that waiting up to 10 minutes for your next lot of filtered water will be very annoying in the long run.‍
Filter Replacements: Bear in mind that replacing your filter can become quite expensive. We advise that you look into the various replacement filters available as each filters performance does vary. Buying your filters with your water pitcher filter could save you money in the long run. Also, choosing filters that are not from the manufacturer could mean that you're not getting all the benefits you originally intended.‍
Budget: You must establish what your budget is before you choose a water filter pitcher for your household. While some big brands have models that are very reasonably priced, others are more expensive but also come with additional features.‍
Ease Of Installation: Despite the fact that water filtration pitchers are extremely easy to use, they should also be simple to install. This means that you should consider how many parts your pitcher has and how long it takes to put together. Typically, models with more parts take longer to put together and are therefore more difficult to use.‍
Ease Of Use: You may be wondering what is hard to understand about using a water filter jug, but in actual fact, these can be challenging if they do not come with the right features. You must ensure that your filtration pitcher can be refilled quickly and easily without needing the intelligence of ten men to get it running.
​Refrigeration: Do you like keeping your water in the fridge? If so, you must choose one that can be refrigerated for colder temperature. If you choose a model that cannot go in the fridge, you will have to pour the water from your pitcher into another bottle each time you want cold water.
Taste: Filtered water will always taste like water. ​If you prefer a little more flavor with your beverages, why not consider purchasing a fruit infused water pitcher too? ​Simply fill it with freshly filtered water before adding your fruit of choice for a healthy drink that tastes great.
Features To Pay Attention To When Choosing A Water Filter Pitcher
Now that you know why you need to choose the most appropriate water filtering pitcher for your individual needs, there are a variety of features you should pay attention to when making your final decision, for example:
Filtration Pitcher Type
The type of water filter jug you choose will completely depend on your household's individual needs and the type of water you have in your area. For example, if your water is high in fluoride it is important that you choose a model that reduces the amount of fluoride in your water.
If you are interested in benefiting from drinking alkaline water, it is important to choose a pitcher specifically designed for producing alkaline water. An alkaline water filter pitcher can also remove a range of contaminants which may make them a better choice depending on your needs. The MINA Slim is a great example of such a pitcher.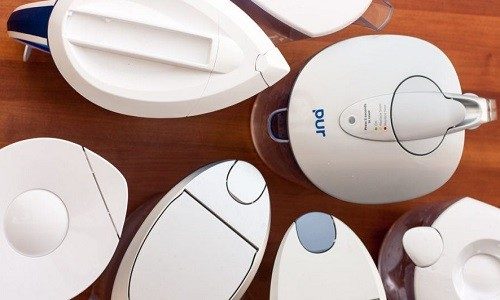 While most ​water purifier pitcher's filters use activated carbon filters in order to absorb impurities and odor1, others have multistage water filter systems that remove a huge variety of contaminants such as chlorine, parasites, lead, bacteria, and other substances such as traces of pharmaceuticals. Some models are even designed as fluoride filters which are designed to remove fluoride from drinking water.
It is important to note that filtration pitchers do not utilize reverse osmosis technology when purifying water.
Material
While most plastic water pitchers are made with 100% BPA-free plastic, others are not. Opting for a cheap plastic model could actually lead to further impurities in your water including microplastics. You could also opt for stainless steel models and even glass ones.
Size
You need to consider the size of your water filtering pitcher in order to ensure that it can hydrate your entire family. If you buy a pitcher that is too small you may find that you have to refill it very regularly which is not only time consuming and frustrating but also expensive in the long run.
Simply put, the amount of water you and your loved ones drink will hugely influence the size of pitcher that you need. You also need to be sure that your pitcher fits in your fridge if opting for a larger model.
Certifications
While manufacturers can tell you that they have tested their filters against contaminants and other unhealthy substances, you should also check that your preferred model has been tested by independent organizations such as NSF Internationa or the Water Quality Association.
If you are concerned with removing lead from your drinking water, be sure to look for an NSF 53 certified pitcher as only this certification has been tested to remove lead from contaminated water.
In addition to ascertaining the NSF standard, we would recommend the use of a tds meter (total dissolved solids) to analyze the quality of your water, both before and after filtration.
Filter Change Indicator
Some water pitchers come with filter change indicators which means that instead of guessing when your filter needs changing, there will be a mechanism that tells you when filter capacity has been reached and the filters life has come to an end.
This can come in the form of a removable sticker or a timer. Typically, these filters last anywhere between 1 and 3 months depending on usage and the quality of the filter itself.
Warranty
Despite the fact that many modern water filter pitchers are not expensive, it is important that you opt for a model that comes with a warranty in case you find that your filter is not doing its job properly.
Normally, these pitchers come with at least a 90-day warranty, however, more expensive models come with a one-year warranty or even lifetime warranty depending on the manufacturer.
​Our Verdict – Which Water Filter Pitcher Should You Buy?
The products mentioned above and included in our ​water filter pitchers comparison are all fine models that have been tried and tested by thousands of consumers across the world, suffering from various water problems and are guaranteed to improve your water quality.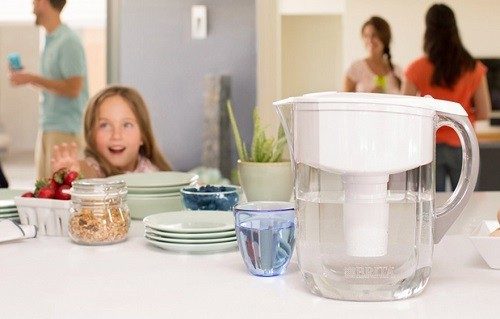 That being said, you should always consider which contaminants are affecting the water in your location. You should also know how much water you want to filter on a daily basis as well as your budget.
If you want a water filter pitcher that can hydrate a large household or family, we suggest you choose to buy the larger PUR or Brita Everyday model mentioned above. On the other hand, the other three models are great for smaller households. ZeroWater and Lake Industries also produce several models (the ZeroWater Pitcher comes recommended) which may be of interest in your quest for filtered water and improved health.