Purchasing a good alkaline water pitcher is a great decision for pretty much any household. Even if your tap water doesn't ​suffer from significant quality problems, having the best alkaline water pitcher with an effective filter can dramatically increase both the health of your family, as well as their ​enthusiasm for drinking water. Such a pitcher will efficiently make the water you drink taste better, by removing any unpleasant and unwanted odors from it, as well as making it better for your health.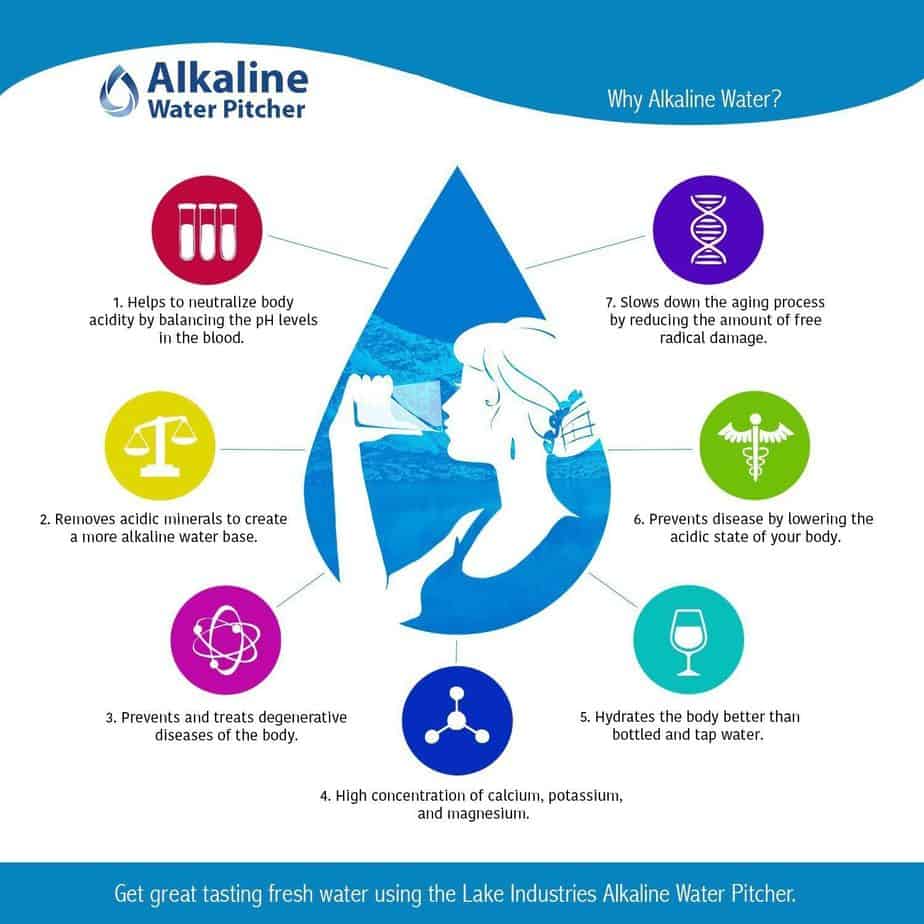 ​Any pitcher or water ionizer, however, has a lot of features that need to be examined and compared to other pitchers of a similar type. The size, the quality of the materials, the overall design, how comfortable the grip is, as well as how effective its filters are, are all things that should be taken into consideration.
To assist you in this endeavor, below we've compiled a review and comparison of the top 5 alkaline water pitchers we could find. Give them a look and maybe you will find your next alkaline water pitcher among this great selection.
Best Alkaline Water Pitcher Reviews
Our Recommendations
EHM's alkaline water pitcher represents the very best of home alkaline water filtration. The design of the pitcher might not be able to rival some of the others available, but this pitcher makes up for that with it's combination of exceptional performance and reasonable price point.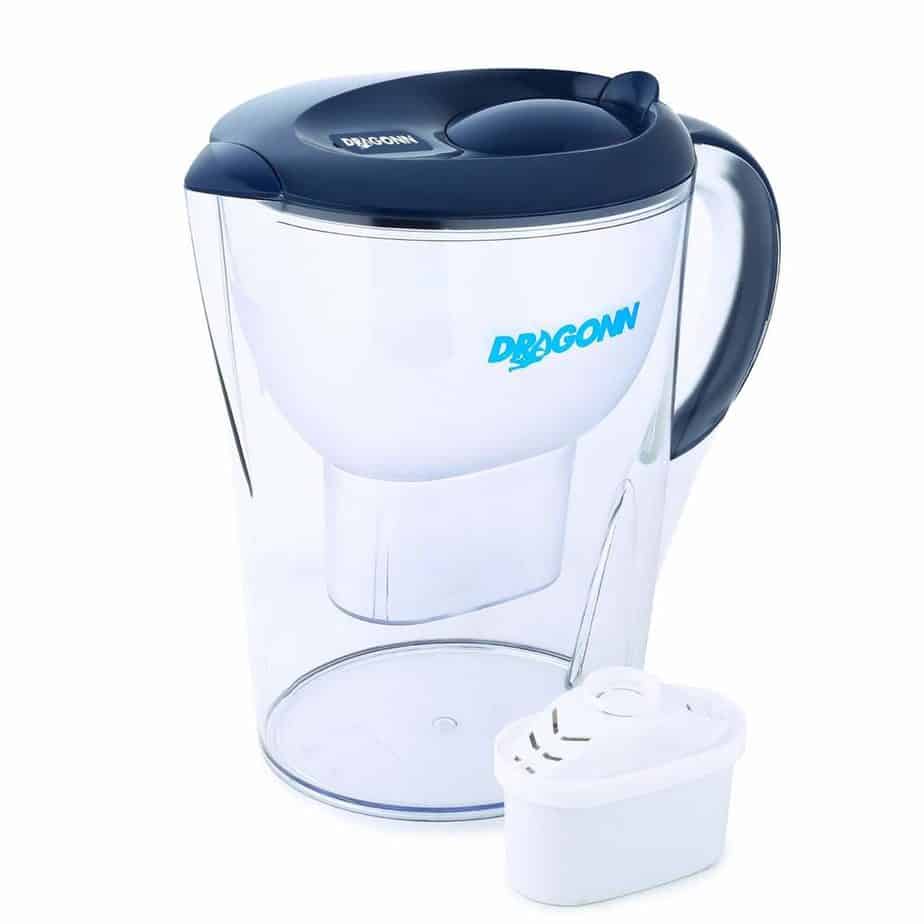 Through the use of a high performance composite 6 stage filter cartridge, the EHM Alkaline Pitcher is capable of removing a variety of contaminants from water such as chlorine and heavy metals.
​The pH value of the water it produces ranges from anywhere between 8.5 to 9.5 depending on the source of the water. Each filter is capable of filtering up to 300 litres of water, sufficient enough to last for up to two months before requiring replacement.
What many users will love is the fact that this pitcher adds calcium, magnesium, and potassium minerals as well as several anti-oxidants to your freshly filtered water, providing additional health benefits without any unnecessary substances.
This product is truly an outstanding alkaline water ionizer.
​The Naples Naturals alkaline water pitcher makes a great alternative to our winner. This black beauty has a fluoride filter that utilizes a 6 stage filtration process. This filter raises the pH levels to 9.5 and doesn't just remove any contaminants from the water, but also improve its quality by adding in natural, healthy alkalizing minerals by releasing the right amounts of Magnesium, Potassium, Calcium and Sodium. This softens hard water and delivers a premium silky-smooth water which is better absorbed by your body.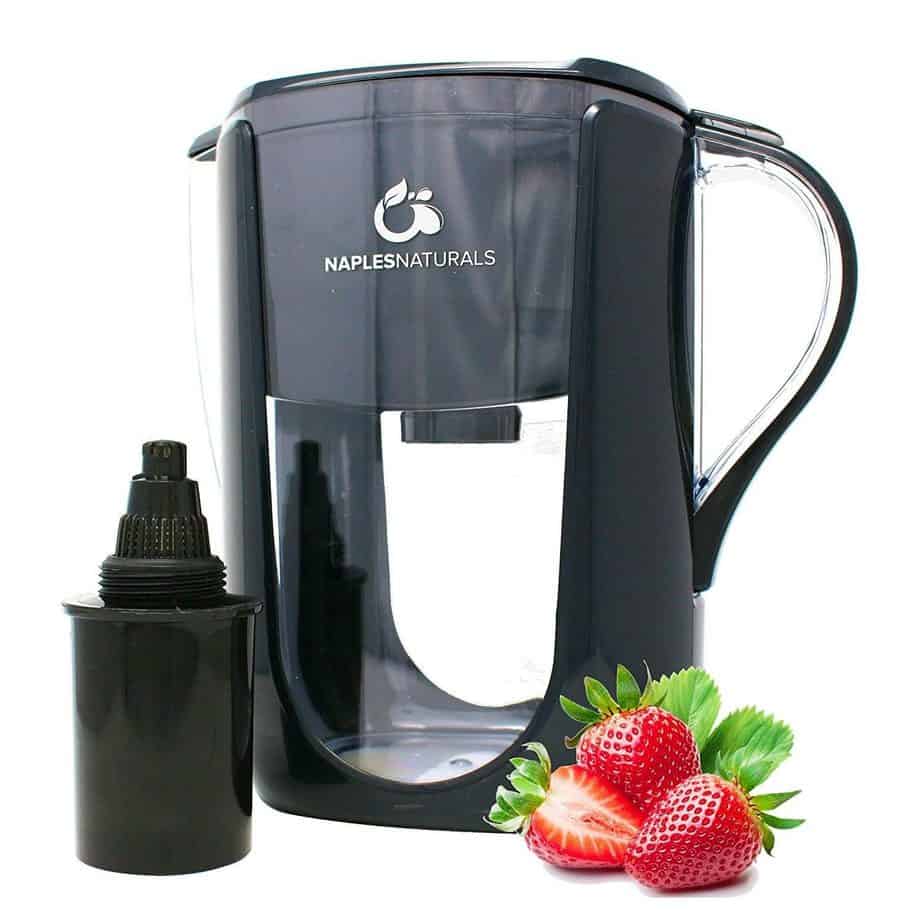 ​The filtration system also lowers your tap water's oxidation reduction potential by 200 to 400 points. This generates negative ORP water and simulates anti-oxidants, removing positive free radicals from your body.
The filter lasts for 75 days and filters through 79 gallons / 300 liters of water. And when it is done – simply replace it with one of the additional filters this alkaline water filtration pitcher comes with.
But the filters are not the only impressive thing about this pitcher. Its design is clearly a sight to behold. It is made out of a thick and sturdy ABS plastic which is free of BPA materials and is up to food grade standards. It has a gorgeous design, a comfortable and ergonomic handle, and a good and practical lid.
The filters are slower to filter water than you might expect.
​​​Coming to us from Invigorated Living, this pH RESTORE alkaline water pitcher is a great addition to our list. It has a classical design and a clean, all-white design, which makes it very easy to see whether the water in it is in a good condition. The ionizer pitcher comes with 2 ionizing filters that will purify and mineralize your drinking water and as a result – have a dramatic and positive effect on your family's health. They work to reduce acidity and inflammation and improve your immune system which in turn may prevent disease.
These filters will increase your metabolism rate, aiding in weight loss & slowing down the aging process. The enhanced level of water absorption increases hydration, mental clarity, energy levels & performance.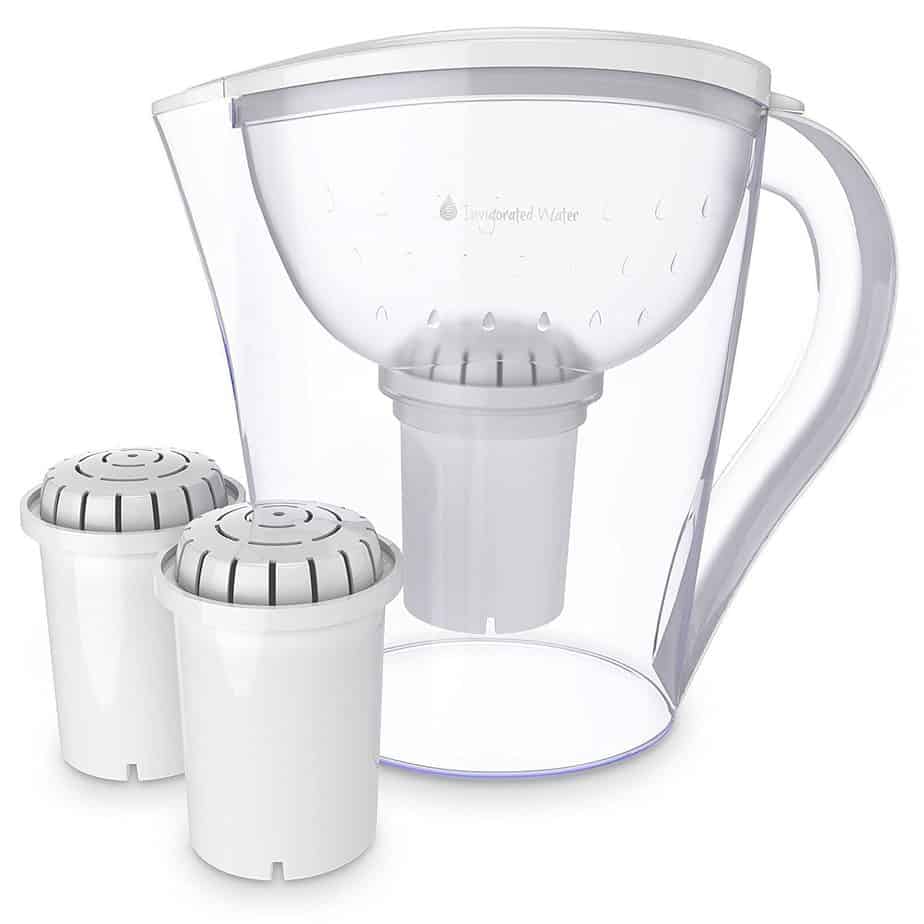 ​The lid utilizes Invigorate Living's Easy-to-fill system, making the usage of this alkaline water filter pitcher much easier than anticipated. There is also a digital gauge which easily lets you know when it is time to change your filter.
The pitcher is made out of high quality materials that are free of any BPA and is also SGS Certified, FDA, TUV, RoHS, BSI, ISO 9001:2000 Member of The Water Quality Association.
The filters themselves have a very long life – 1500 cups / 96 gallons / 360 liters per PH001 filter. They remove 99.9% of all organic & inorganic matter – including bacteria, viruses, colloids, parasites, giardia, protozoa, cysts, cryptosporidium & endotoxins.
​​The lid doesn't appear to be as durable as we might like it to be.
​​Middle of the road is this next entry to our list, coming straight from Hskyhan. Their Alkaline water pitcher has a capacity of 3.5 liters and comes with 2 included filter cartridges. The filters use an innovative 7 stage filtration process which guarantees the effective filtration of the water from any fluoride, chlorine, lead, bacteria, dirt, harmful heavy metals and other substances in the water. This also removes the odor and bad taste that sometimes come with tap water and provides clean and healthy drinking water for you and your family.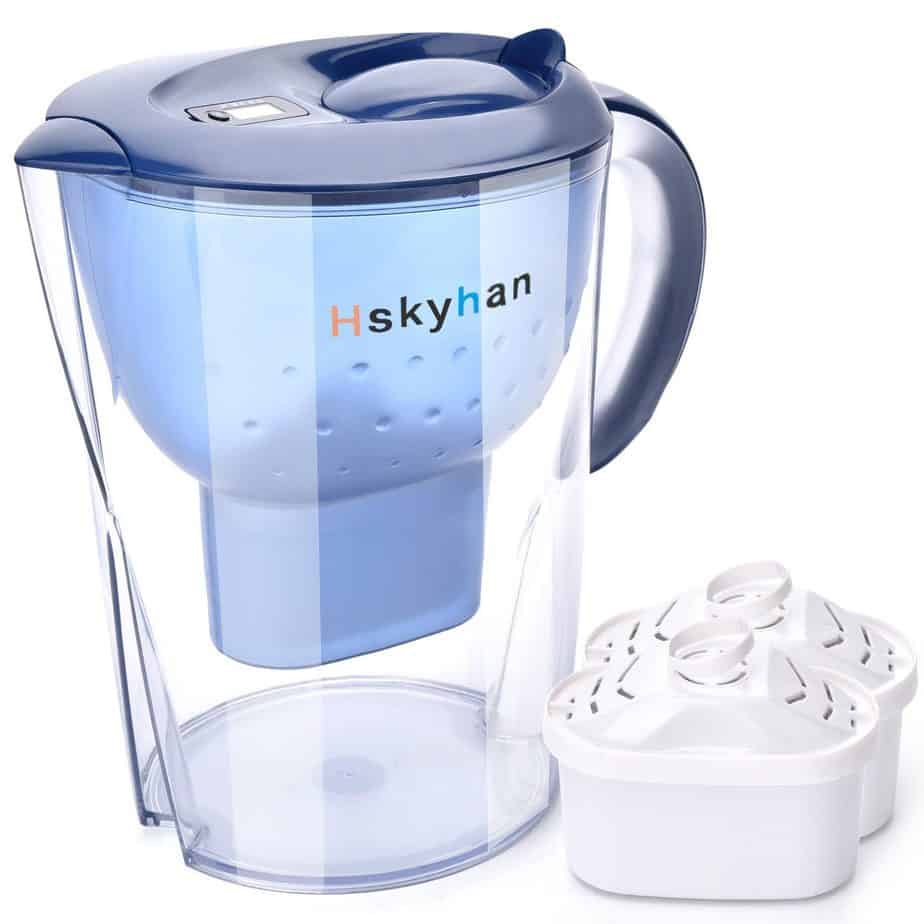 ​​The filters also effectively increase the pH levels by 0.5 to 2 or more, which effectively filters the pH levels from 8 – 10 depending on your tap water. They include an Ion exchange resin and a PP meltblown fiber, guaranteeing no clogging and fast filtration. One filter will give you filtered water equal to 300 16oz plastic bottles.
The pitcher itself is made out of high quality and BPA free materials that are on an AS food grade level. The Hskyhan water filter has passed NSF&SGS certification. It has an ergonomic and easy to use handle and it has a gauge on the top, which measures the water you've filtered and informs you when it is time to change the filter.
​The lid needs to be held when pouring to prevent spillage.
​Moving along, we have a great entry from the well regarded homeware company, Lake Industries. Their Alkaline water filter has a great capacity of 3.5 liters and comes with a free filter. The filter utilizes a 7 stage filtration process. This process includes ion exchange resin, tourmaline, alkaline mineral balls, and activated carbon. As a result it is amazing at removing chlorine, odors, and most heavy metals from any tap water. It removes 90% of all zinc, copper, lead and pollutants to create an amazingly delicious alkaline water.
​This alkaline water filter pitcher also removes any free radicals from the water and eliminates all dangerous toxins with its powerful antioxidants and high negative ORP (Oxidation-Reduction Potential is a measurement to oxidize contaminants). All this culminates in an increase of your and your family's energy levels, as well as in a drastic improvement of your immune systems.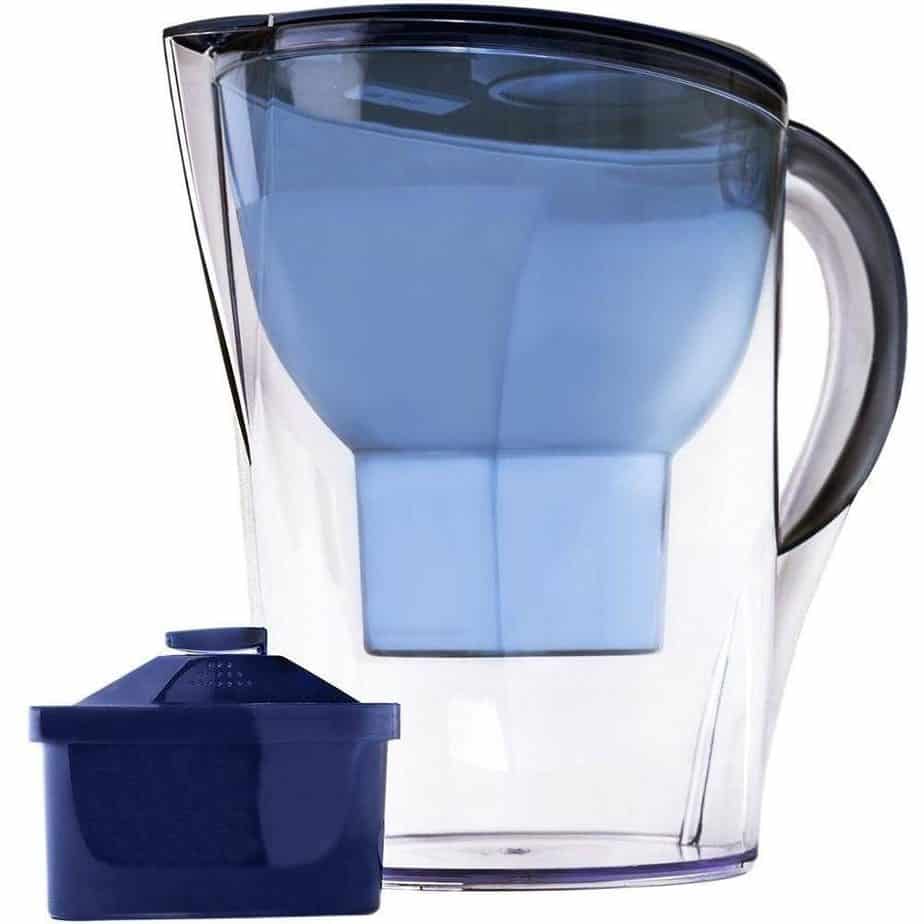 ​(Note: the filters come with stickers at the bottom, so remember to remove the stickers before using the filters.)
The filter pitcher itself is made out of high quality materials that are free of any BPA and instead are on a food grade level and include ABS materials. The design of the pitcher is also very practical – it fits easily in any refrigerator, especially considering the amount of water it is designed to hold. It has an Easy-to-fill lid which makes refilling the pitcher much easier, and it also has an Easy Pour Spout, which makes for an easy pouring experience with no spillage.
​Th​e lid does not provide a perfect fit for the pitcher.
​​​​Last but not lease is this water pitcher from Astra which comes with 5 Dafi Alkaline cartridges. The Dafi cartridges use an innovative alkaline UP technology which effectively increases the pH level of the water up to 9.5, as well as its negative ORP potential. It is great for neutralizing the effects of high body acidity (we are naturally acidic) and it enriches your body with antioxidants. It also has another new feature, which is its ceramic bed. This feature helps it to remove chlorine and all unpleasant odors and tastes from your tap water.
​The cartridges last for 40 gallons of filtered water, which is about 35 – 40 days for a typical family, so with the set of 5 free cartridges you get 200 gallons of high pH water filtration guaranteed with the pitcher.
The pitcher itself is made of high quality and BPA free materials. It has a beautiful and practical design, which will fit perfectly in any kitchen, particularly with the choice you have between several different colors – red, black, violet and mint.
​The addition of 5 filters is great, but the filtration capacity per filter is not particularly impressive.
​Alkaline Water Pitcher Buying Guide
​Choosing and then buying an alkaline pitcher is a straightforward process, but there are still several factors that you should be aware of before coming to a decision. This guide is intended to ensure that you buy one of the best alkaline water filter pitchers available.
How Does An Alkaline Water Pitcher Work?
In addition to removing the contaminants that your average water filter will, alkaline pitchers also work to raise the pH balance of your filtered water by up to 2 levels. This entire process happens by the passing of tap water through the included filter to raise water alkaline levels.
Some of these alkaline water pitchers even incorporate reverse osmosis technology to remove heavy metals.
What Features Should You Be Looking For In An Alkaline Water Filter Pitcher?
​As our reviews suggest, different models offer different pros and cons. The most important factors to consider include:
Initial Purchase Cost: This is always a factor lets not deny it, but do bear in mind that many pitchers are bundled with a number of alkaline filters which may make them more cost-effective in the long run.
Alkaline Filter Replacement Cost : Once you've purchased your alkaline water pitcher, the only ongoing cost you will incur is the cost to replace each alkaline water filter when required. We've factored this cost into the overall ratings we've given each pitcher. Filters for Santevia pitchers for example have quite a high replacement cost.
​Quality & Durability: As a device that will be repeatedly removed from the refrigerator for use, the model you choose should be durable enough to offer years of service without failing.
Ease Of Use: And of course, your chosen pitcher should be easy to use and easy to maintain. Every product that we have reviewed meets this criteria.
​Our Verdict – Best Alkaline Water Pitcher
​Dragonn pH Restore Alkaline Water Pitcher
Naples Naturals Alkaline Water Pitcher
pH Restore Alkaline Water Pitcher
Hskyhan Alkaline Water Pitcher
Lake Industries Alkaline Water Pitcher
Dafi Alkaline Water Pitcher
​There are our 6 suggestions for the best alkaline water pitchers. Do any of them take your interest? We ourselves are very excited by the EHM alkaline water pitcher because of its high quality design and its effective filters.
The other 5 alkaline water filters certainly have their merits, however, and might be more suitable for you depending on your personal requirements. Either way, you won't be making a mistake with any of them in your pursuit for alkaline mineral water.