Countertop water filters are one of the go-to choices for a lot of home owners for their convenience and easy installation. They are a nice medium between the longevity of the whole house water filter or the under sink type and the convenience of more portable short-term solutions such as a water filter pitcher. As such, they can greatly improve the quality of your drinking water and the benefits that brings.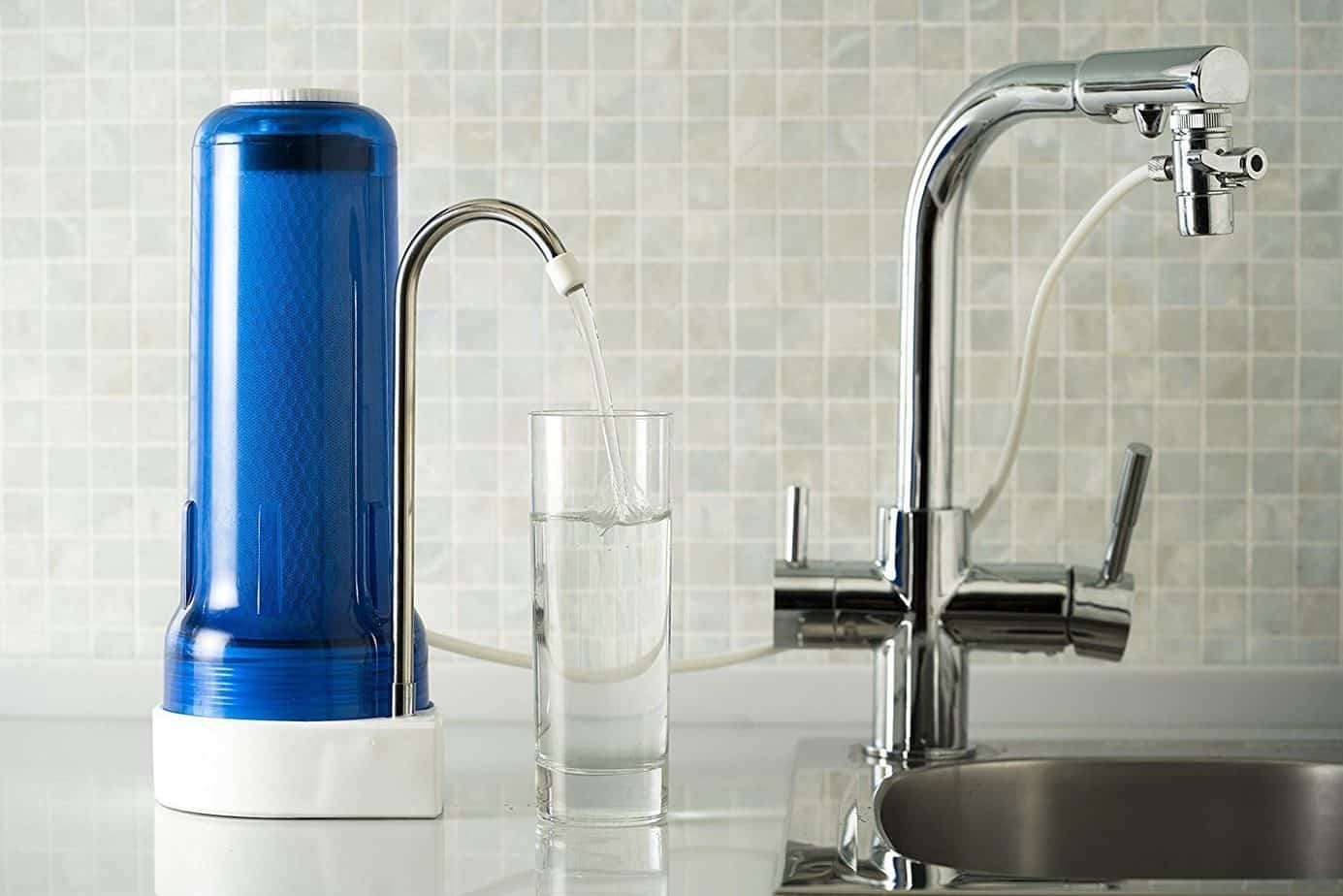 How do we choose a great countertop water filter if we're not experienced in this field, however? Well, there are several key factors to consider, but none of them are too complicated – filter capacity, ease of installation and material quality. To further see what we mean, as well as to see some of our suggestions through our comparison, below we've reviewed the best countertop water filters we could find on the market right now:
Our Picks
Our Recommendations

​Coming to us from Lake Industries and storming into first place is this stainless steel above counter water filter system which uses a KDF cartridge and claims to achieve an unsurpassed level of performance. And while we can't vouch for the "unsurpassed" part, the performance is definitely of the highest quality. This water purifier system successfully removes up to 99.9% of chlorine, hydrogen sulfide, heavy metals, iron, bad taste and odors, and other organic water contaminants and chemicals.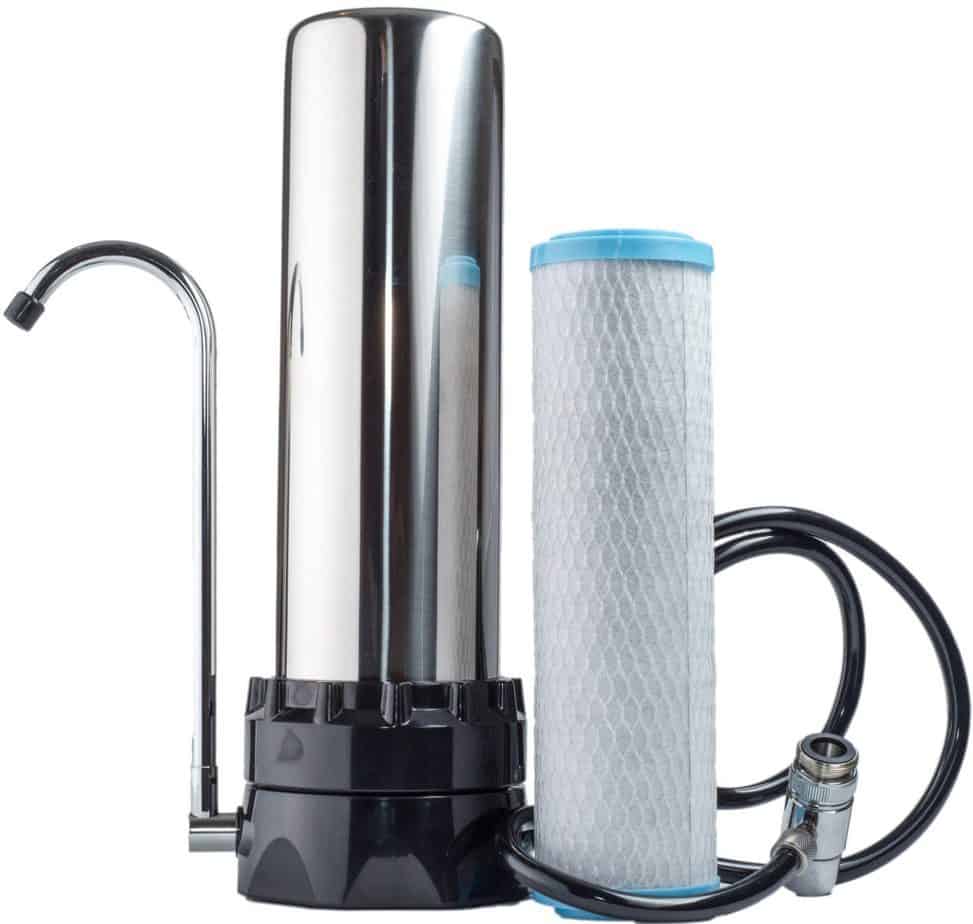 ​​The installation is quick and simple and includes no extra complicated steps – just connect the tap water filter diverter valve to the faucet and the water purifier is ready to work. It has a capacity of up to 1,000 gallons of water which is enough for multiple months of use for a medium-sized family.
The system has a filtration accuracy of 0.01~0.1um, making it a great choice for anyone who wants their home drinking water to truly be of the highest quality. With a counter-top filter like this you can forever forget about bottled water and easily have the cleanest water of anyone you know at your disposal.
​A deserving winner of our runner-up spot is this Ecosoft countertop drinking water purification system. As Ecosoft say, "Clean water is not a luxury, it is a necessity!" and we can't help but agree. Their modern and sleek design comes in a lot of colors and can easily match any kitchen. It is more than just beautiful, however – it's also effective. This water filter can be used to remove all types of water impurities like chlorine, heavy metals, lead, sediment particles, bad water taste and unpleasant odors.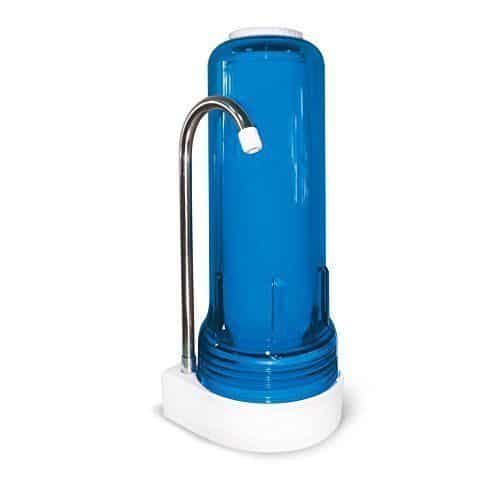 ​As a result, a counter top water filter system like this one is excellent at providing your home with a clean, healthy and tasty drinking water supply, making it a great alternative to bottled water. And unlike whole house water filtration systems, it requires no fuss and doesn't present any plumbing problems. 1 cartridge of this Ecosoft filter is enough for 1,500 gallons of water or up to 6 months of use. It also comes with a plastic wrench, 2 kitchen faucet adapters, and a seal and a ring for a leak-proof installation.
​​​Next up on our list is Home Master with their TMJRF2 countertop water dispenser. Its 3-stage filtration system successfully removes up to 93% of fluoride, chlorine and most other water impurities, effectively bringing the ​water quality levels of any tap water to a desirable standard. It has a very efficient and space-mindful design that won't intrude in your kitchen in any way.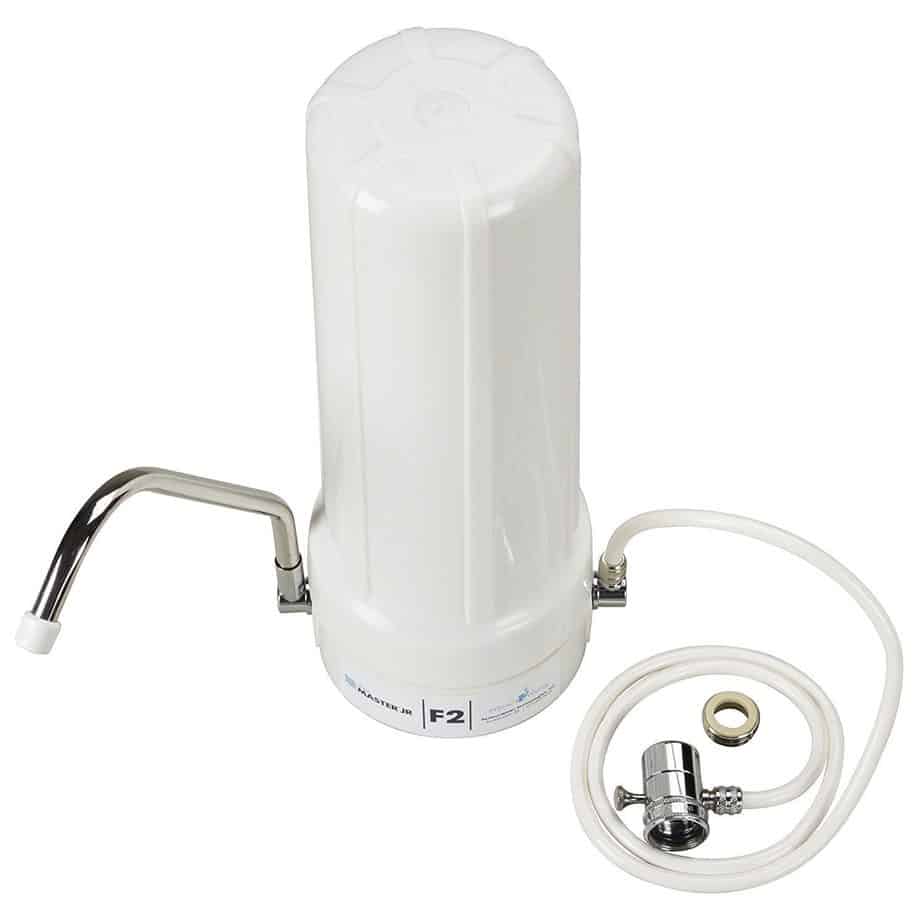 The installation and re installation is exceptionally easy, making this not just a great unit for quick and easy usage at home, but also an easily portable model which you can move around with you. Keep in mind, however, that the capacity of the filters isn't very big – to maintain optimum filtration process, Home Master Jr. F2 filters should be changed every three months or 500 gallons.
​If you don't want to bother with constantly changing your water filter's cartridges, this CleanWater4Less filtration system is a sealed one with a capacity of 10,000 gallons of water. It has a stylish and simplistic design that will easily fit your kitchen and sink.
It is light, small and discreet. It filters most types of water impurities like fluoride, chlorine, heavy metals, iron and lead, as well as unpleasant and unwanted tastes and odors. It is nicely priced for its capacity, especially considering that you won't have to count the additional filters in the price.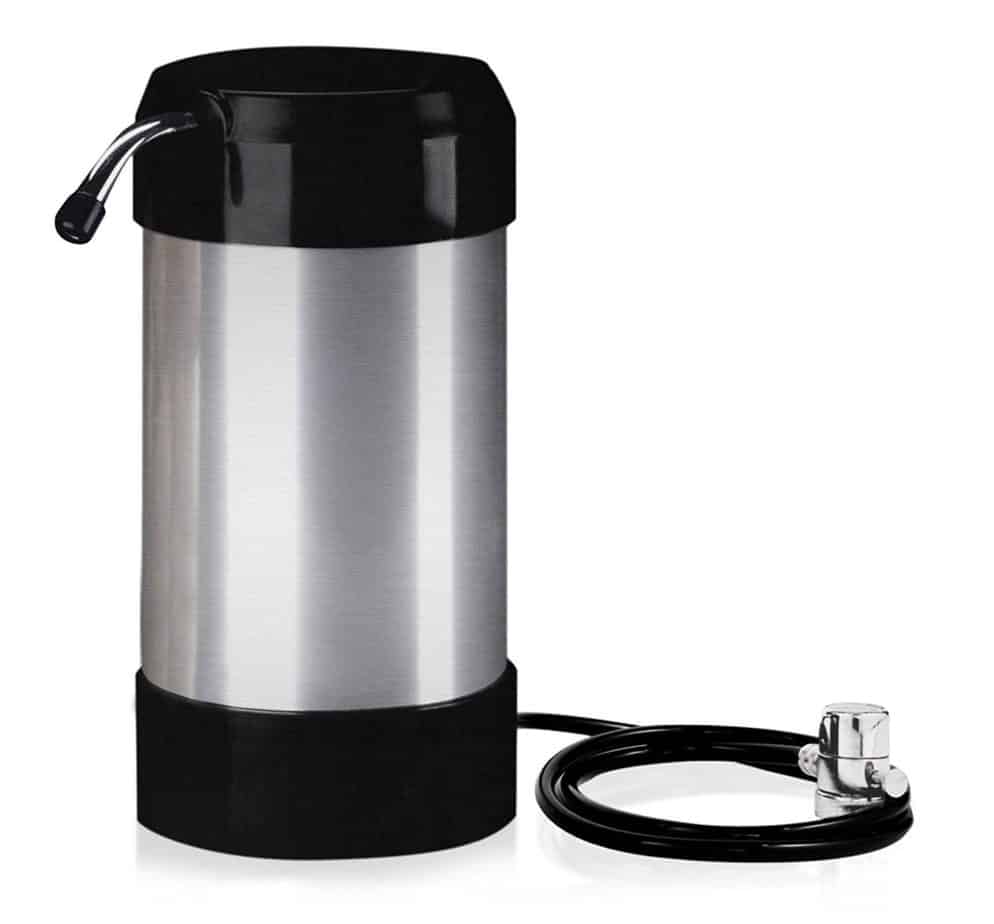 ​Of course, the downside is that once the filter has gone over 10,000 gallons of water, you won't have to just replace its filter, you'll have to replace the entire device. This makes it ideal for people that are renting and want a constant supply of clean water without bothering with neither constantly changing filters, nor with installing a complicated whole home purification system.
​​New Wave Enviro bring us the next product on our list – their 10 stage water filter system. This device ensures a continuous supply of clean drinking water for your home. It efficiently removes all major water contaminants and chemicals from your water, bringing them below the EPA minimum levels.
It is very effective against all of the following: Chlorine, cancer causing organic/chlorine compounds called Trihalomethanes (THM), bad odors, e.g., Hydrogen Sulfide which gives water a rotten egg smell, pesticides, herbicides, PCB's, toxic heavy metals i.e., lead, cadmium, organic arsenic, asbestos, micro-organisms (protozoa and cysts) such as Cryptosporidium and Giardia, and a lot of other lesser known organic contaminants.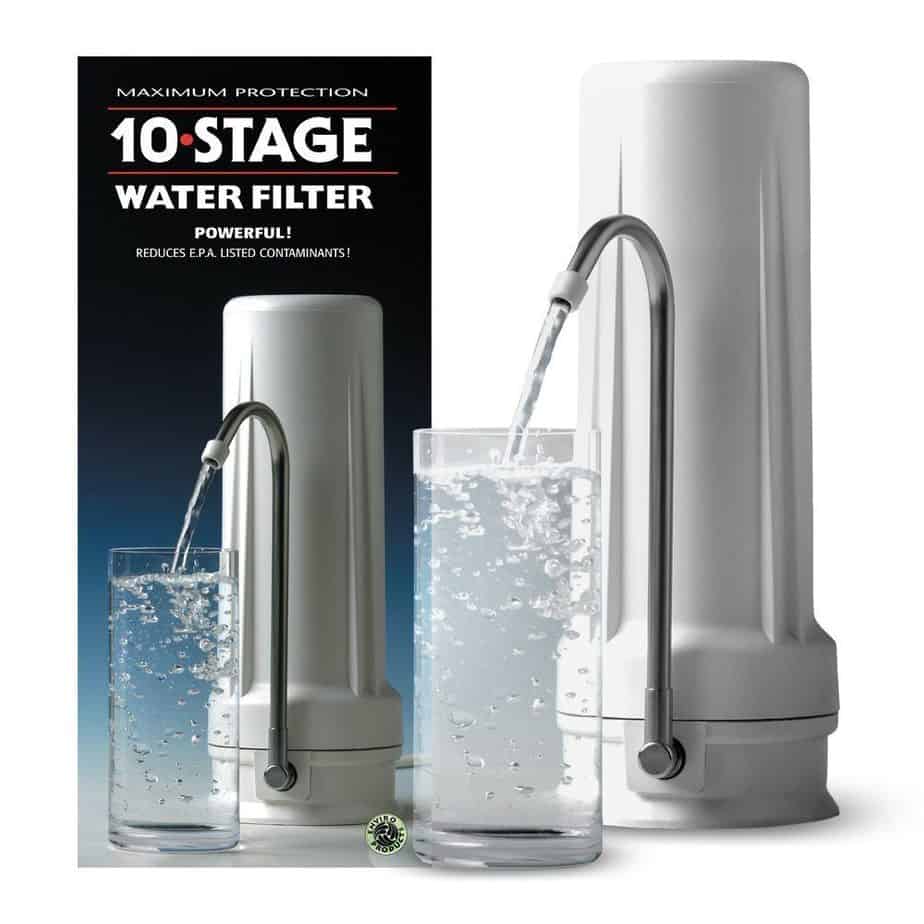 And once the water is filtered, all inert and desirable, healthy minerals like magnesium, calcium and potassium are left behind. What's more, this item also comes with a 30-day money back guarantee – if you don't like the taste of the water, if the installation wasn't what you imagined, or if you simply don't feel that – despite its cool design – the water filter system doesn't fit your kitchen, you can return it at no additional costs and a full refund.
​​And of course, APEX also make an appearance on our list with their Alkaline countertop water filter. It works very well to reduce and remove most chemicals and contaminants that are commonly found in tap water like chlorine, sediment, and radon as well as Cryptosporidium, and Giardia cysts, which contribute to water-borne illnesses. This APEX water filter also removes mercury and harmful pesticides, so the end result is not just a tasty and odor-free drinking water, but one that is as healthy as possible as well.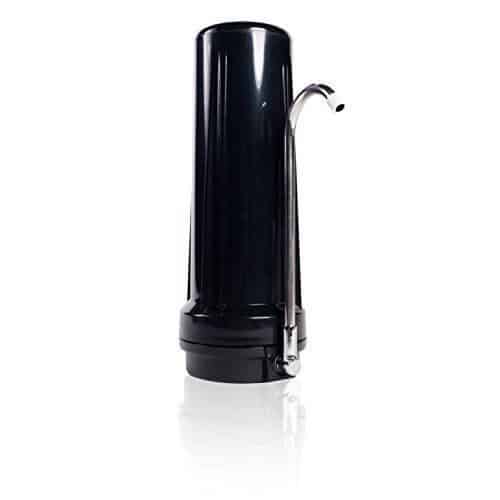 Alkaline water is very popular with consumers due to the perceived health benefits, making these APEX filter systems perfect for obtaining your daily dose of alkaline water.
​The filtration system is also sporting a nice design that won't take a lot of space in your kitchen and won't intrude in any way. It is made in the U.S. and is also NSF (National Safety Foundation) certified for passing the requirements of both the NSF and the FDA for safety and health effects. The water filter has a 750 gallon capacity, meaning that it will last for a long time.
Countertop Water Filter Buying Guide
Countertop water filters are just one of many different types of home water filtration system available. This essentially means that they might not necessarily be the right type of system for your home.
In our quest to provide you with as much value as possible, we're going to outline several usage scenarios in addition to the type of performance you can expect, which should help you come to a conclusion as to whether or not this type of water purification filter is for you.
How Does A Counter top Water Filter Work?
​Counter top ​systems are designed to sit atop your kitchen counter and takes its water supply from your sink. For this reason, there should be a reasonable amount of available space surrounding your sink so that you have a suitable permanent location for the placement of your water filter. Unlike other forms of water filter, most counter top models do not employ reverse osmosis water technology (similar to the ion exchange process used in household water softeners).
Installation and Use
As mentioned, this type of water dispenser takes its water supply directly from your kitchen sink. It does this via the use of a special adapter which is placed over the spout of your kitchen faucet, redirecting some of the water flow from the faucet itself to your counter top filtration device through the attached hose.
Due to this method of installation, you will of course need to operate your faucet whenever you wish to dispense filtered water through your new counter top dispenser. Be sure to remove your faucet aerator if required.
Each counter-top water filter will have its own spout in addition to a tap or switch, providing you with complete control over how much water is dispensed each and every time. It should be noted that water is filtered only on demand, with this type of filter unable to provide a stored quantity of water for use at a later stage. If counter space around your sink is limited, we suggest considering one of the best faucet water filters as an alternative.
Water Filtration Speed
Filtering water takes time, regardless of the type of device used. ​This type of water filter is no different with a flow rate that is acceptable for dispensing your average sized glass of water or a medium sized pot.
If you wanted to fill a large pot with filtered water, this of course would take much longer. For reference, the Enviro model we've tested will take approximately 90 seconds to filter a gallon of water.
​Home Usage Profiles
We previously touched upon the fact that water is filtered on demand which may or may not be suitable depending on the quantity of water you consume on a daily basis or at any one time. Below we've provided three typical usage scenarios so that you can see where you fit.
Low Usage
We would quantify low usage as a household of two people who drink the recommended daily intake of water. In addition, households which rarely use filtered water for cooking also fit into this usage profile. If you fit into this category, the counter top water filter system is perfect for you.
Medium Usage
We would quantify medium usage as a household or family of four people, each of whom drink a steady amount of water every day in addition to regularly using filtered water to prepare meals, food and cook with. If you fit into this category, you would be the ideal candidate for such a water purification device.
High Usage

If your household consists of four or more people who constantly utilize filtered water for drinking, making beverages and cooking with, we would place you into the high-water demand category.
In these instances, we would recommend a water filter that allows you to filter and store water for use at a later date, simply from a convenience point of view.
Counter top Water Filtration Capacity
Each type of water filter is usually provided with an independent certification award, highlighting the science around the substances and compounds that are removed from your water supply.
The two most common certifications available for home water purification devices are;
NSF/ANSI 42: This certification relates to the removal of chlorine, iron, magnesium and other similar compounds from water.
NSF/ANSI 53: This certification relates to the removal of harmful substances such as arsenic, asbestos, copper, lead, mercury as well as organic and inorganic chemical compounds and bacteria.
The latter of these two standards does a more thorough job of removing unwanted contaminants and so your choice is based upon the quality of your incoming water supply. If it is safe but you simply don't like the taste of tap water, NSF certified to the '42' certification standard will be sufficient.
The Advantages and Disadvantages of Countertop Water Filters
No product is without its drawbacks. Here we will provide a summary of the benefits and downsides to purchasing a countertop water filter.
Counter top Filter Pros
Cost. As far as water filters go, this type of filter is definitely not the most expensive option available. In fact, above counter water filters are very cost effective, even when you take into account the cost of replacement filters.
Low Maintenance. Simply install and go – the only maintenance required is periodic replacement of the internal filter. A much simpler process than countertop gravity filters such as Big Berkey water filters.
Efficiency. Whilst they aren't the fastest water filter available, countertop water dispensers perform the task they're required to very well and make a good compromise depending on your needs. Many homeowners find that reverse osmosis systems become redundant – especially with the use of an activated carbon filter.
Counter top Filter Cons
Lack of temperature control. Probably the biggest drawback for many is that above counter filters cannot chill water. If your sink water isn't as cold as you would like it to be, neither will your freshly filtered water from any sink water filters.
Lack of water storage. As an on-demand filtration device, you are unable to store filtered water through the device itself, instead requiring the use of a jug or other suitable container if you wish to go down this route. It is this drawback which attracts some consumers towards filter pitchers as an alternative.
​​Tips When Shopping For A Counter top Filter
Buying a water filter should be based upon the unique needs of your household. We recommend taking the following steps before making your final decision regarding which ​table top water filter to buy.
Test Your Water Quality
Not all tap water is the same, which is why it is a good idea to gain a better understanding of the quality of your home's water supply. Simply purchase a water testing kit which will tell you exactly what is present within your water. With this information, you can be sure that the water filter you buy adheres to the correct specification.
​Consider Mineral Requirements
Calcium, magnesium and iron amongst other minerals are usually present in all sources of water. If you have a particular need to remove any specific mineral or metal due to personal preference, be sure to check whether the filter you buy is capable of doing so.
Some consumers also like to retain some of the healthy minerals that are naturally found in water such as zinc and potassium. If this is the case, be sure to avoid purifiers that utilize a reverse osmosis system as these devices remove almost everything.
​Our Verdict

And these are our suggestions for great counter top water systems. As you can see, there are a lot of different options – bigger and more expensive gravity countertop filters (such as the Berkey water filter) , as well as smaller, cheaper and even single use systems.
We are partial to the Lake Industries Stainless Steel Water Purifier Filter because of its overall amazing quality and functionality – leading us to name it as the best countertop water filter available. The others have their benefits as well, however, so simply read each review to find the model most suitable for your home.
Having read both our in-depth countertop water filter reviews and comparison in addition to our buying guide, you should now feel confident to make the decision on whether buying a countertop water filter is right for you, allowing you to benefit from the best water possible.