Having a portable water filter by your side is one of the best things a backpacker can pack in his or her arsenal. Backpacking water filters are rarely used as main sources of water when you are hiking or backpacking – they need some time to filter the water, but more importantly – you are not always hiking near to accessible water sources. So, bringing some drinkable water with you is always a must, that much should be clear (we covered some suitable water filter bottles in another article).
However, having one of the best portable water filters with you is always a great idea – it helps you conserve your water resources by utilizing nearby natural water sources, and – more importantly – gives you the security that even if some accident occurs and you are forced to spend more time in the wilderness than you planned initially – you'll be fine.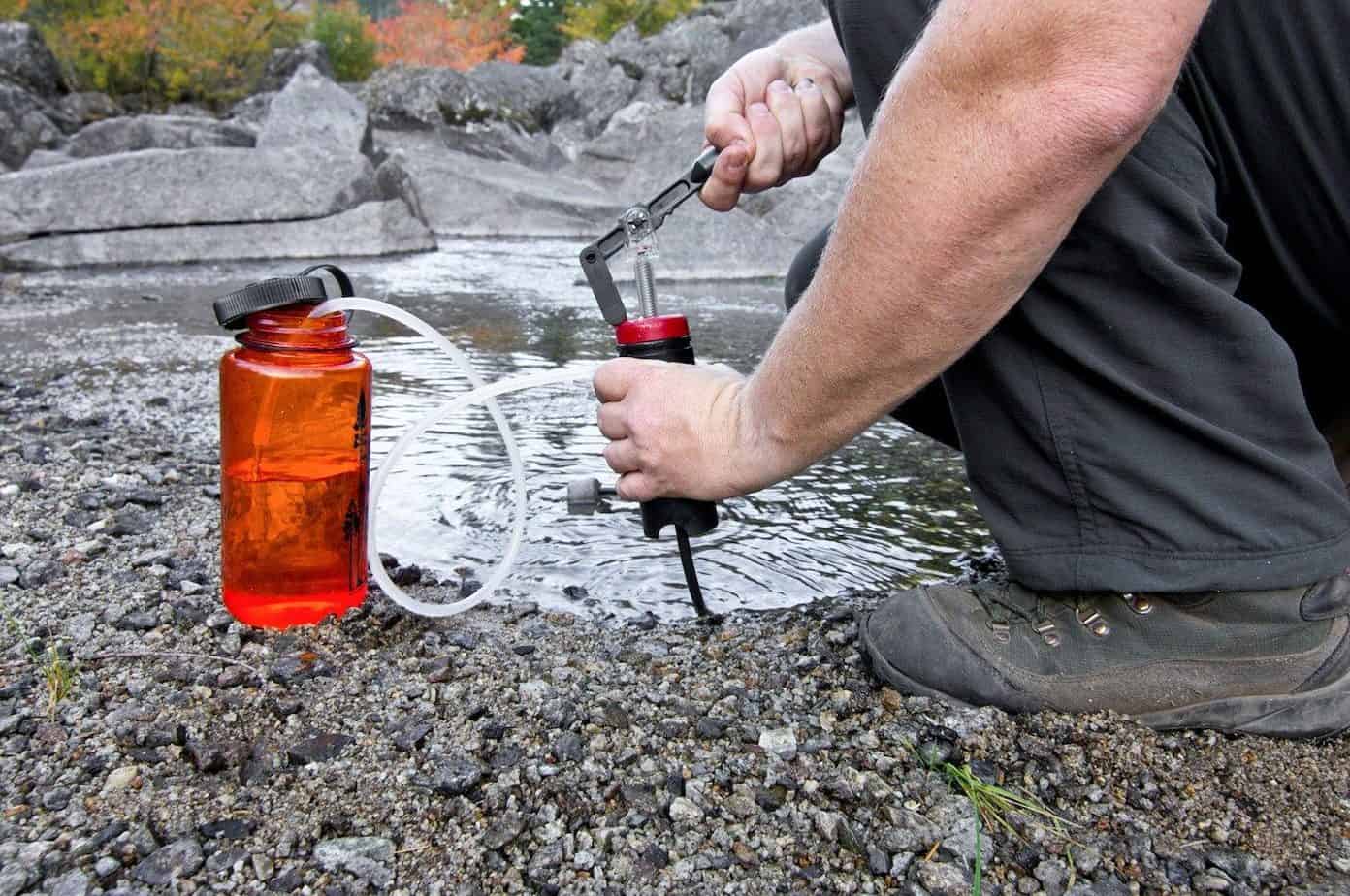 A good backpacking water filter will be of a high enough quality to work with any source of natural water, be it a crystal clear stream or creek, or a small, muddy lake. Such a filter will make sure that no bacteria, heavy particles or metals will enter your body, regardless of the water source. It will also have a high enough volume to last you for a lot of different hiking and backpacking trips and will quickly become one of your most trusted companions.
How do we pick such an item, however? As it is a fairly new technology, it's completely understandable for a lot of people to still be unfamiliar with it. So, to help you out, below we've listed the best backpacking water filters we could find online. If you are thinking of taking a trip to the wilderness soon, give them a look.
Best Portable Water Filter Reviews
Our Recommendations

​​To start things off on the right foot, here we have the Sawyer Mini water filtration system. This water filter impresses with its incredible filtration capacity – 100,000 gallons! A filter like that can literally last you a lifetime. Whether you are backpacking, hiking, camping, or in an emergency like a hurricane or a cyclone – with this portable water filter you will always have clean, fresh and healthy drinkable water at your disposal, as long as there is a source of natural water nearby.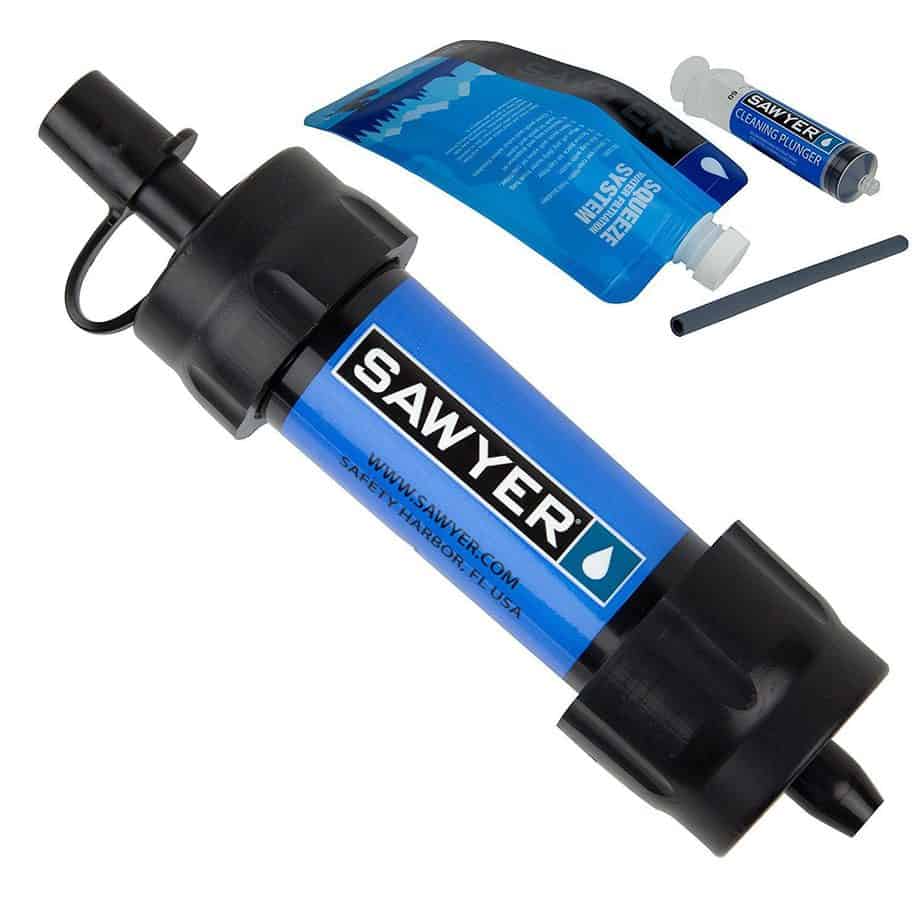 ​The filter also comes with a collapsible water bag which you can use to store water and drink it through the filter on the go. The same can be achieved with any other container or bottle.
The convenience and large capacity of this item aren't intended to make up for a lack of quality too – this Sawyer straw is a 0.1 Micron filter that will protect you from 99.9% of all waterborne bacteria, protozoa or other contaminants. E.coli, Salmonella, cholera, giardia, cryptosporidium, fluoride, and chloride – anything with a size of 0.1 Micron or more is guaranteed not to enter your body with this filter.
​​As you might have guessed, there was no way to make a list like this without including a LifeStraw. This award-winning water filter is one of the key products that made portable water filters so popular. It comes with a collapsible bag as well – you can use to store water while you are hiking or backpacking and drink with the straw directly from it.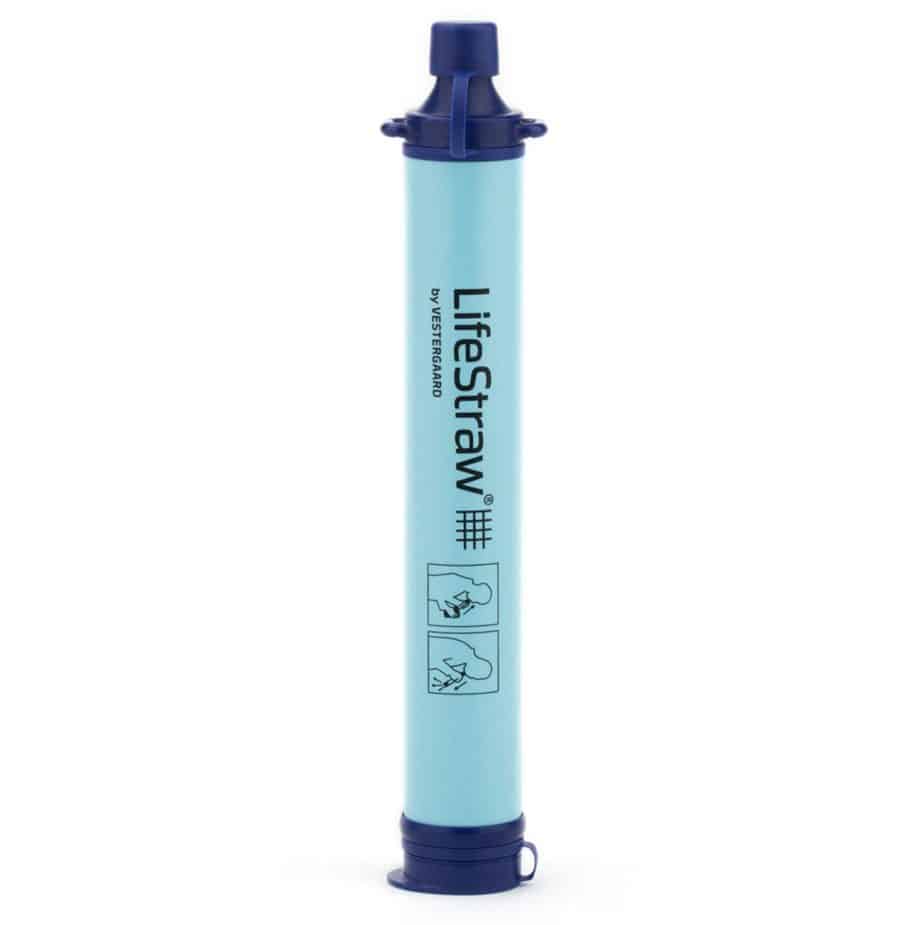 ​The LifeStraw has a more modest filtering capacity of 1000 liters or 264 gallons, which is typically enough for 400 – 500 days of drinking for a single person. However, for backpacking needs this is also plenty as it can be enough for dozens upon dozens of backpacking or hiking trips.
And as you would expect from a high quality water filter, the LifeStraw removes 99.9% of all waterborne bacteria that is of 0.2 Micron size or bigger. With a LifeStraw you needn't be bothered by things like E.coli, Salmonella, cholera, giardia or cryptosporidium. It also impresses with its high filtration speed, which makes it easier to drink directly from the source.
​Doesn't remove bacteria and protozoa with a size of between 0.1 and 0.2 microns.
​​This next portable water filter comes to us from Etekcity. As with our previous two entries, this item would make a great addition to any backpacker's inventory. It has a filtering capacity of 1500 liters which is enough for about 500 – 700 days for a single person – more than enough for countless backpacking trips. This product can filter water from any natural source like streams or creeks and give you the peace of mind that it doesn't matter how dirty or muddy they are.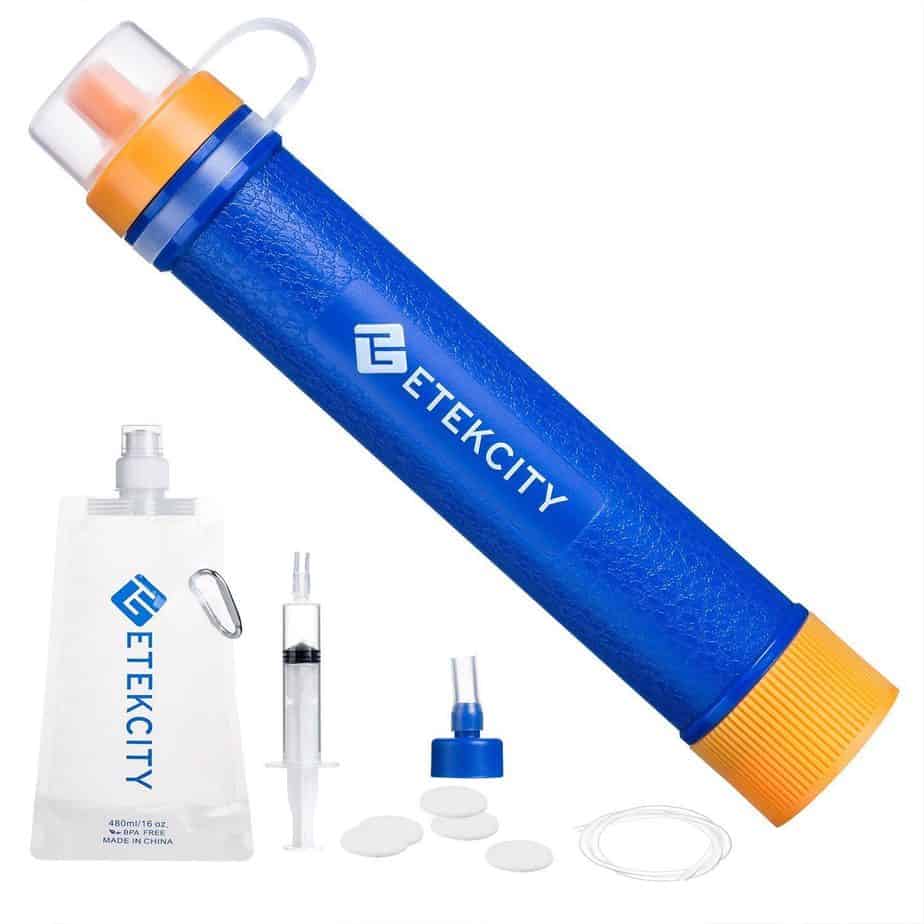 ​The Etekcity straw portable water purifier operates with a 3-stage advanced filtration system. It includes a pre-filter, an antibacterial activated carbon filter and a 0.01 Microns hollow fiber UF membrane inline filter. This helps it remove up to 99.9% of all waterborne bacteria such as salmonella, cholera, and E.coli as well as 99.9% of all protozoa, such as giardia and cryptosporidium. With it you also get a foldable water pouch for collecting water for later use, a longer straw that attaches to the filter, and a syringe for cleaning the straw and extending its life – everything a backpacker needs from a water filter.
The straw has been tested by the TüV SüD Institute and meets all EPA Water Quality Standards. The pouch itself also complies with the FDA's Food Contact test in accordance with 21 CFR 180.22 to ensure maximum quality and safety.
​It can be hard to draw water from the straw because the filtering process is not very quick.
​Katadyn also make an appearance with their Hiker Pro portable water purification system. It is great for any outdoor situation, be it hiking, camping, backpacking or just emergency preparedness. It removes 99.9% of viruses like Hepatitis A, SARS, Rotavirus, as well as 99.9% of disease-causing bacteria like E. coli, Salmonella, Cholera, 99.9% of protozoan cysts like Giardia, Cryptosporidium, and various heavy particulates like sediment, silt, many chemicals like chlorine or benzene, and heavy metals like lead, arsenic.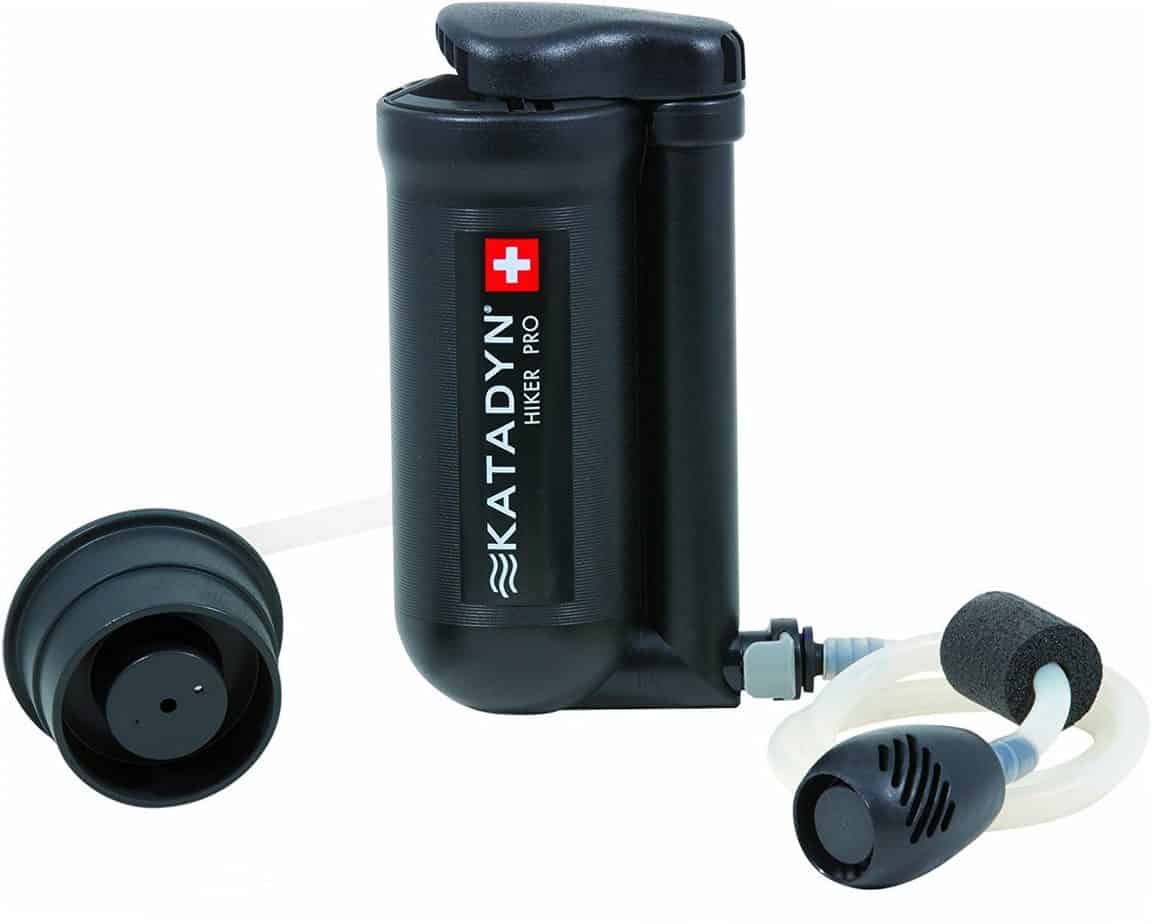 ​It leaves zero aftertaste and completely eliminates bad odors, as well as improves the overall clarity and flavor of the water. It can't be used just as a straw and works only as a filter, but it can still be filled from natural sources of water and it comes with the added flexibility for being usable in urban environments as well.
​There​ have been reports of a weak water inlet port which may snap after heavy use.
​​​We're going to wrap things up with this MSR MiniWorks with an advanced filter. This great pump filter can purify a volume of up to one liter a minute, providing you with a fast and efficient supply of clean drinking water. The MSR makes use of a unique design which makes it easier to pump, filter and collect water than some of the other similar devices on the market. Plus, the filter is all that needs to be replaced, not the pump itself.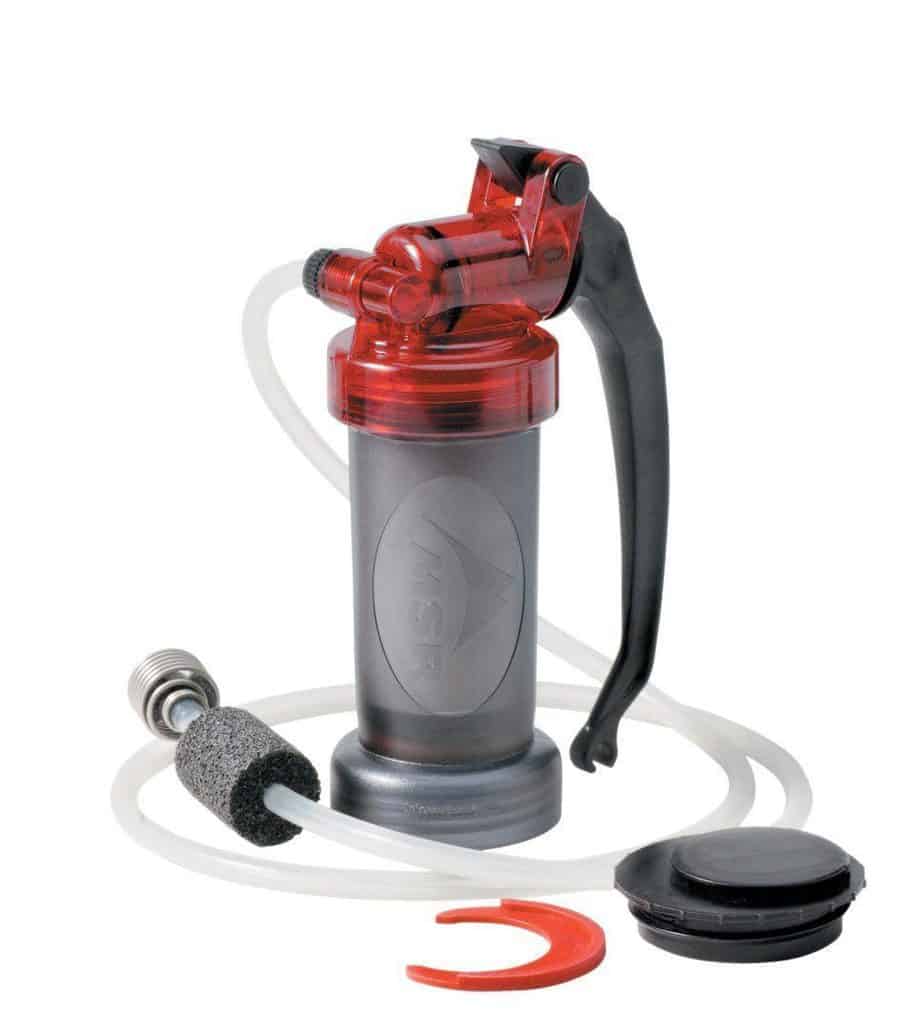 ​​Additionally, this MSR MiniWorks is highly effective as well – it removes up to 99.9% of bacteria and viruses via EPA approved iodinated resin, as well as up to 90% of fluoride and up to 99.9% of contaminants and pollutants found in fresh water supplies. This makes it great not just for tap water but for natural fresh water sources as well – whether you are this MSR water microfilter will be a trustworthy companion through any adventure.
​Some users have found the flow rate to be much lower than claimed.
​Portable Water Filter Buying Guide
​Making sure that you have access to clean drinking water should be your priority, regardless of where you are or what you're doing. Whether camping, hiking or simply exploring a new trail in the mountains, you need to make sure that the water you drink is both clean and healthy. Portable water filters offer the best solution to these scenarios – as they're small enough to be stored inside a backpack, and they're efficient enough to clean any natural source of water.
​However, choosing ​the right portable water filter can seem like a difficult task, simply because there are so many different models available.​ Some of them are bound to perform better than others, which is why we've put together this guide to help you ​buy the right one. ​Keep reading to learn how to choose your portable water filter, how they work, and why you should ​always use a water filter when traveling.
What Factors Should You Consider When Buying A Portable Water Filter?
There are five main factors that you should keep in mind when shopping for your new portable water purifier.
Size & Weight
The number one factor when it comes to portability is the size and weight of your water filter. Traveling light is often desirable so the model you choose should be light and small enough so as not to cause inconvenience on your travels.
​Filtration Performance
This category can be further broken down into the speed of water filtration in addition to how well harmful microbes and bacteria are removed from your water source.
Filtration Capacity
All portable water filters will require a new filter once the old one has reached the end of its useful life. If you're going away on a long adventure, bear this in mind and take a spare filter.
Ease Of Use
Fumbling around with a new product you've never used before when you simply want a drink isn't our idea of fun. For this reason, you should make sure that you buy a portable water filter that you're comfortable using in any environment.
Purchase Price
Entirely subjective, but price is always going to be a factor. Better doesn't always mean more expensive which is why you should thoroughly research the model you buy.
The Different Types Of Portable Water Filter Available
The portable backpacking water filter market is an extensive one with products to suit everyone. The filter you choose should therefore match your requirements and the situations you will find yourself in.
Straw Filters
​Lifestraw dominate this part of the market where their innovative filtration devices offer the simplest filtration solution of them all. Filter straws are simply designed to be submerged into a body of water where you can then take a drink.
As water enters the straw, it is filtered before reaching your mouth. Great for quenching your thirst but not so much for ​bulk water treatment.
​Pump Filters

​More convenient for many outdoor types is the pump filter. With these models, water is manually pumped through the device where it is forced through a filter and then into a reservoir where it can either be consumed immediately or decanted and stored for later.
A firm favorite for many, portable pump filters offer the best of both worlds.
​Gravity Filters

​Gravity filters work in a similar fashion to the sort of water filter you would use in your home. Simply fill your water filter with water where gravity will pull it through the built-in filter before it then collects within a reservoir sitting below.
From an efficiency point of view, portable gravity filters are hard to beat.
Why Do You Need A Portable Water Filter In The Wild?
Simply put, the natural sources of water that you find when outdoors contain far more bacteria than any municipal or city water supply.
If you're lucky enough to find a fast flowing river, there is a very good chance of this water being safe to drink without treatment.
On the other hand, lakes and smaller pools of stagnant water contain a far greater number of harmful bacteria which needs to be removed to prevent you from becoming ill.
​Conclusion
These are our top 5 suggestions for portable backpacking water filters. They are all different and serve slightly different purposes, but they are all top notch water filters for your backpacking needs.The last two products in this review are of an entirely different type, and may serve you far better than some of the filter straws. We have reflected this in the ratings we have chosen to give.
If we were forced to choose a single product, we'd choose the Sawyer Products Mini Portable Water Filtration System as the best portable water filter and the best backpacking water filter for its amazing filtering volume and quality, but as mentioned, the other 4 items on this list are also of the highest quality.
Resources:
‍