Water filter bottles are a great addition to anyone's life – no matter whether you like hiking or other outdoor sports, or you commute, or you simply have the habit of buying bottled water, a good water filter bottle can save you thousands of dollars and provide you with much fresher and cleaner water to drink.
Yes, a whole house water filter or a countertop filter can do the trick as well – you'll just need to carry a regular bottle with you and fill it through the filter in your home – but if you don't have one or if you spend a lot of time outside, a water filter bottle can be of great help. If in actual fact you're an avid adventurer, you may even be more suited to a device that is suitable for filtering large quantities of water whilst backpacking.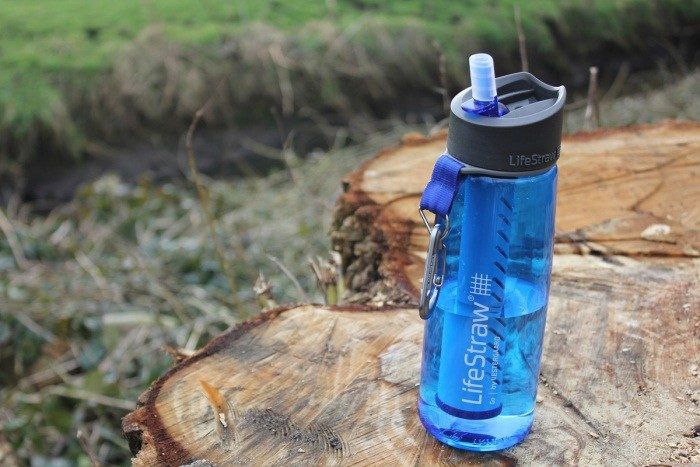 How do you choose the right water filter bottle, however? Aren't a lot of them useless shams that don't actually filter anything? And aren't they too expensive?
Well, compared to buying bottled water, filter bottles save so much money that the price is virtually irrelevant. As for which are good – yes, some water filter bottles aren't of a high enough quality to be worth your time or money. A lot of others are exceptionally good, however, and to help you out we've compiled a list with the best of them below. Give it a look!
​Best Water Filter Bottle Reviews
Our Recommendations

​GRAYL bring us their entry, worthy of the top spot, with this ultralight water purifier bottle. It is great for any outdoor situation, be it hiking, camping, sports, backpacking or just emergency preparedness. It is very simple and easy to use and requires no sucking, squeezing, pumping, waiting or batteries. Just fill it, press it and drink.
It uses a unique, award-winning "One Press" design that makes great, clean, fresh and tasty water out of virtually any fresh water source in the world in the matter of 15 seconds.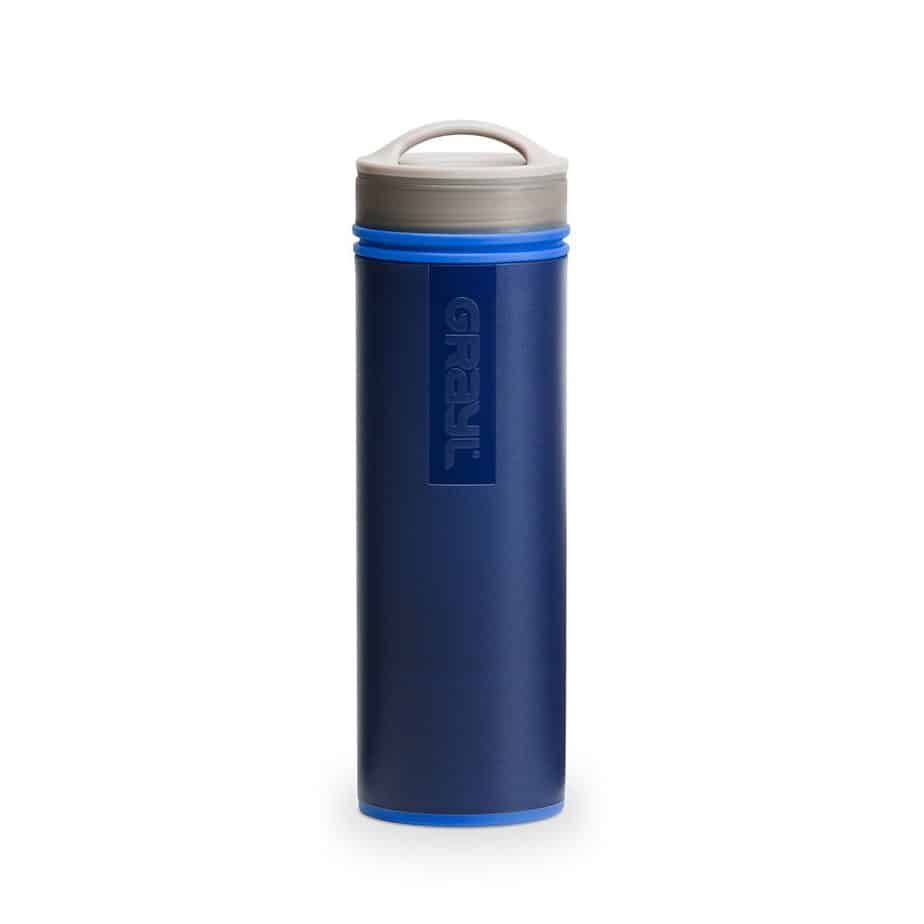 ​​​It removes 99.9% of viruses like Hepatitis A, SARS, Rotavirus, as well as 99.9% of disease-causing bacteria like E. coli, Salmonella, Cholera, 99.9% of protozoan cysts like Giardia, Cryptosporidium, and various heavy particulates like sediment, silt, many chemicals like chlorine or benzene, and heavy metals like lead, arsenic. It leaves zero aftertaste and completely eliminates bad odors, as well as improves the overall clarity and flavor of the water.
It does take a little strength to firmly push and press down the filtering button.
​​​Second on our list is this entry from one of the most famous water filter bottle brands out there – the LifeStraw. It is famous for a reason – the LifeStraw Go water filter bottle is great for any situation, be it traveling, hiking, camping, commuting or for an emergency.
It uses its award-winning hollow fiber membrane water filter that removes bacteria and protozoa from lakes and streams to ensure safe, clean drinking water. That's right – you don't even need a tap to fill this bottle with perfectly healthy and drinkable water – almost any water source would do. That is thanks to the LifeStraw's 2-stage activated carbon filter which reduces odor, chlorine and leaves zero aftertaste.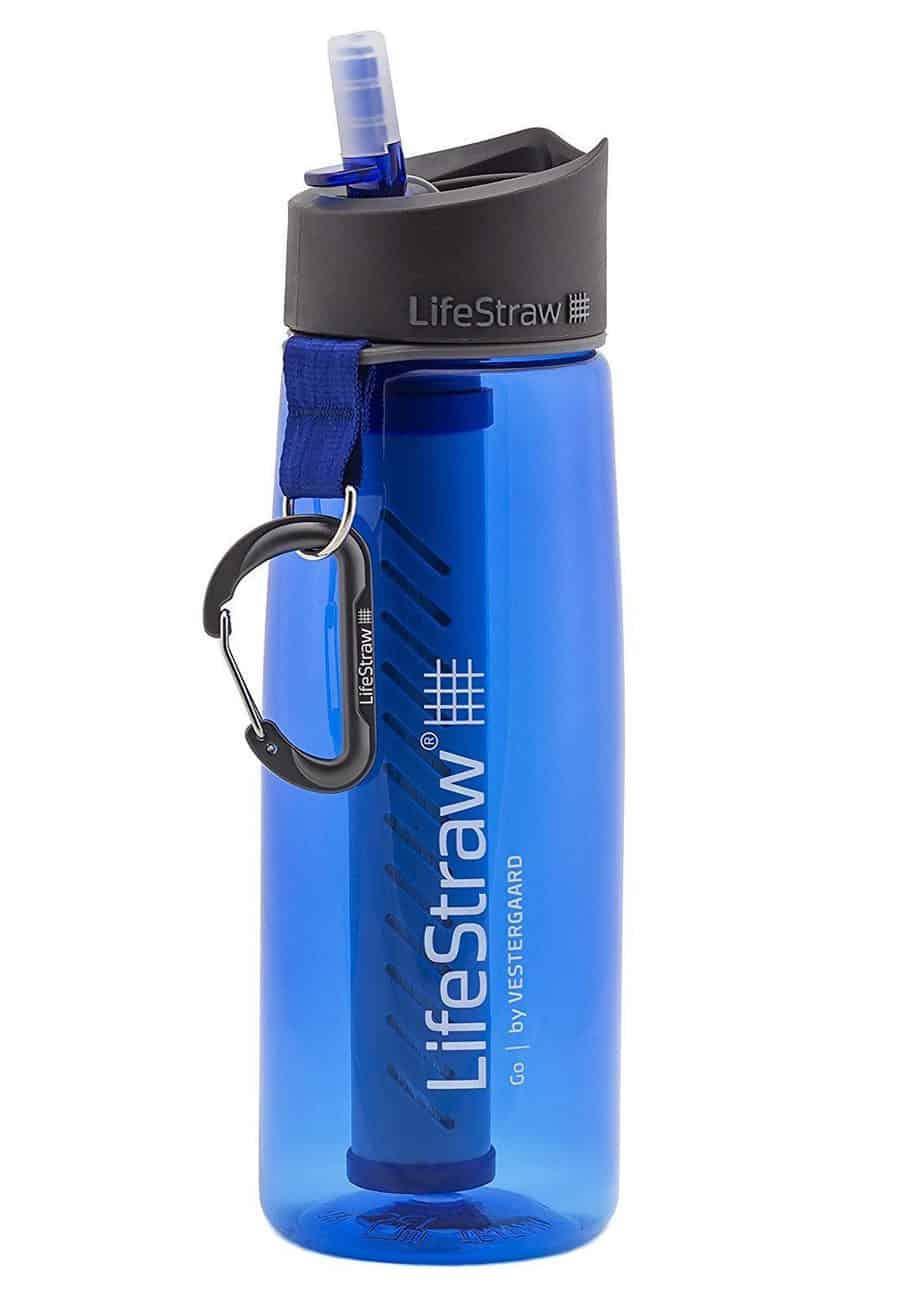 ​​This water filter bottle removes 99.9% of all waterborne bacteria, and 99.9% of waterborne protozoan parasites without chemicals, iodine or batteries. It is durable, has a 23 ounce capacity, it is leak-proof and it is made of BPA-free Tritan and features a food-grade silicone mouthpiece. The bottle also uses replacement filters that are sold separately.
The LifeStraw does need to be squeezed so that you can drink out of it.
​​In third place on our list is this Seychelle flip top water bottle with an advanced filter. This great bottle has a capacity of 28 ounces and can filter up to 100 gallons before its filter needs to be replaced. This is a great amount of water for a filter water bottle and can save you a huge amount of money by removing the need to purchase bottled water, as well as drastically reduce your environmental foot print.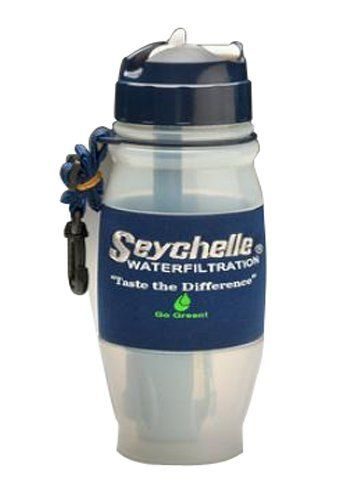 ​Not only that, but this Seychelle bottle is highly effective as well – it removes up to 99.9% of bacteria and viruses via EPA approved iodinated resin, as well as up to 90% of fluoride and up to 99.9% of contaminants and pollutants found in fresh water supplies. This makes it great for use of both tap water and natural fresh water sources – whether you are just going to the gym or you've gone backpacking or hiking, this Seychelle water bottle will be a trustworthy companion through any adventure.
What's more, it also has a great and sturdy design which makes it great for the most extreme of situations – not only shouldn't you be concerned about dropping it unintentionally, but you can use this bottle in emergencies such as rescues, hurricanes, cyclones, and so on.
A considerable amount of squeezing and sucking is required to drink from this bottle.
​Another world famous brand – Brita – bring us our next entry. It is great for everyday use, for hiking or camping, as well as for sporting events. It filters water on the go and reduces chlorine taste and odor found in tap water as you drink.
It is made out of a hard-sided plastic which perfectly preserves the quality of the water. Its built-in carrying loop and flip open straw are very easy to use and drink out of. This makes the Brita water bottle effortless to take on the go and use anywhere.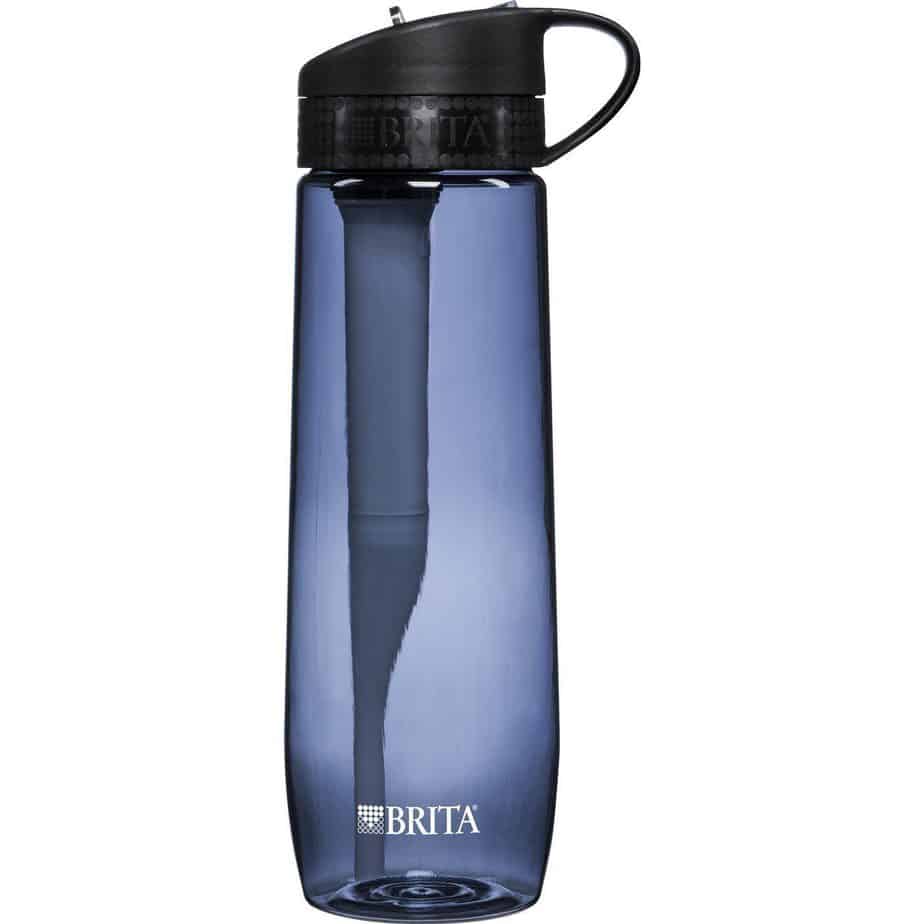 ​​The slick, cool design makes it suitable for any situation and not just sport environments. It is also highly efficient – one Brita water filter can replace up to 300 standard 16.9 ounce water bottles, which will save you a lot of money, while keeping the environmental effect of plastic waste in check. The water bottle is dishwasher safe for extra convenience and the capacity of the filter is 40 gallons so it can last you up to 2 months before you need to replace it.
This model is known to sometimes leak from the top.
​Another option from Brita, this is a set of two water bottles – one blue and one orange. A great gift for a couple that love to hike, spend time outdoors or go to the gym together, these bottles are BPA-free, have a capacity of 20 ounces each and have their filters inside a soft squeeze for more comfortable use.
​These filter water bottles are great at reducing the amount of chlorine in tap water, as well as all unpleasant odors and bad taste. One Brita water filter of these bottles can replace up to 300 standard 16.9 ounce water bottles – this saves you a ton of money, while also keeping you hydrated and reducing plastic waste. Both bottles are dishwasher safe and can filter up to 40 gallons of water before their filters need to be replaced.
Another bottle that needs a good squeeze to get any water out of it.
​Conclusion
So, these are our suggestions for a great water filter bottle. Whether you're going to use it for hiking or just for your everyday water needs, any of these bottles can do a great job of allowing you to keep an eye on your health, offer plenty by way of convenience and lower your monthly expenses.
We are particularly impressed by the GRAYL filter water bottle because of its innovative design and its amazing effectiveness, but the other choices are of the highest quality as well.
Resources:
‍