iSpring are one of the lesser known names in the water filtration industry, but their lack of prominence doesn't stop them from manufacturing some of the highest performance water filtration systems available. Whether you're in need of an under sink water filter or a water filter for the whole house, iSpring should be at the top of your list.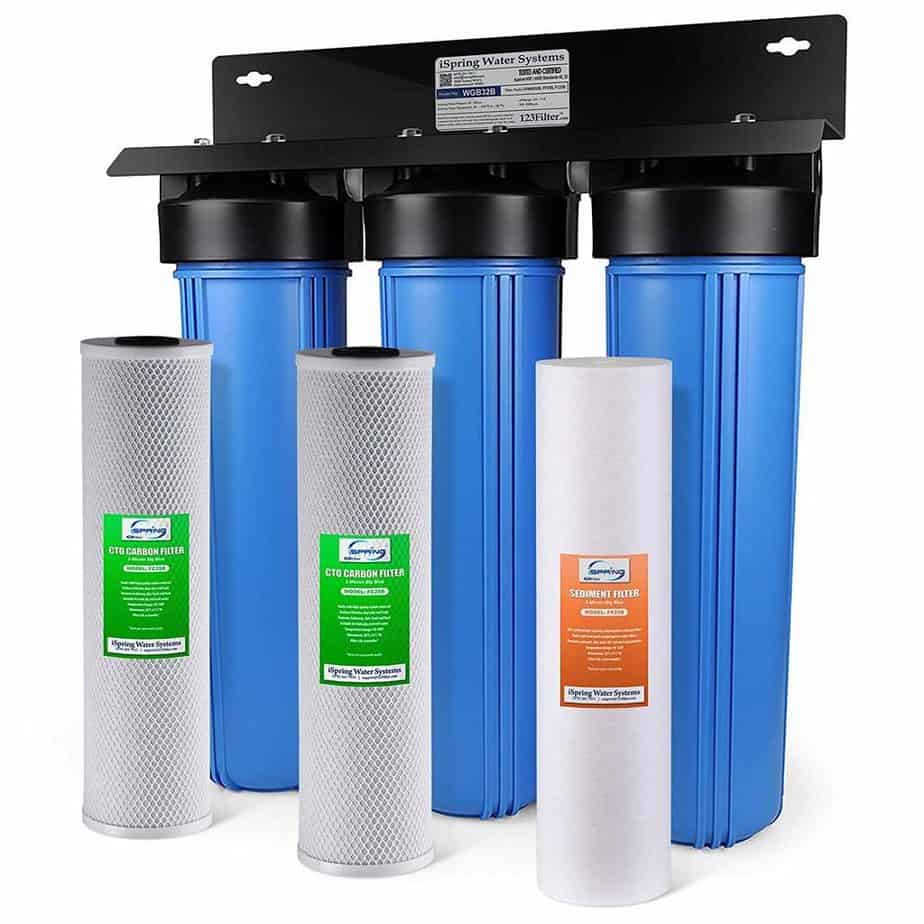 iSpring produce several whole house water filters including single stage and 2 stage systems, but this review is going to cover their 3 stage model. If you're looking for a whole house water filter that offers incredible performance at a reasonable price, this review is for you.
About The Product
iSpring use a similar type of system and methodology to that of other manufacturers to filter the water entering your property. What you're getting is 3 individual filters which are each tasked with performing a different function – culminating in filtered water of exceptional quality.
What iSpring particularly focus on is the fact that this system is capable of removing all of the unwanted contaminants from your water supply whilst retaining all of the healthy minerals such as calcium and magnesium. If you're a health-conscious household, this alone may sway your buying decision.
The entire 3 stage system removes sediment, chlorine, rust, pesticides, herbicides, industrial solvents, VOCs, and a variety of other contaminants from the water it treats. It is also possible to purchase a prefilter separately which further removes sediment at the beginning of the filtration process.
It should be noted that this system is designed to be installed to pipework that features a 1" diameter, making it perfect for larger properties with a high water demand. In addition, the "Big Blue" filter cartridges allow for minimal pressure reduction due to their volume in addition to extended filter life.
1st Stage Filter: The 1st filter is specified to 5 microns and is designed to remove the larger particles of sediment from your water supply. This includes but is not limited to silt, sand and rust as well as anything else that isn't fit for human consumption. The second benefit of this 1st stage of filtration is the fact that removing these larger particles with prolong the life of the remaining filters.
2nd Stage Filter: The 2nd stage filter consists of a CTO carbon block filter, the internals of which are produced from the carbon contained within coconut shells for maximum filtration efficiency.
3rd Stage Filter: The 3rd stage consists of repeating the process initiated by the 2nd stage filter. Any remaining contaminants which weren't caught and removed during stage 2 will be removed during this final stage.
Included In The Box
Order this product and you will receive a large metal mounting bracket, three "Big Blue" filter housings with caps, three of the aforementioned filter cartridges and a 4.5 inch filter wrench.
What To Look Out For
This is one of our favorite whole house filters due to its performance and the fact that it doesn't have any inherent bad points. It is easy to install, easy to use and easy to maintain.
As mentioned, the only thing that you need to ensure is that your existing pipework infrastructure is the correct diameter to be able to accommodate this 1" system.
​Buying Advice
The iSpring WGB32B whole house water filter has been rated to 100,000 gallons of water before the filters require replacing. In practice, this should provide you with at least a year of quality water filtration. As always, it is possible to change each filter early to guarantee the quality of water you are consuming.
There are several different types of replacement filter that you can buy, each of which is readily available and are in line with the costs to replace the filters on other systems.
Final Verdict
The iSpring WGB32B Whole House Water Filter is a fantastic water filtration system and one that is perfect for any property. With a flow rate of 15GPM, this model will keep up with the demands of even the most populated homes.
From a pricing point of view, this model sits somewhere in the middle between its competitors as neither the cheapest or the most expensive model available. What we would say is that the performance on offer should be enough to swing your buying decision.