Buying a whole house water filtration system is one of the best things you can do for the long-term health of your family. Whole house water filtration systems remove the need for constantly using a new countertop or refrigerator filters to clean your drinking water and also make a great alternative to faucet-based filtration systems.
Plus, they work not just for your drinking water, but for all the water your family and appliances use. As a result, they also significantly improve your shower experience, since chlorine evaporates with shower steam and hot water and is easy to inhale in large quantities.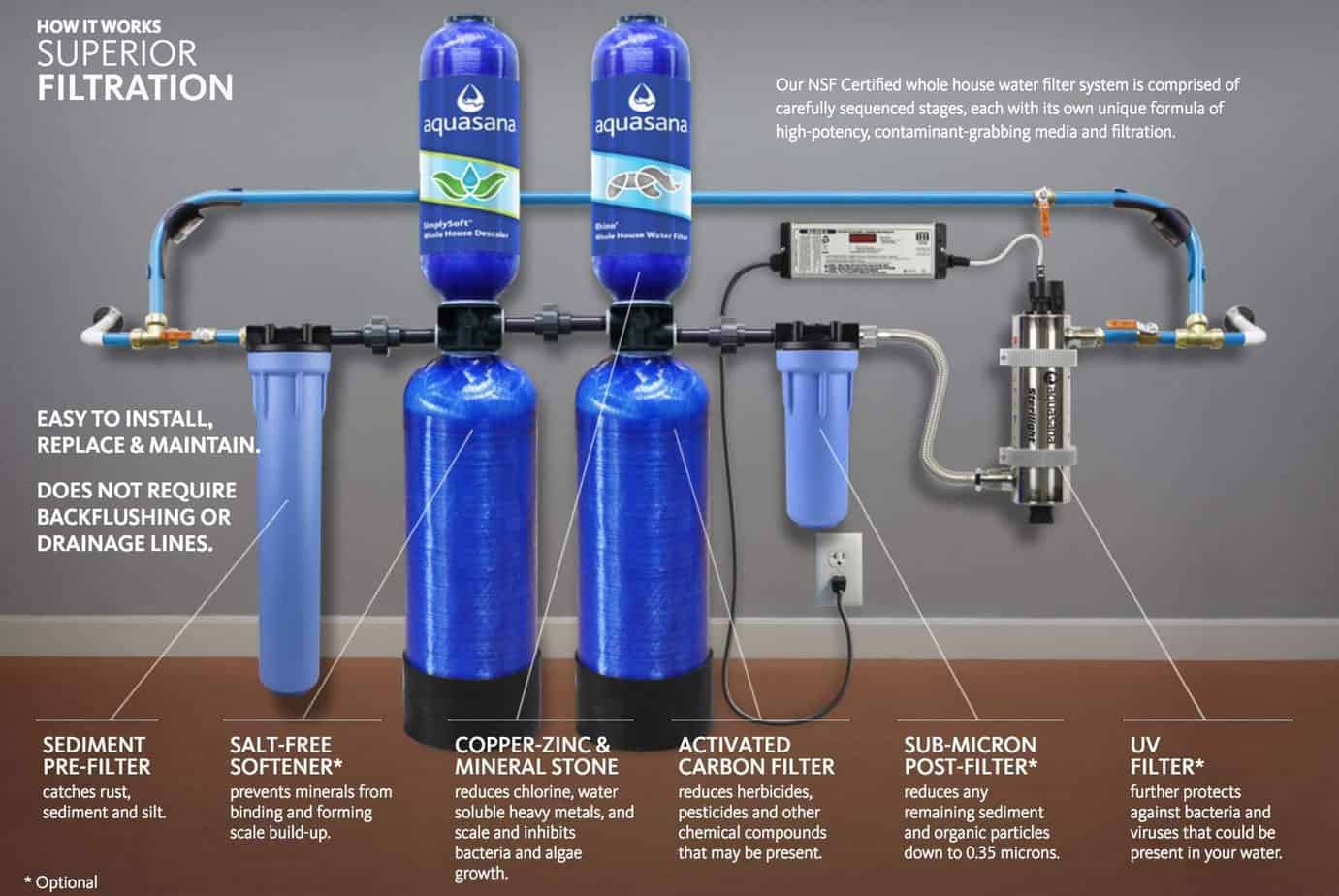 But how does one go about choosing a house water filtration system? Aren't there way too many things to consider? Well, there are quite a few variables, yes, but for your convenience, below we've reviewed some of the best whole house water filters we could find on the market right now. If you want to provide the best water for your family, check them out!
Our Picks
Our Recommendations
​​This RO whole house filter system is ​a great option and takes first place for people that are looking for a long-term solution for their water and plumbing concerns. It comes with 3 extra filter sets for even more convenience. The system works at 3 stages – the 1st one uses a Premium Quick-Connect 5 micron sediment filter that clears all the dust, dirt, silt, sand, rust and scale particles that are trapped here in a filter, thus gre​​​​​atly extending the life of the entire plumbing system.
The 2nd stage utilizes a Premium 10″ GAC granular activated carbon filter that removes chlorine, radon, VOCs (volatile organic compounds) and other common chemicals. This Reverse Osmosis Revolution Whole House Water Filter also removes cloudiness, offensive odors (smells), colors and unpleasant tastes, which makes it great for improving the quality of life of your entire family.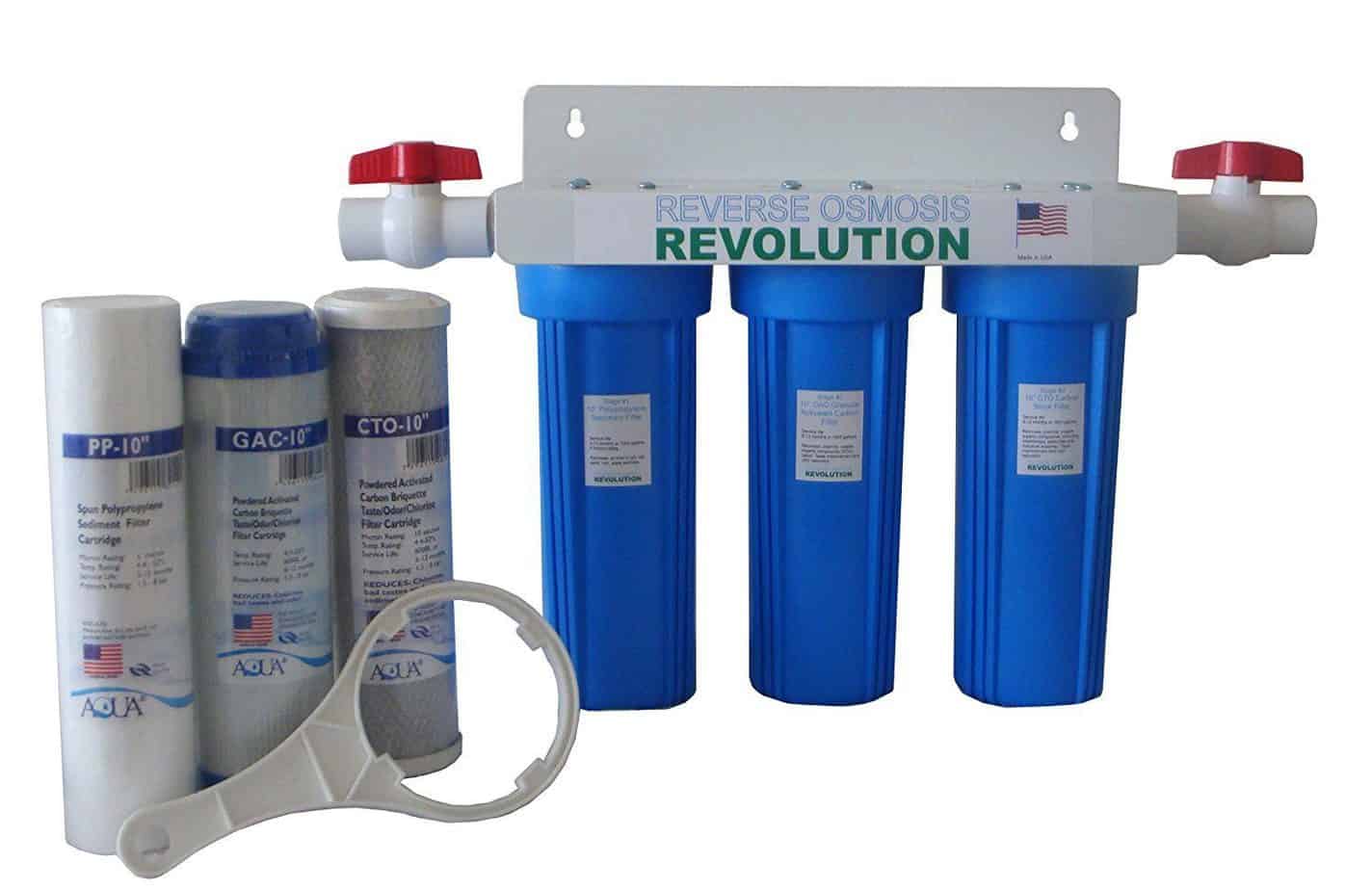 ​The 3rd stage uses a 10″ Premium CTO carbon block filter that removes chlorine, VOCs (volatile organic compounds, including insecticides, pesticides and industrial solvent). This leads to a significant taste improvement, making your drinking water much healthier and tastier without the need for any countertop water filters or other types of water ​purifiers.
​The connections of this home water system are standard 3/4 inch inlet and outlet ports, making it suitable for all standard home plumbing systems. Each reverse osmosis filter needs to be changed every ~3 months. As far as RO systems go, this is the best whole house water filter for well water and mains water.
​​Our runner-up is a more standard filtration system in terms of both longevity and price, but this is not a comment on its quality in any way. The DuPont Universal Whole House Filter System uses a universal 500 Series poly block cartridge which allows this purification system to work for up to 15,000 gallons of water. It uses standard 3/4 inch inlets and outlets and it comes with a 3 year warranty.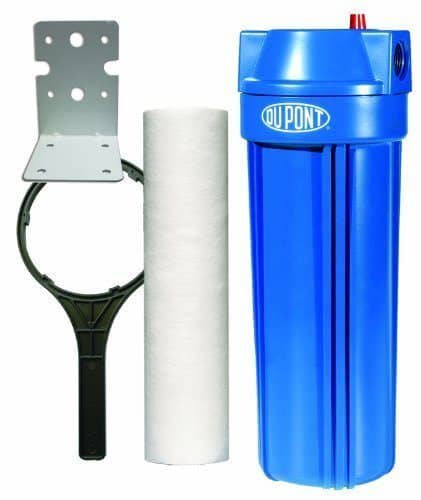 ​​This filter is great for people that want to try a whole house filter but are not ready for the significant investment that is required for filters of Aquasana's size. Plus, 15,000 gallons is nothing to sneeze at, particularly at this low price. This water filter system greatly improves not only the health and comfort of your family, but the life of your plumbing and sinks, by reducing the levels of sediments in the water.
​Next we have this Watts Premier whole house water filtration system. The WH-LD comes with 3 50 micron sediment filters, ball valve and a wrench. It has a built-in valve and is made of the highest quality of stainless steel inserts, making both the installation and the operation of this water filtering system as easy and comfortable as possible.
It is also NSF tested for materials safety and structural integrity, making it a surefire choice for any home owner who is looking for a high quality filtration system. As a result, the WH-LD is great for reducing the sediment, dirt, rust, and all types of fine or coarse sand, greatly improving the longevity and effectiveness of your sink, shower and faucet plumbing and appliances.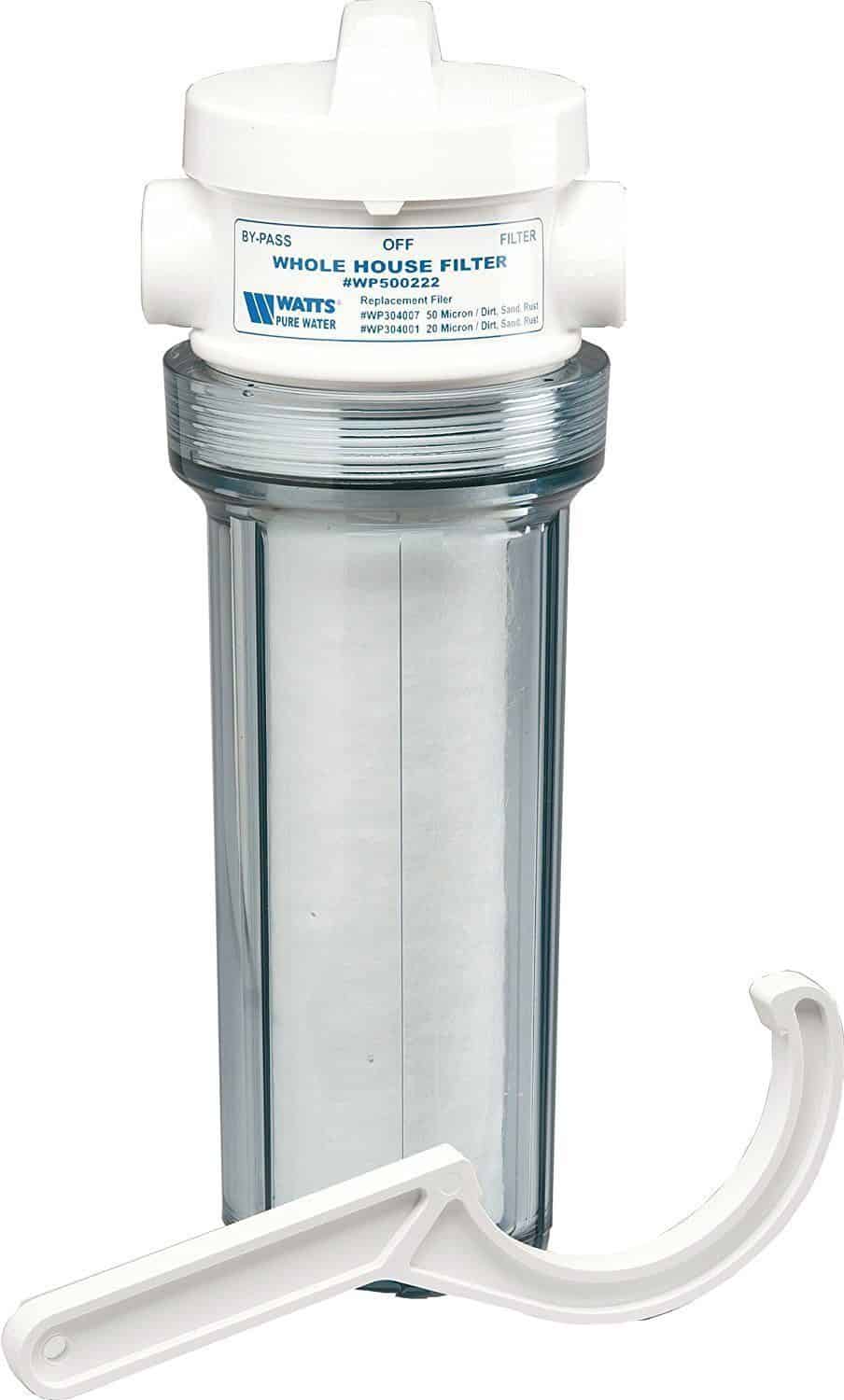 ​The system is also equipped with a built-in bypass valve that makes the access to the unit's filter all the more easier. The inlet and outlet ports of the system are standard 3/4 inches, making it suitable for all types of standard household plumbing.
It is worth noting, however, that installing this unit does require a certain amount of experience in the field of plumbing. Consult with the sales rep about the details of the installation and if you don't feel confident that you can manage it easily enough, consider calling a professional.
​Culligan are next on our list with their HF-360A whole house water filtration system. Like any good whole home filtration system, the HF-360A is great at reducing the sediment, rust, scale, dirt, coarse sand, sand, fine sand, extra fine sand and silt present in water, thus protecting your plumbing, sinks and appliances, as well as drastically improving the comfort of your family.
The Culligan water filter system is tested and certified by WQA against NSF/ANSI Standard 42 for materials safety and structural integrity only. The set includes a valve-in-head cap and clear housing, as well as a SW-2A housing wrench, an instructions manual and a P5 filter cartridge.
​​This house filtration system also has standard 3/4 inch inlet and outlet connections and features a built-in shut-off valve, clear housing unit that allows monitoring of cartridge use. The best temperature range for this filter is 40°F – 100°F and the recommended pressure range is 30-125 PSI. It comes with a 5 year warranty and works for 8,000 gallons.
​This iSpring 3-stage filter brings us to another level and price bracket of whole house filtration systems. ​We would consider this product more of a long-term investment and ​solution for your plumbing and water problems and needs.
The iSpring WGB32B is great at removing up to 95% of the sediment, chlorine, rust, pesticides, herbicides, industrial solvents, VOCs, and various other contaminants in your tap water supply. The 3 big 20″ x 4.5″ filter cartridges allow for a minimal pressure reduction and a greatly extended filter life. These high capacity polypropylene sediment filters achieve filtration of down to 5 microns.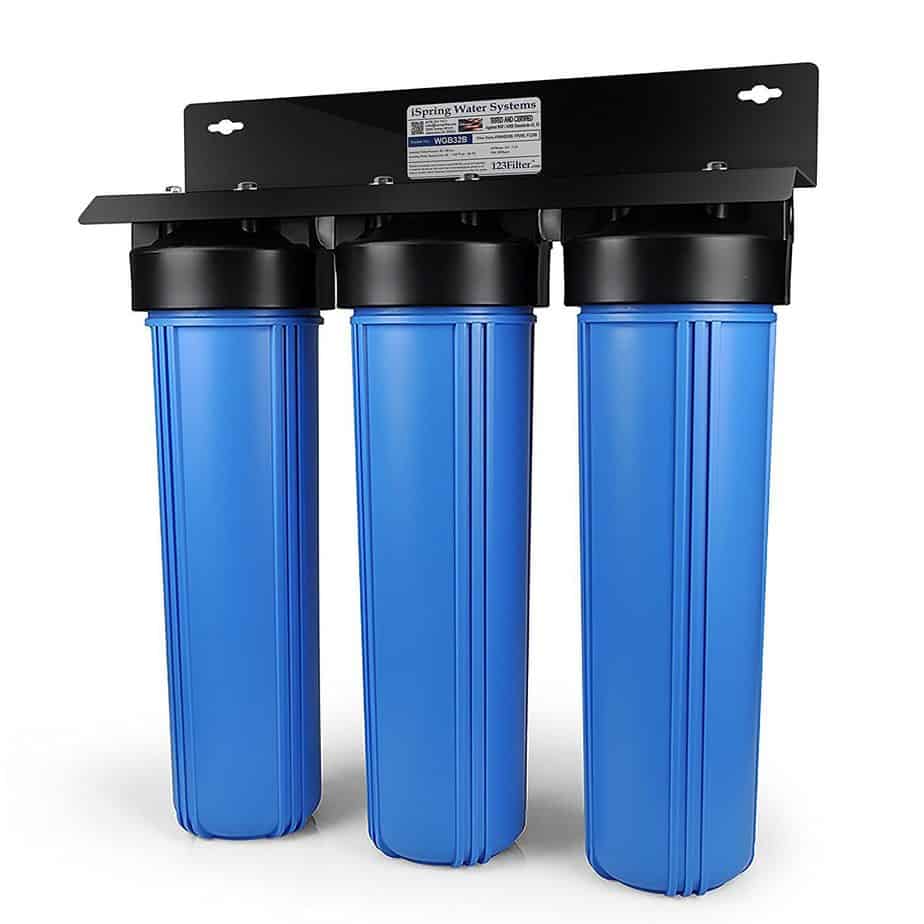 ​​It is tested for and meets the NSF/ANSI standards for materials and construction quality. Its CTO Carbon Block filters also use high quality coconut shell carbon for maximum filtration efficiency and filter life. As the result of all those features, the iSpring whole house water filtration system works for up to 100,000 gallons of water.
​This here is the Aquasana whole house water filter that you and your family could use for the next 6 years straight. With a capacity of 600,000 gallons, this whole house filter will make you forget what it's like to constantly buy and replace your water filters, to the point where you won't want to go back to countertop filters or filtration pitchers. It is not only long-lasting, however, it is also efficient – this Aquasana whole house filter removes 97% of chlorine from every tap in your home.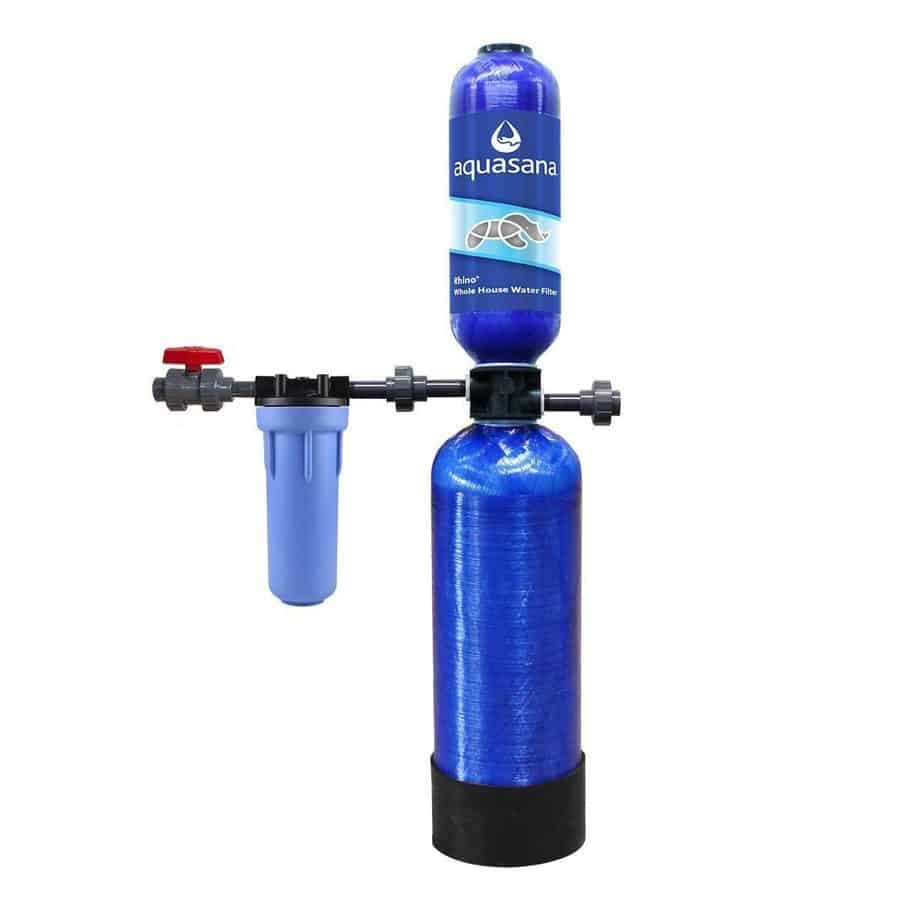 ​​It also reduces other water contaminants and impurities including lead, mercury, herbicides, pesticides, and other heavy metals (metal such as iron). This makes your everyday comfort increase substantially, both in terms of drinking water, as well as shower water. The system includes a filtration tank, a 10″ pre-filter, couplings, and valves. The fittings are made for 0.75 inch pipe but PEX tubing is not included. Of course, as such a long-term filter, it comes at quite the price, but if you consider the long-term value and the high quality, the price is not unreasonable.
The Aquasana 10-year system (also known as the Aquasana Rhino) is also available for those households who require even greater water filtration capacity.
​Whole House Water Filter System Buying Guide
Whole house water filters are arguably the best way to ensure that all of the water that you use within your home is safe. Many of us brush our teeth from an unfiltered water supply (our bathroom basins), but wouldn't it be better if that source of water was as clean as the water you use for cooking and drinking? And those people with skin complaints could even stand to benefit from the use of filtered water in the shower, bath and when washing clothes – removing much of the contaminants and less useful minerals that can dry skin out.
The question you should now be asking yourself is, "what type of whole house system do I need?", a question that we are going to answer throughout the course of this buying guide, in turn guiding you to the perfect whole home water filter for your requirements.
What Is A Whole House Water Filter?
As the name suggests, this type of water ​purification system is designed to filter the water supply of your entire home, regardless of whether your kitchen, bathroom or any number of en suites or utility rooms that form part of your property. It is for this reason that they are often preferable to under sink systems or faucet filter systems.
You may be familiar with the term 'Point of Entry' system (POE) – which is exactly what a whole home water filtration system is – as your mains water supply is filtered as soon as it enters your property rather than at the point of use (e.g. a faucet) as with other forms of water filter.
How Does A Whole House Water Filter Work?
In this section, we're going to help you to visualize the way in which most whole home water filters work with an overview of the water filtration process:
Your house water filter is installed within your property at the location at which your mains water supply enters the building. This means before any water heaters or boilers, ensuring that every last drop of water is filtered.
The first filter which is utilized is the sediment filter which is designed to remove all of the larger particles such as visible dirt, dust, rust, sand, silt and residue from your water. In addition to removing these particulates, this filter will keep the entire system working more efficiently for longer.
Once the prefilter has completed its job, your water than passes through an activated charcoal filter (post-filter). You may be familiar with many of the beneficial properties of activated charcoal but in this application, this filter is responsible for removing a significant number of contaminants and will improve the taste of your water.
You will notice that some of these water filters will also include a water ionizing chamber which is designed to ​provide you with soft water through the ion exchange process. If this is important to you as you're currently suffering from hard water, be sure that you look out for this important feature to benefit from water softening functionality.
Some models also include what is known as a post filter which incorporates a small micron filter which is capable of filtering out any remaining particles that were missed during the previous stages. Whilst not vital, this feature can be beneficial if you're aiming for water of exceptional quality. Generally speaking, the finer the grade of micron filter the better. 1 micron is usually sufficient.
Another optional feature is the presence of a UV water filter which is designed to kill any last traces of bacteria and microorganisms. We would suggest that this step is vital if you are in an area of questionable water quality or rely on potentially contaminated well water. These are included with reverse osmosis systems as standard.
Home Water Filter Systems – Installation and Maintenance
The installation process is slightly more involved than other point of use systems but is still relatively straightforward for anyone acclimatized to home DIY. We suggest following the instructions and ensuring that you choose a suitable permanent location for your new water filter.
​To assist you ​in making the installation procedure as stress-free as possible, please view this filter installation video which will give you an overview of the entire process and answer many of the questions that you might have.
The video is specific to the iSpring purifier that we reviewed in this article but the procedure will be similar for many of the models that you may choose to buy.
In addition, each filter will need to be changed periodically so ensure that you install your system in an accessible location. ​Changing filters is also straightforward and simply requires you to temporarily switch off the water inlet valve with the entire process taking around 10 minutes.
​Water Filtration Speed
The water flow rate (water pressure) that you require will depend upon the size of your household and the number of occupants' present. Since this one system is responsible for your entire homes water supply, you will need to ensure that you choose a system that features a sufficient enough flow rate (measured in gallons per minute or gpm).
Smaller households may be able to suffice with a flow rate of around 10 – 15 gallons of water per minute but a larger property may require an upgraded model. If in doubt, we suggest sizing up to future proof your installation.
Water Filtration Capacity (Longevity)
​House water filtration systems are capable of filtering a certain quantity of water before each individual filter will require replacement.
At the lower end of the market, you will find that some smaller systems are capable of filtering 10,000 gallons of clean water before filter replacement.
At the upper end of the market, many systems are capable of providing your household with over 1,000,000 gallons of clean water before you even need to think about purchasing a replacement filter.
As a guide, a 500,000 gallon system should last for around 5 years of treated water before requiring maintenance and the need to change the filter.
Water Filtration Quality
Whole house water filters are far more capable than any other type of domestic water filter that is available. You will find that even the most basic of systems (2 filters) will be sufficient for a property on mains water (city water) whereas we suggest a more comprehensive treatment system if you're utilizing well or borehole water. We suggest purchasing a water testing kit if unsure.
If this is the case, make sure that you look for UV filter (ultraviolet light) filtering and 0.35 micron capability. Such features will be able to comprehensively remove every single unwanted contaminant in contaminated water such as lead, copper and other heavy metals.
Is It Possible to Retain Some Minerals?
​Public perception and attitudes to certain minerals that are contained within water vary across the country. We often have readers ask us if it is possible to purchase house filters that remove the bad contaminants that are present in water whilst retaining the good, healthy minerals that some people find desirable.
These minerals include calcium, zinc, magnesium and manganese, all of which some people believe contribute to healthy development.
​Due to the filtration technology used by many of these systems, retaining these minerals is difficult as the methods used to clean water are so efficient. In addition, calcium and magnesium can contribute to hard water which is another reason they are commonly removed during the water treatment process.
The Advantages and Disadvantages of Whole Home Water Filters
In this section, we're going to summarize the pros and cons of the whole house water filter system as a product.
Whole Home Filter Pros
Filtration Quality. This type of water filter is the best that you can buy, providing an efficient way for you and your family to enjoy water of the highest quality.
Filtration Speed. Due to their nature, whole house systems will filter more water at a faster rate than any other type of filter.
Ease of Use. Simply set and forget – much more convenient than a water filter pitcher or buying bottled water. Once installed, you will not need to touch your purification system until the carbon filters require replacing.
Whole Home Filter Cons
Cost. The only real disadvantage for some homeowners is the initial cost of most of these systems. What we would say is that the level of convenience provided to you may well outweigh this con and make it a non-factor.
​Our Verdict
​These are our choices for the six best whole house water filters on the market right now for effective water treatment. Each one is suitable for different homes and different situations, although our personal pick is the Reverse Osmosis Revolution filter for those who are after a compromise between the heavy hitters and the cheaper models we have reviewed as part of our whole house water filter reviews.
We didn't elect to include the 3M Aquapure Whole House Water Filter because we feel that it offers poor value for money. Each replacement filter costs over $100 and we have received reports that they only last for 3 months before failing and requiring replacement. We also chose not to include the Home Master range as we feel that the models we have reviewed offer better value for money.
​Both the Aquasana and iSpring systems would have scored higher if not for their cost. If you are in fact after the best water possible and are willing to make a substantial investment, you can't go wrong with either of these house water filter systems.