Aquasana are a leading water filtration company who have become a household name in the US. They specialize in manufacturing a range of domestic and commercial water filtration systems which are designed to be utilized in a variety of environments and offer something suitable for every property.
Their extensive range of water filters are very popular and come in a variety of sizes, each offering something unique depending on the needs of your household. In this review, we'll be covering their 600,000 gallon model, providing you with our opinion on whether it might be the best choice for your home if you're in need of a high-quality whole house water filter.
​About The Product
Aquasana use a proprietary water filtration system to efficiently remove a variety of contaminants from your water supply. Just by looking at the photos included within this review, you will notice the elaborate nature of the way in which Aquasana water filters are designed.
This particular model is Aquasana's mid-size option and is suitable for any domestic property that requires water filtration for the entire house, which in turn is provided by the larger filtration tank and its smaller pre-filter.
It should be noted that this system is designed to be installed to pipework that features a 0.75" diameter.
1st Stage Filter: The 10″ pre-filter is designed to remove all of the larger particles of sediment which includes the filtering of dust, dirt, silt, sand, rust and other unwanted particles which are present within your incoming water supply. The main benefit of the pre-filter is to lessen the stress placed on the overall system and ensure that only pre-treated water reaches the main filtration tank. In addition, this initial stage of filtration could increase the overall longevity of the second water filter.
2nd Stage Filter: The larger filtration tank is responsible for removing all of the microscopic contaminants and inorganic compounds which are present within both mains water and water from an onsite well. Lead, mercury, herbicides and pesticides are all filtered from your water supply with this tank including chlorine which may improve the quality of your skin and hair.
Included In The Box
The delivered product contains a single dual filtration tank, a 10" pre-filter, a variety of couplings and the control valve to open and close the mains water supply (useful for changing the filters).
In addition, this kit also comes with a filter wrench included in the box which facilitates easy replacement of the smaller pre-filter.
What To Look Out For
As mentioned, customer feedback is very positive for this range of water filters with few negative comments regarding its overall levels of performance.
One issue that has been mentioned several times is that this system has the tendency to leak at its coupling points if not installed properly. We recommend hiring a professional to install this system on your behalf if you lack the required experience and expertise.
​Buying Advice
This Aquasana whole house water filter has been rated to 600,000 gallons of water or 6 years, whichever milestone is reached first. Of course, it is perfectly possible to replace the main filtration tank prior to either of these milestones being reached.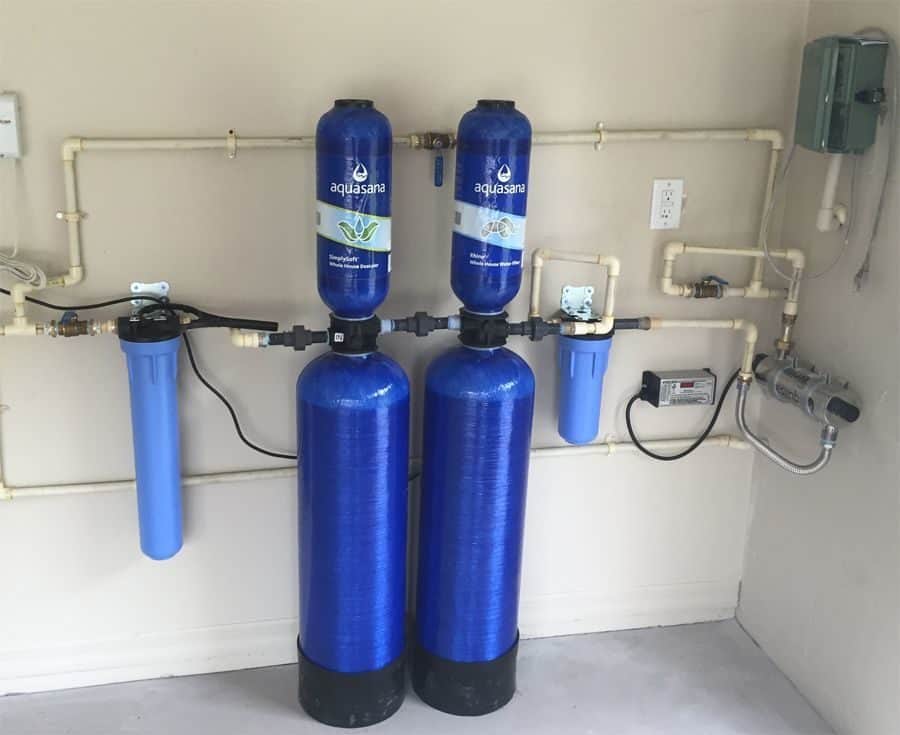 Replacement water filters are not as cost-effective as other manufacturers but still represent good value for money when you take into the account the lifespan of each one.
Final Verdict
The Aquasana 600,000 Gallon Whole House Water Filter is a high-quality water filtration system that is designed to provide every home to which it is installed, with clean water that is suitable for both consumption and laundering clothes.
This isn't the cheapest whole ​home water filter available, but it is one of the best – and coupled with the lifespan of its filters – makes a great choice for any household.
We have no reservations in recommending this product if it meets your needs so go forth and buy with confidence.